Actor Hector Echavarria Takes On The Latino Stereotypes In Hollywood By Creating His Own Series Of Action Films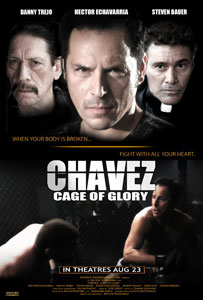 For Latino actors in Hollywood, it can be frustrating to continually get cast in stereotypical roles. One actor is challenging the entertainment industry head on by creating vehicles that cater to the Latino market and give him control of his own career.
Hector Echavarria, actor and martial arts champion, told the LA Times, "I was sick to my stomach because I was always the guy cutting the grass, the guy selling the drug, the guy violating the woman…I said, 'Look, is there any good part to read?' And they told me, 'Absolutely not.'"
That's when he took matters into his own hands. His production company, Destiny Entertainment, is releasing its first project on Sept. 13. Chavez: Cage of Glory follows a Rocky stock plot of an unemployed Mexican American who begins cage-fighting to raise money for his ill son.
Echavarria utilized his martial arts fame to draw attention to the project. The film was shot in Los Angeles over a six-week period and stars Danny Trejo, Steven Bauer and Patrick Kilpatrick.
The Argentine-born actor wore many hats on the production including star, producer, writer and director. It was an ambitious undertaking, but one that the 43-year-old knew he could handle.
Bauer talked about his talented director, "He's like a mini-mogul already. He's not satisfied to sit back on his laurels and championships and just do that. He wants the whole thing."
Destiny Entertainment is slated to release four more action films with their next picture, Los Muertos, beginning principal photography in December. However, Echarvarria knows his movies have crossover appeal.
"I think if you're focusing on Latinos, you are focusing on everybody because we are all the same," said the actor. "We all have the same fears, we all have the same ambitions, we all want to be loved. That is the essence of life."
In fact, Latino audiences are proving they provide huge muscle at the box office. According to the Motion Picture Assn. of America, Latinos account for 26% of frequent moviegoers who go to the theater to see a film once a month or more.
The community is also a driving force behind the success of Fast & Furious 6 earlier this summer. Latinos accounted for 32% of ticket sales during opening weekend.
With such strong numbers, Echavarria is confident that his approach will work.
"We all have within ourselves a dream and a lot of people give that dream away," he said. "I want to show by example that if you stick to it and you're true to yourself, everything will be fine at the end of the day."
Latest Videos
http://www.dailyactor.com/wp-content/uploads/2014/07/sir-ben-kingsley-talks-about-the.jpg
Sir Ben Kingsley Talks about the Unique Way He Voiced His Character in the Animated Film, 'The Boxtrolls' (video)
I could listen to Sir Ben Kingsley talk about acting and.. well, I could listen to him talk about anything. He's starring in the new Laika stop-motion animated film, The Boxtrolls, and he and some of the cast (along with the director) joined in on a Comic-Con panel about the film. The Boxtrolls is about [...]
http://www.dailyactor.com/2014/07/sir-ben-kingsley-the-boxtrolls-comic-con/
http://www.dailyactor.com/wp-content/uploads/2014/07/bill-hader.jpg
Bill Hader: "I kind of fell into acting" (video)
Bill Hader, starring in the soon to be released The Skeleton Twins, talks about the film and how he fell into acting and then got "crazy lucky" in this quick video from USA Today.
http://www.dailyactor.com/2014/07/bill-hader-fell-into-acting-video/
http://www.dailyactor.com/wp-content/uploads/2014/07/director-john-carney-narrates-a.jpg
Director John Carney Narrates a Scene from 'Begin Again' Starring Kiera Knightley and Mark Ruffalo
Director John Carney (Once) narrates a scene from his new film, Begin Again. Starring Keira Knightley and Mark Ruffalo, the scene shows the first time the two characters meet. I haven't seen it yet but I've heard it's great.
http://www.dailyactor.com/2014/07/begin-again-scene-director-john-carney-keira-knightley-mark-ruffalo/
http://www.dailyactor.com/wp-content/uploads/2014/07/holler-if-you-hear-me-gma.jpg
Watch the Cast of Broadway's 'Holler If You Hear Me' Perform 'California Love' on GMA
The cast of Broadway's newest musical, Holler If You Hear Me with music from Tupac Shakur, performed on Good Morning America this morning. Singing 'California Love', the cast (including the teriffic Christopher Jackson – read our interview here), show why they're the most energetic and inspiring group of actors on Broadway. Holler If Ya Hear [...]
http://www.dailyactor.com/2014/07/watch-cast-broadways-holler-hear-perform-california-love-gma/
http://www.dailyactor.com/wp-content/uploads/2014/07/behind-the-scenes-of-dawn-of-the.jpg
Behind the Scenes of 'Dawn of the Planet of the Apes' with Performance Capture Actor Terry Notary
Actor Terry Notary is 1 of 5 actors playing the apes in the new Dawn of the Planet of the Apes. "When you see armies of apes," he says, that's "five of us." Check out the video where you can watch his performance capture work.
http://www.dailyactor.com/2014/07/dawn-planet-apes-performance-capture-actor-terry-notary/