Tom Skerritt Will Make His Broadway Debut in 'A Time to Kill'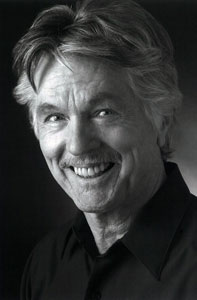 Tom Skerritt will make his Broadway debut in A Time to Kill, Tony® Award-winning playwright Rupert Holmes' stage adaptation of John Grisham's best-selling novel.
Skerritt will portray Lucien Wilbanks, the mentor to protagonist Jake Brigance (played by Sebastian Arcelus), in this new play.
Skerritt joins the previously announced Arcelus, Dashiell Eaves as Pete Willard/DR Musgrove; J.R. Horne as Mr. Pate; Chike Johnson as Ozzie Walls, Patrick Page as Rufus Buckley; Tonya Pinkins as Gwen Hailey; John Procaccino as Drew Tyndale/WT Bass; Tijuana Ricks as Court Reporter; Tom Skerritt as Lucien Wilbanks; Lee Sellars as Cobb/Rhodeheaver/Grist; Fred Dalton Thompson as Judge Noose; John Douglas Thompson as Carl Lee Hailey; and Ashley Williams as Ellen Roark.
A Time to Kill is set to open on Broadway on October 20th at the John Golden Theatre (252 West 45th Street). Ethan McSweeny will direct, with previews beginning September 28th."We are so thrilled to welcome the enormously gifted Tom Skerritt to this production of A Time to Kill," said Ms. Roth and Ms. Price in a statement. "His uncanny mixture of warmth, command and intelligence have been on display throughout his remarkable, decades-spanning career, and will undoubtedly bring our Lucien Wilbanks to vivid life on Broadway this fall."
The play tells the story of a young, idealistic lawyer, Jake Brigance, defending a black man, Carl Lee Hailey, for taking the law into his own hands following an unspeakable crime committed against his young daughter. Their small Mississippi town is thrown into upheaval, and Jake finds himself arguing against the formidable district attorney, Rufus Buckley, and under attack from both sides of a racially divided city. This drama is a thrilling courtroom battle where the true nature of what is right and what is moral are called into question.
Skerritt is perhaps best known for his Emmy Award® winning performance on the acclaimed CBS drama series "Picket Fences" and is regarded as one of the most versatile, acclaimed, and instantly recognizable American actors of both film and television. He made his feature film debut in War Hunt and went on to memorably star in films such as M*A*S*H, The Turning Point (Best Supporting Actor, National Board of Review), Alien, A River Runs Through It, Steel Magnolias, Top Gun, and Contact, among many others, and will next be seen in the independent film Field of Lost Shoes as 'Ulysses S. Grant'. For television, he has appeared on "Brothers & Sisters," "Leverage," and "Cheers," to name but a few; and also directed episodes of "Picket Fences," "Chicago Hope," and USA's "Divided by Hate," in which he also starred. For theater, he has appeared in Los Angeles and Seattle productions of the play Love Letters and as the Stage Manager in the Intiman Theatre production of Our Town directed by Bartlett Sher. Skerritt co-founded The Film School in Seattle and founded the non-profit Red Badge Project to teach storytelling to active PTS military personnel at Fort Lewis Madigan Hospital in Tacoma, Washington. A Time to Kill marks his Broadway debut.
For more info, visit www.ATimeToKillOnBroadway.com
http://www.dailyactor.com/wp-content/uploads/2015/01/watch-al-pacino-talks-the-humbli.jpg
Watch: Al Pacino Talks 'The Humbling' and His Extraordinary Career
In this conversation with Al Pacino talks about his role in The Humbling -- including working with Greta Gerwig -- and his historic acting career
http://www.dailyactor.com/2015/01/watch-al-pacino-extraordinary-career/
http://www.dailyactor.com/wp-content/uploads/2015/01/watch-oscar-nominee-steve-carell.jpg
Watch: Oscar Nominee Steve Carell Talks Improv, Auditioning for 'The Office' and 'Foxcatcher'
Carell talks about his entire career as an actor, including his background in improv, how he landed the Michael Scott role on The Office, and Foxcatcher
http://www.dailyactor.com/2015/01/oscar-nominee-steve-carell-improv-auditioning-for-the-office-foxcatcher/
http://www.dailyactor.com/wp-content/uploads/2015/01/ethan-hawke-ellar-coltrane-boyhood.jpg
Ethan Hawke Calls 'Boyhood' the "most special endeavor of my life"
Ethan Hawke is riding high with his fourth Oscar nomination for the Richard Linklater-directed Boyhood. In a recent "Ask Me Anything" on Reddit, the 44-year-old actor gave some thoughtful insight into his career and the 12-year creative endeavor that became the biggest film of the Oscar season. When asked what was the most difficult thing about […]
http://www.dailyactor.com/2015/01/ethan-hawke-boyhood-reddit-amaife/
http://www.dailyactor.com/wp-content/uploads/2015/01/martha-plimpton-a-delicate-balance.jpg
Martha Plimpton Takes a Refreshing Approach to a Long-Lasting Career
Martha Plimpton is an actress who enjoys the work, she's not in it for the fame. The proof is in her continually excellent work that she is doing on-screen and on the stage. She's currently starring in A Delicate Balance on Broadway. It's the audience who gives her the ultimate thrill. "I try to get […]
http://www.dailyactor.com/2015/01/martha-plimpton-long-lasting-career/
http://www.dailyactor.com/wp-content/uploads/2015/01/watch-michael-keaton-talks-candi.jpg
Watch: Michael Keaton Talks Candidly About His Career and His Approach to Acting in 'Birdman'
In this nearly 90 minute conversation, Michael Keaton is his usual affable self but is also remarkably candid about his career and his approach to acting.
http://www.dailyactor.com/2015/01/michael-keaton-career-approach-to-acting-birdman/