Ron Howard Reveals Chris Hemsworth Shot His Own "Self-Made" Audition for 'Rush'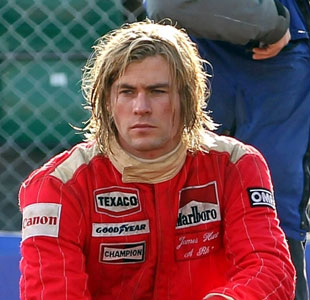 Ron Howard's movie Rush is about the real-life rivalry between Formula One drivers Niki Lauda and James Hunt.  Chris Hemsworth stars as Hunt in the film, but according to Howard in an interview with MTV, Hemsworth wasn't originally able to audition for the part in person because of other commitments.  However, Howard reveals that Hemsworth wasn't going to let that prevent him from getting the part.
Howard explains that at first it was very difficult to find a suitable actor for the part.  He says, "I started meeting some people, started thinking about it, and it wasn't going very well. I thought, 'Maybe we're just not going to be able to do this movie.'"  Though Howard's longtime producing partner Brian Grazer suggested that Howard consider Hemsworth for the part, Howard wanted him to audition. 
Except that wasn't possible — Hemsworth was a little busy filming a movie you might have heard of: The Avengers.  However, that didn't stop Hemsworth from auditioning.  Howard reveals, "I asked Chris if he would audition, and he couldn't because he was doing Avengers. The next day, or literally within 36 hours, I had a self-made audition that he did, just from his hotel room from location in Albuquerque.  It was unbelievable. Brian was right. We had our Hunt. Suddenly, it was done. We had a great young cast, and they were gifted and right for the roles. Ultimately, it was the easiest time I had casting a movie."
And just think about all the time you've probably wasted just sitting around hotel rooms… look what you could've been doing instead!
http://www.dailyactor.com/wp-content/uploads/2015/01/watch-al-pacino-talks-the-humbli.jpg
Watch: Al Pacino Talks 'The Humbling' and His Extraordinary Career
In this conversation with Al Pacino talks about his role in The Humbling -- including working with Greta Gerwig -- and his historic acting career
http://www.dailyactor.com/2015/01/watch-al-pacino-extraordinary-career/
http://www.dailyactor.com/wp-content/uploads/2015/01/watch-oscar-nominee-steve-carell.jpg
Watch: Oscar Nominee Steve Carell Talks Improv, Auditioning for 'The Office' and 'Foxcatcher'
Carell talks about his entire career as an actor, including his background in improv, how he landed the Michael Scott role on The Office, and Foxcatcher
http://www.dailyactor.com/2015/01/oscar-nominee-steve-carell-improv-auditioning-for-the-office-foxcatcher/
http://www.dailyactor.com/wp-content/uploads/2015/01/ethan-hawke-ellar-coltrane-boyhood.jpg
Ethan Hawke Calls 'Boyhood' the "most special endeavor of my life"
Ethan Hawke is riding high with his fourth Oscar nomination for the Richard Linklater-directed Boyhood. In a recent "Ask Me Anything" on Reddit, the 44-year-old actor gave some thoughtful insight into his career and the 12-year creative endeavor that became the biggest film of the Oscar season. When asked what was the most difficult thing about […]
http://www.dailyactor.com/2015/01/ethan-hawke-boyhood-reddit-amaife/
http://www.dailyactor.com/wp-content/uploads/2015/01/martha-plimpton-a-delicate-balance.jpg
Martha Plimpton Takes a Refreshing Approach to a Long-Lasting Career
Martha Plimpton is an actress who enjoys the work, she's not in it for the fame. The proof is in her continually excellent work that she is doing on-screen and on the stage. She's currently starring in A Delicate Balance on Broadway. It's the audience who gives her the ultimate thrill. "I try to get […]
http://www.dailyactor.com/2015/01/martha-plimpton-long-lasting-career/
http://www.dailyactor.com/wp-content/uploads/2015/01/watch-michael-keaton-talks-candi.jpg
Watch: Michael Keaton Talks Candidly About His Career and His Approach to Acting in 'Birdman'
In this nearly 90 minute conversation, Michael Keaton is his usual affable self but is also remarkably candid about his career and his approach to acting.
http://www.dailyactor.com/2015/01/michael-keaton-career-approach-to-acting-birdman/