Pablo Schreiber on Playing Twisted Characters: "I'm never going to be a Disney star"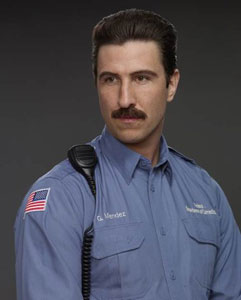 Actors are asked to lose themselves in a role not only psychologically, but also physically. For actor Pablo Schreiber of Netflix's latest series, Orange Is the New Black, that means donning a prosthetic mustache.
He talked to the New York Post about how a bit of facial hair helps him get into the mind of his corrupt character, corrections officer George 'Pornstache' Mendez.
Schreiber said, "When I accepted the role, we knew that was a major part of the character. I'm actually incredibly proud to be part of the all-time best mustache club!"
That mustache club includes some pretty impressive company like Tom Selleck, Sam Elliott and Burt Reynolds.
However, his character is a bit more twisted than most of the characters those actors played onscreen. The corrections officer is a sexual predator who intimidates the female inmates who are in his charge.
Clearly, the role is way outside of his personal wheelhouse, the perfect stretch for an actor.
"I like to explore and play with things and try things on for size," said the 35-year-old star. "To try someone as out-there and grotesque as George 'Pornstache' Mendez is — it's just liberating."
He's known for playing creepy characters like his psychopathic rapist on the Season 14 finale of of Law & Order: SVU and the voice of Patrick Bateman in the audio book version of American Psycho.
Schreiber reassured the periodical about his edgy roles, "I think it just happens to be a moment in time right now."
He continued, "Whether it's a particularly nasty or villainous character, or a particularly heroic character, the extremes of human behavior turn me on and get me fired up."
No matter how evil the role, Schreiber relishes it. He understands his type and why he's getting cast as the villain.
He joked, "I don't think I could completely get away from the dark side. I'm never going to be a Disney star."
The dark side suits him just fine.
http://www.dailyactor.com/wp-content/uploads/2015/05/Caitriona-Balfe-Outlander.jpg
Outlander's Caitriona Balfe On The Emotional Toll of Filming Violent Scenes
"Having to put yourself in that place is tough. To sit in that emotional space, especially when you're doing it day after day." - Caitriona Balfe
http://www.dailyactor.com/2015/05/outlander-catriona-balfe-emotional-toll-of-filming-violent-scenes/
http://www.dailyactor.com/wp-content/uploads/2015/05/Chrissie-Fit.jpg
Chrissie Fit on How She Landed Her Role in 'Pitch Perfect 2′
"I remember getting the audition and being like, "This might not happen," just because it is such a massive movie." - Chrissie Fit
http://www.dailyactor.com/2015/05/chrissie-fit-on-how-she-landed-her-role-in-pitch-perfect-2/
http://www.dailyactor.com/wp-content/uploads/2015/05/Sam-Elliott.jpg
Sam Elliot on How he "F–ked" Himself Out of a Career as a Lead Actor
The rugged Sam Elliot has most often cast in character actor roles throughout his long career in film, though the 70 year-old Elliot thinks it wasn't always meant to be that way.
http://www.dailyactor.com/2015/05/sam-elliot-on-how-he-f-ked-himself-out-of-a-career-as-a-lead-actor/
http://www.dailyactor.com/wp-content/uploads/2015/05/Anna-Kendrick-Pitch-Perfect-2.jpg
Anna Kendrick Talks Hollywood and its Gender Bias
"As an actress you're perpetually about to be unemployed." - Anna Kendrick
http://www.dailyactor.com/2015/05/anna-kendrick-talks-hollywood-and-its-gender-bias/
http://www.dailyactor.com/wp-content/uploads/2015/05/tom-hardy-mad-max-fury-road.jpg
Tom Hardy on Fame, Acting School, and His 'Mad Respect' for Michael Fassbender
"Do what you love doing, do it well—everything should fit into place." - Tom Hardy
http://www.dailyactor.com/2015/05/tom-hardy-fame-acting-school-michael-fassbender/