'Lone Survivor' Producers Sued by Investor/Actor Whose Role was Severely Cut in Final Film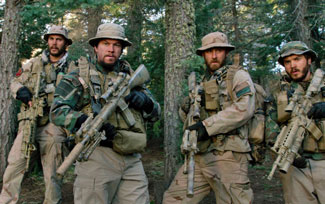 Sure, it's easier to get acting roles if you have a lot of money: just tell a cash-strapped producers "I'll give you X amount of money if you cast me in your movie."  Hey, it worked if you wanted to get in one of Ed Wood's movies, right?  But what happens if after loaning the producers that hefty sum the person with the deep pockets finds out his or her role is mostly on the cutting room floor?
That's the issue that professional poker player Dan Bilzerian is suing producers Randall Emmett and George Furla over in Los Angeles Superior Court.  Blizerian agreed to loan the producers $1 million to help them complete their Navy SEAL drama Lone Survivor, and in return he would receive a role in the film, which was directed by Peter Berg and is set for release in January and stars Mark Wahlberg, Taylor Kitsch, Eric Bana, Emile Hirsch, and Ben Foster.
However, according to Bilzerian's lawsuit his appearance in the final film is far less than the agreed upon 8 minutes and at least 80 words of dialogue.   In fact, Bilzerian claims that he appears for less than one minute in the final cut and has only one line of dialogue. 
The Hollywood Reporter doesn't indicate if that 8 minutes/80 words clause was ever put in writing, only that a document between the parties written on October 10, 2012 states that the Berg took Blizerian's thoughts on the role "into consideration" and he ""meaningfully" consulted him (Berg also wrote the screenplay).  The role was written especially for Bilzerian, and is his first acting role (though his IMDb page credits him for stunts in Olympus Has Fallen — no word if he paid for that either).  The case will likely hinge on that documentation.
So make sure to keep that in mind next time you spend $1 million to be in the movie: get the specifics of your bit part in writing!  After all, you're paying a lot of money for it!
http://www.dailyactor.com/wp-content/uploads/2015/01/watch-al-pacino-talks-the-humbli.jpg
Watch: Al Pacino Talks 'The Humbling' and His Extraordinary Career
In this conversation with Al Pacino talks about his role in The Humbling -- including working with Greta Gerwig -- and his historic acting career
http://www.dailyactor.com/2015/01/watch-al-pacino-extraordinary-career/
http://www.dailyactor.com/wp-content/uploads/2015/01/watch-oscar-nominee-steve-carell.jpg
Watch: Oscar Nominee Steve Carell Talks Improv, Auditioning for 'The Office' and 'Foxcatcher'
Carell talks about his entire career as an actor, including his background in improv, how he landed the Michael Scott role on The Office, and Foxcatcher
http://www.dailyactor.com/2015/01/oscar-nominee-steve-carell-improv-auditioning-for-the-office-foxcatcher/
http://www.dailyactor.com/wp-content/uploads/2015/01/ethan-hawke-ellar-coltrane-boyhood.jpg
Ethan Hawke Calls 'Boyhood' the "most special endeavor of my life"
Ethan Hawke is riding high with his fourth Oscar nomination for the Richard Linklater-directed Boyhood. In a recent "Ask Me Anything" on Reddit, the 44-year-old actor gave some thoughtful insight into his career and the 12-year creative endeavor that became the biggest film of the Oscar season. When asked what was the most difficult thing about […]
http://www.dailyactor.com/2015/01/ethan-hawke-boyhood-reddit-amaife/
http://www.dailyactor.com/wp-content/uploads/2015/01/martha-plimpton-a-delicate-balance.jpg
Martha Plimpton Takes a Refreshing Approach to a Long-Lasting Career
Martha Plimpton is an actress who enjoys the work, she's not in it for the fame. The proof is in her continually excellent work that she is doing on-screen and on the stage. She's currently starring in A Delicate Balance on Broadway. It's the audience who gives her the ultimate thrill. "I try to get […]
http://www.dailyactor.com/2015/01/martha-plimpton-long-lasting-career/
http://www.dailyactor.com/wp-content/uploads/2015/01/watch-michael-keaton-talks-candi.jpg
Watch: Michael Keaton Talks Candidly About His Career and His Approach to Acting in 'Birdman'
In this nearly 90 minute conversation, Michael Keaton is his usual affable self but is also remarkably candid about his career and his approach to acting.
http://www.dailyactor.com/2015/01/michael-keaton-career-approach-to-acting-birdman/