'Lone Survivor' Producers Sued by Investor/Actor Whose Role was Severely Cut in Final Film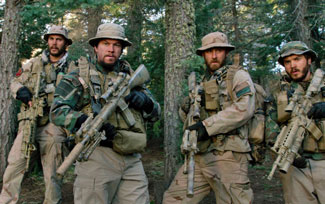 Sure, it's easier to get acting roles if you have a lot of money: just tell a cash-strapped producers "I'll give you X amount of money if you cast me in your movie."  Hey, it worked if you wanted to get in one of Ed Wood's movies, right?  But what happens if after loaning the producers that hefty sum the person with the deep pockets finds out his or her role is mostly on the cutting room floor?
That's the issue that professional poker player Dan Bilzerian is suing producers Randall Emmett and George Furla over in Los Angeles Superior Court.  Blizerian agreed to loan the producers $1 million to help them complete their Navy SEAL drama Lone Survivor, and in return he would receive a role in the film, which was directed by Peter Berg and is set for release in January and stars Mark Wahlberg, Taylor Kitsch, Eric Bana, Emile Hirsch, and Ben Foster.
However, according to Bilzerian's lawsuit his appearance in the final film is far less than the agreed upon 8 minutes and at least 80 words of dialogue.   In fact, Bilzerian claims that he appears for less than one minute in the final cut and has only one line of dialogue. 
The Hollywood Reporter doesn't indicate if that 8 minutes/80 words clause was ever put in writing, only that a document between the parties written on October 10, 2012 states that the Berg took Blizerian's thoughts on the role "into consideration" and he ""meaningfully" consulted him (Berg also wrote the screenplay).  The role was written especially for Bilzerian, and is his first acting role (though his IMDb page credits him for stunts in Olympus Has Fallen — no word if he paid for that either).  The case will likely hinge on that documentation.
So make sure to keep that in mind next time you spend $1 million to be in the movie: get the specifics of your bit part in writing!  After all, you're paying a lot of money for it!
http://www.dailyactor.com/wp-content/uploads/2015/02/Larry-David.jpg
Larry David on Who he Wanted to Star in his Broadway Play 'Fish in the Dark': "Anybody but me"
"It's one of the reasons I didn't like acting. I don't like not being able to interject" – Larry David on acting with a script Who doesn't like Larry David? Well, to be honest, Larry David probably doesn't like Larry David. In fact, David didn't even want to cast himself in the lead of […]
http://www.dailyactor.com/2015/02/larry-david-on-who-he-wanted-to-star-broadway-play-fish-in-the-dark/
http://www.dailyactor.com/wp-content/uploads/2015/02/Helen-Mirren-The-Queen.jpg
Helen Mirren on Winning an Oscar: "It's an indescribable moment"
"It's hard to say, because you don't know what would have happened if you hadn't won" - Helen Mirren When Asked If Winning an Oscar Changed Her Career
http://www.dailyactor.com/2015/02/helen-mirren-on-winning-an-oscar/
http://www.dailyactor.com/wp-content/uploads/2015/02/anna-chlumsky-james-earl-jones.jpg
Anna Chlumsky on Her Broadway Debut: "For me, it was an opportunity to go in the direction that I hadn't played in a while"
"I think my personality lends itself to ensembles" - Anna Chlumsky
http://www.dailyactor.com/2015/02/anna-chlumsky-broadway-debut-ensemble/
http://www.dailyactor.com/wp-content/uploads/2015/02/joanne-froggatt-downton-abbey.jpg
'Downton Abbey' Star Joanne Froggatt on Creating Her Own Backstory and How She's "Not a Big-Budget Hollywood Type"
"They want the model type, classically beautiful, and I'm not" - Joanne Froggatt on Working in Hollywood
http://www.dailyactor.com/2015/02/downton-abbey-star-joanne-froggatt-character-backstory-hollywood/
http://www.dailyactor.com/wp-content/uploads/2015/01/al-pacino-the-humbling.jpg
Al Pacino on Acting: "It becomes such a part of your nature you rarely ever think about quitting"
After working infrequently in film over the last decade, Al Pacino appears in several films released in 2015, including The Humbling, an indie drama directed by Barry Levinson.
http://www.dailyactor.com/2015/02/al-pacino-on-acting-it-becomes-such-a-part-of-your-nature/