Josh Duhamel Talks 'Scenic Route' and Taking Workshops with Larry Moss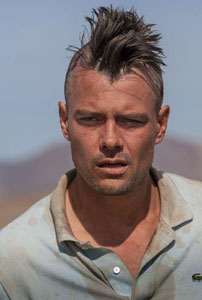 Josh Duhamel is best known for lighter fare like Nicholas Sparks' Safe Haven and the Transformers franchise.  So, the actor was eager to take on a passion project in the form of the drama, Scenic Route.
"It was absolute beast of a script.  Kyle Killen is a really, really good writer.  It was the kind of script that I'd been looking for—it was like a mountain of both dialogue and physical behavior and everything else that is scary, but I was dying to do something like this that I hadn't done before," he said in an interview with The Hollywood Reporter.  "It turned out to be one of the best experiences I ever had.  The amount of rehearsal that we had ahead of time and all of the stuff that we went through shooting it, it was just a—it's the reason I got into this business, to be able to do a movie like this."
The film follows two former friends (Duhamel and Dan Fogler) on a road trip in the desert.  The shoot proved to be a bonding experience for the two actors.  "That was another scary aspect of this movie: 'Holy crap, it's just him and me through this whole movie.  They're either gonna love this or they're gonna hate it.'  So it was really imperative that we treated it like a play in the first third, first half of the movie," Duhamel explained.  "You couldn't come to set and figure it out there—we had weeks of rehearsal ahead of time.  It was all the work that went into it that I think allowed Dan and I to connect.  He's a really interesting dude and we spent a lot of time [together].  We drove up to the Death Valley together, we spent weeks beforehand and our rooms were right next to each other in this old mining town down in Death Valley."
The role was a challenging one for Duhamel, despite his past acting experience.
"The closest I've ever been [to acting onstage] is I take this workshop every year from Larry Moss, who I've worked with for years, and usually he gives you scenes from Tennessee Williams or Eugene O'Neill or something, a long scene that you put up in front of a theater full of students," he said.  "I asked him if I could put one of these scenes up as a way to start rehearsing for this because I didn't even know where to begin.  I mostly take them just because they scare the crap out of me.  That is about as close as I've been to doing it, but it's something that I would love to do."
Scenic Route is currently playing in theaters.
Latest Videos
http://www.dailyactor.com/wp-content/uploads/2014/09/audtion-tapes-robin-wright-and-h.jpg
Audition Tapes: Robin Wright and Haley Joel Osment Audition with Tom Hanks for 'Forrest Gump'
Check out Robin Wright auditioning for the role of Jenny from Forest Gump opposite Tom Hanks. Interestingly enough, Hanks doesn't quite have Gump's southern drawl down just yet while the other actors audition with him. In fact, Hanks would base Gump's voice on the voice of Michael Conner Humphreys, who played the young Forrest and […]
http://www.dailyactor.com/2014/09/audtion-tapes-robin-wright-haley-joel-osment-tom-hanks-forrest-gump/
http://www.dailyactor.com/wp-content/uploads/2014/08/bryan-cranston-emmy-award-speech.jpg
Watch: Bryan Cranston's Emmy Award Speech: "I love to act. It is a passion of mine and I will do it until my last breath."
The Emmy Awards weren't the most exciting awards show this year but with Bryan Cranston winning for Outstanding Actor in a Drama for Breaking Bad, we at least got to hear one heck of a fantastic acceptance speech. "I was a kid who always looked for the shortcut," he said. "I did happen to stumble […]
http://www.dailyactor.com/2014/08/watch-bryan-cranston-and-aaron-pauls-emmy-award-speeches/
http://www.dailyactor.com/wp-content/uploads/2014/08/audition-tapes-gerard-butler-aud.jpg
Audition Tapes: Gerard Butler Auditions for 'Dracula 2000′
Check out Gerard Butler auditioning for the role of Dracula in the movie, Dracula 2000. The film, about a group of thieves who break into a chamber expecting to find paintings, but instead find Dracula himself, also starred Christopher Plummer, Jonny Lee Miller and Nathan Fillion. Bulter has some sweet rock star hair, huh?
http://www.dailyactor.com/2014/08/audition-tapes-gerard-butler-dracula-2000/
http://www.dailyactor.com/wp-content/uploads/2014/08/interview-matt-dillon-and-carla.jpg
Interview: Matt Dillon and Carla Gugino Talk 'Wayward Pines'
FOX has a new limited-series that's got a terrific cast and interesting premise. It's called Wayward Pines and stars Matt Dillon, Carla Gugino, Melissa Leo, Toby Jones, Terrance Howard, Juliette Lewis, Tim Griffin and Shannyn Sossamon. The show, whose pilot was directed by M. Night Shyamalan, is about a Secret Service agent (Dillon) goes to […]
http://www.dailyactor.com/2014/08/interview-matt-dillon-carla-gugino-wayward-pines-comic-con/
http://www.dailyactor.com/wp-content/uploads/2014/08/interview-wayward-pines-stars-ti.jpg
Interview: 'Wayward Pines' Stars Tim Griffin and Shannyn Sossamon on the Show, Their Characters and More!
Griffin and Sossamonwere at Comic-Con where they sat in on some roundtable interviews to talk about the show.
http://www.dailyactor.com/2014/08/interview-wayward-pines-stars-tim-griffin-shannyn-sossamon-comic-con/