Idris Elba on The Next Step For 'Luther', Researching 'Mandela' and Trying to Balance His Career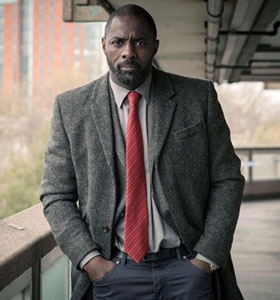 British actor Idris Elba is having a year that many actors would envy. With Pacific Rim already released, he has the third installment of the miniseries Luther on BBC America debuting in September and the two upcoming films, Mandela: Long Walk to Freedom and Thor: The Dark World, coming soon.
He recently spoke to reporters during a conference call promoting his upcoming BBC America appearance. Elba talked about juggling a variety of projects over the last year.
The Brit shared, "When I'm shooting all of this, it's all out of sequence by the time it all comes out, so this year looks incredibly busy for me because they're all coming out at the same time."
However, the 40-year-old actor thinks that he needs to find some perspective with everything happening at once.
"And really, the balance is just sort of being able to not over saturate myself in terms of all these films and stuff coming out at the same time and also continuing my career with stuff that may come out later," said the BBC America star.
One of his most challenging roles to date was playing South African leader Nelson Mandela.
"Mandela was definitely a very, very challenging role for me in a way that Luther is. It's very absorbing," Elba said. "And doing Mandela probably… a year ago now and then doing Luther, they were both very, very complex characters and sort of demanding of my time. But, I guess this what I do for my living and then I enjoy the process of jumping from one person to another."
One thing that was difficult to avoid during the Mandela shooting process was encountering people who knew the man well and wanted to share their perspective.
He said, "I tended not to meet people that knew him too personally just because I wanted to stay away from too many anecdotes that colored … my performance," he said. "But you know, everybody has a Mandela story in South Africa, that's for sure, and I was inundated with a wealth of information."
Elba also thinks his BBC America miniseries Luther is ready to hit the big screen, perhaps in a prequel film.
"The time is really ripe for Luther to turn into a film… and our intention was always to take it to a film… where we can really explore what makes this person, this man tick and really understand Luther or go on more and more weirder and experimental journeys with him, but using the film medium."
His role as the dark British detective torn between solving serial killings and reconciling with his wife earned the actor a Golden Globe Award in 2011.
On a personal note, Elba revealed that he tackles a variety of roles to sometimes please his 11-year-old daughter. Movies like Pacific Rim and Thor definitely appeal to her.
I like to look at those films and be in those films just because my daughter, who's 11, she loves that type of film," the proud dad said. "If I can get an opportunity to play something that's fun, well, you know, Stacker Pentecost [from Pacific Rim] wasn't particularly fun, but that type of film and even Thor, it's not so much that it's fun to actually make, but they're very different compared to Luther or Mandela which [are] quite serious bits of work. I kind of like the idea of having all of that on my resume."
Luther returns to BBC America on Sept. 3.
Latest Videos
http://www.dailyactor.com/wp-content/uploads/2014/08/bryan-cranston-emmy-award-speech.jpg
Watch: Bryan Cranston's Emmy Award Speech: "I love to act. It is a passion of mine and I will do it until my last breath."
The Emmy Awards weren't the most exciting awards show this year but with Bryan Cranston winning for Outstanding Actor in a Drama for Breaking Bad, we at least got to hear one heck of a fantastic acceptance speech. "I was a kid who always looked for the shortcut," he said. "I did happen to stumble […]
http://www.dailyactor.com/2014/08/watch-bryan-cranston-and-aaron-pauls-emmy-award-speeches/
http://www.dailyactor.com/wp-content/uploads/2014/08/audition-tapes-gerard-butler-aud.jpg
Audition Tapes: Gerard Butler Auditions for 'Dracula 2000′
Check out Gerard Butler auditioning for the role of Dracula in the movie, Dracula 2000. The film, about a group of thieves who break into a chamber expecting to find paintings, but instead find Dracula himself, also starred Christopher Plummer, Jonny Lee Miller and Nathan Fillion. Bulter has some sweet rock star hair, huh?
http://www.dailyactor.com/2014/08/audition-tapes-gerard-butler-dracula-2000/
http://www.dailyactor.com/wp-content/uploads/2014/08/interview-matt-dillon-and-carla.jpg
Interview: Matt Dillon and Carla Gugino Talk 'Wayward Pines'
FOX has a new limited-series that's got a terrific cast and interesting premise. It's called Wayward Pines and stars Matt Dillon, Carla Gugino, Melissa Leo, Toby Jones, Terrance Howard, Juliette Lewis, Tim Griffin and Shannyn Sossamon. The show, whose pilot was directed by M. Night Shyamalan, is about a Secret Service agent (Dillon) goes to […]
http://www.dailyactor.com/2014/08/interview-matt-dillon-carla-gugino-wayward-pines-comic-con/
http://www.dailyactor.com/wp-content/uploads/2014/08/interview-wayward-pines-stars-ti.jpg
Interview: 'Wayward Pines' Stars Tim Griffin and Shannyn Sossamon on the Show, Their Characters and More!
Griffin and Sossamonwere at Comic-Con where they sat in on some roundtable interviews to talk about the show.
http://www.dailyactor.com/2014/08/interview-wayward-pines-stars-tim-griffin-shannyn-sossamon-comic-con/
http://www.dailyactor.com/wp-content/uploads/2014/08/interview-m-night-shyamalan-talk.jpg
Interview: M. Night Shyamalan Talks 'Wayward Pines' and Why He Expanded a Young Actors Role on the Show
I talked to Shyamalan at Comic-Con in a roundtable interview where he talked about the cast, what he learned from working in TV and how young actor Charlie Tahan started out with a small part but as the story grew, so did his role.
http://www.dailyactor.com/2014/08/interview-m-night-shyamalan-wayward-pines-comic-con/