Idris Elba on The Next Step For 'Luther', Researching 'Mandela' and Trying to Balance His Career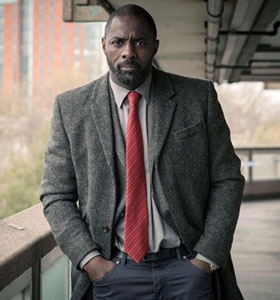 British actor Idris Elba is having a year that many actors would envy. With Pacific Rim already released, he has the third installment of the miniseries Luther on BBC America debuting in September and the two upcoming films, Mandela: Long Walk to Freedom and Thor: The Dark World, coming soon.
He recently spoke to reporters during a conference call promoting his upcoming BBC America appearance. Elba talked about juggling a variety of projects over the last year.
The Brit shared, "When I'm shooting all of this, it's all out of sequence by the time it all comes out, so this year looks incredibly busy for me because they're all coming out at the same time."
However, the 40-year-old actor thinks that he needs to find some perspective with everything happening at once.
"And really, the balance is just sort of being able to not over saturate myself in terms of all these films and stuff coming out at the same time and also continuing my career with stuff that may come out later," said the BBC America star.
One of his most challenging roles to date was playing South African leader Nelson Mandela.
"Mandela was definitely a very, very challenging role for me in a way that Luther is. It's very absorbing," Elba said. "And doing Mandela probably… a year ago now and then doing Luther, they were both very, very complex characters and sort of demanding of my time. But, I guess this what I do for my living and then I enjoy the process of jumping from one person to another."
One thing that was difficult to avoid during the Mandela shooting process was encountering people who knew the man well and wanted to share their perspective.
He said, "I tended not to meet people that knew him too personally just because I wanted to stay away from too many anecdotes that colored … my performance," he said. "But you know, everybody has a Mandela story in South Africa, that's for sure, and I was inundated with a wealth of information."
Elba also thinks his BBC America miniseries Luther is ready to hit the big screen, perhaps in a prequel film.
"The time is really ripe for Luther to turn into a film… and our intention was always to take it to a film… where we can really explore what makes this person, this man tick and really understand Luther or go on more and more weirder and experimental journeys with him, but using the film medium."
His role as the dark British detective torn between solving serial killings and reconciling with his wife earned the actor a Golden Globe Award in 2011.
On a personal note, Elba revealed that he tackles a variety of roles to sometimes please his 11-year-old daughter. Movies like Pacific Rim and Thor definitely appeal to her.
I like to look at those films and be in those films just because my daughter, who's 11, she loves that type of film," the proud dad said. "If I can get an opportunity to play something that's fun, well, you know, Stacker Pentecost [from Pacific Rim] wasn't particularly fun, but that type of film and even Thor, it's not so much that it's fun to actually make, but they're very different compared to Luther or Mandela which [are] quite serious bits of work. I kind of like the idea of having all of that on my resume."
Luther returns to BBC America on Sept. 3.
Latest Videos
http://www.dailyactor.com/wp-content/uploads/2014/10/alex-sharp-curious-incident-of-the-dog.jpg
Alex Sharp Talks About His Broadway Debut in 'The Curious Incident of the Dog in the Night-Time' (video)
Alex Sharp went from working in a call-center and renovating houses to going to Julliard. And now, he's starring in one of the most talked about shows of the season, The Curious Incident of the Dog in the Night-Time. Check out this great, inspiring video!
http://www.dailyactor.com/2014/10/alex-sharp-broadway-debut-the-curious-incident-of-the-dog-in-the-night-time-video/
http://www.dailyactor.com/wp-content/uploads/2014/10/Its-only-a-play.jpg
Watch a Scene From Terrance McNally's, 'It's Only a Play', Featuring Nathan Lane and Micah Stock
Here's a quick scene from Terrance McNally's It's Only a Play, currently on Broadway at the Schoenfeld Theater. In this scene, Nathan Lane and Micah Stock meet for the first time. The show, about the opening night of a new play, also stars Matthew Broderick, Stockard Channing, F. Murray Abraham, Rupert Grint and Megan Mullally.
http://www.dailyactor.com/2014/10/watch-a-scene-terrance-mcnally-its-only-a-play-nathan-lane-micah-stock/
http://www.dailyactor.com/wp-content/uploads/2014/10/birdman-director-alejandro-g-ina.jpg
'Birdman' Director Alejandro G. Iñárritu Narrates a Scene from the Film Featuring Michael Keaton and Edward Norton
Director Alejandro G. Iñárritu narrates a scene from Birdman or The Unexpected Virtue of Ignorance that features stars Michael Keaton and Edward Norton. The film is wonderful and if it's playing in your town, definitely check it out!
http://www.dailyactor.com/2014/10/birdman-director-alejandro-g-inarritu-michael-keaton-edward-norton/
http://www.dailyactor.com/wp-content/uploads/2014/10/the-cast-of-mad-men-on-the-final.jpg
The Cast of 'Mad Men' on the Final Season and More
Though the AMC television series Mad Men might not carry the same cultural weight that it did a few years ago (splitting your final season over two years might do that to you), the second half of the show's final season is expected to be full of powerful performances from its ensemble cast. With the […]
http://www.dailyactor.com/2014/10/cast-of-mad-men-final-season/
http://www.dailyactor.com/wp-content/uploads/2014/10/behind-the-scenes-of-a-sex-scene.jpg
Behind the Scenes of a Sex Scene with Patrick Wilson, Brooklyn Decker and Director Joe Carnahan
Director Joe Carnahan is giving viewers an inside look at what it is like to film a big screen Hollywood sex scene, as confirmed by Gawker. Carnahan released a brief video clip taken from the set of his latest film Stretch starring supermodel and actress Brooklyn Decker and Patrick Wilson. The video showcases the two […]
http://www.dailyactor.com/2014/10/behind-the-scenes-of-a-sex-scene-patrick-wilson-brooklyn-decker-director-joe-carnahan/