Bryan Cranston on 'Breaking Bad', Loving His Job and His Advice to Young Actors (video)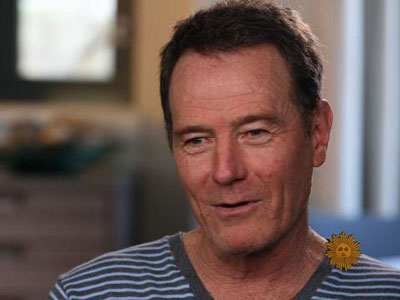 Pretty much everyone in the known universe seems to be hooked on Breaking Bad, which, considering the content of the show, isn't the worst thing one could be addicted to.  One of the main reasons why Breaking Bad has become such a success is the show's star, Bryan Cranston. 
Cranston has had an astonishingly busy career in film and television since the early 1980s, and though he already starred on the successful sitcom Malcolm in the Middle he didn't become the star he is today until he took a dramatic turn with Breaking Bad. 
In an interview with CBS Sunday Morning, Cranston reveals his thoughts on acting success and why Breaking Bad struck a chord with viewers.
Cranston points out what is just so unique about the series and his character, Walter White.  He says, "There has never been a television show where we're first introduced to someone and he is one specific character — you get him, you know who he is, and over the course of the series he adjusts and changes and becomes someone else … This evil, ego driven, maniacal, murderous man."
Although in his youth Cranston actually prepared himself for a career as a police officer, he admits that the only thing he ever really wanted to do was act.  He recalls, "I used to load trucks downtown Los Angeles, graveyard shift, and the only thing that really got me through was just daydreaming, at some point, somewhere along my path, I'm going to be able to say, I make a living as an actor."
In fact, Cranston points out that an aspiring actor shouldn't dream about becoming a star — instead, focus on becoming an actor who works regularly.  He explains, "I think, I mean to reach for some kind of plateau or position at the end of a rainbow so to speak, I think is setting yourself up for failure.  I always smile when I hear, 'I'm gonna give it a year. I'm gonna go out to Hollywood or I'm gonna to New York, and I'm gonna give it a solid year.' …And I say, 'I can save you a lot of time! Go back to where you came from and look for something that can make you happy."
But despite reaching his goal of being a working actor for over thirty years, Cranston still feels lucky and loves what he does.  He says, "To this day, when I drive onto a studio lot, I just, I just smile because, 'Look at this! Look what I get to do!'"  He adds, "You gotta love to do it. And I love it. It's my mistress. I will have an affair with acting for as long as I can. … It's the only mistress my wife will let me have."
Latest Videos
http://www.dailyactor.com/wp-content/uploads/2014/08/bryan-cranston-emmy-award-speech.jpg
Watch: Bryan Cranston's Emmy Award Speech: "I love to act. It is a passion of mine and I will do it until my last breath."
The Emmy Awards weren't the most exciting awards show this year but with Bryan Cranston winning for Outstanding Actor in a Drama for Breaking Bad, we at least got to hear one heck of a fantastic acceptance speech. "I was a kid who always looked for the shortcut," he said. "I did happen to stumble […]
http://www.dailyactor.com/2014/08/watch-bryan-cranston-and-aaron-pauls-emmy-award-speeches/
http://www.dailyactor.com/wp-content/uploads/2014/08/audition-tapes-gerard-butler-aud.jpg
Audition Tapes: Gerard Butler Auditions for 'Dracula 2000′
Check out Gerard Butler auditioning for the role of Dracula in the movie, Dracula 2000. The film, about a group of thieves who break into a chamber expecting to find paintings, but instead find Dracula himself, also starred Christopher Plummer, Jonny Lee Miller and Nathan Fillion. Bulter has some sweet rock star hair, huh?
http://www.dailyactor.com/2014/08/audition-tapes-gerard-butler-dracula-2000/
http://www.dailyactor.com/wp-content/uploads/2014/08/interview-matt-dillon-and-carla.jpg
Interview: Matt Dillon and Carla Gugino Talk 'Wayward Pines'
FOX has a new limited-series that's got a terrific cast and interesting premise. It's called Wayward Pines and stars Matt Dillon, Carla Gugino, Melissa Leo, Toby Jones, Terrance Howard, Juliette Lewis, Tim Griffin and Shannyn Sossamon. The show, whose pilot was directed by M. Night Shyamalan, is about a Secret Service agent (Dillon) goes to […]
http://www.dailyactor.com/2014/08/interview-matt-dillon-carla-gugino-wayward-pines-comic-con/
http://www.dailyactor.com/wp-content/uploads/2014/08/interview-wayward-pines-stars-ti.jpg
Interview: 'Wayward Pines' Stars Tim Griffin and Shannyn Sossamon on the Show, Their Characters and More!
Griffin and Sossamonwere at Comic-Con where they sat in on some roundtable interviews to talk about the show.
http://www.dailyactor.com/2014/08/interview-wayward-pines-stars-tim-griffin-shannyn-sossamon-comic-con/
http://www.dailyactor.com/wp-content/uploads/2014/08/interview-m-night-shyamalan-talk.jpg
Interview: M. Night Shyamalan Talks 'Wayward Pines' and Why He Expanded a Young Actors Role on the Show
I talked to Shyamalan at Comic-Con in a roundtable interview where he talked about the cast, what he learned from working in TV and how young actor Charlie Tahan started out with a small part but as the story grew, so did his role.
http://www.dailyactor.com/2014/08/interview-m-night-shyamalan-wayward-pines-comic-con/