Bryan Cranston on 'Breaking Bad', Loving His Job and His Advice to Young Actors (video)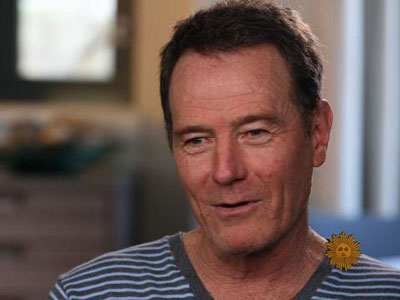 Pretty much everyone in the known universe seems to be hooked on Breaking Bad, which, considering the content of the show, isn't the worst thing one could be addicted to.  One of the main reasons why Breaking Bad has become such a success is the show's star, Bryan Cranston. 
Cranston has had an astonishingly busy career in film and television since the early 1980s, and though he already starred on the successful sitcom Malcolm in the Middle he didn't become the star he is today until he took a dramatic turn with Breaking Bad. 
In an interview with CBS Sunday Morning, Cranston reveals his thoughts on acting success and why Breaking Bad struck a chord with viewers.
Cranston points out what is just so unique about the series and his character, Walter White.  He says, "There has never been a television show where we're first introduced to someone and he is one specific character — you get him, you know who he is, and over the course of the series he adjusts and changes and becomes someone else … This evil, ego driven, maniacal, murderous man."
Although in his youth Cranston actually prepared himself for a career as a police officer, he admits that the only thing he ever really wanted to do was act.  He recalls, "I used to load trucks downtown Los Angeles, graveyard shift, and the only thing that really got me through was just daydreaming, at some point, somewhere along my path, I'm going to be able to say, I make a living as an actor."
In fact, Cranston points out that an aspiring actor shouldn't dream about becoming a star — instead, focus on becoming an actor who works regularly.  He explains, "I think, I mean to reach for some kind of plateau or position at the end of a rainbow so to speak, I think is setting yourself up for failure.  I always smile when I hear, 'I'm gonna give it a year. I'm gonna go out to Hollywood or I'm gonna to New York, and I'm gonna give it a solid year.' …And I say, 'I can save you a lot of time! Go back to where you came from and look for something that can make you happy."
But despite reaching his goal of being a working actor for over thirty years, Cranston still feels lucky and loves what he does.  He says, "To this day, when I drive onto a studio lot, I just, I just smile because, 'Look at this! Look what I get to do!'"  He adds, "You gotta love to do it. And I love it. It's my mistress. I will have an affair with acting for as long as I can. … It's the only mistress my wife will let me have."
Latest Videos
Watch: Benedict Cumberbatch Film the Smaug Motion Capture for 'The Hobbit: The Desolation of Smaug'
Though Peter Jackson's movie adaptations of The Hobbit haven't received the same critical acclaim as his films based on the book's sequel, The Lord of the Rings (turning a 300 page book into 9+ hours of film tends to do that), fans are still eagerly anticipating the release of the final part of The Hobbit […]
http://www.dailyactor.com/2014/11/watch-benedict-cumberbatch-film-smaug-motion-capture-the-hobbit/
Watch: Daniel Radcliffe on the Differences Between American and British Theater Audiences
Though moviegoers can see Daniel Radcliffe in the fantasy film Horns, which opens today, Broadway fans will have to wait a bit longer. Radcliffe is an unapologetic fan of Broadway — he has starred in Equus, How to Succeed in Business Without Really Trying, and The Cripple of Inishmaan — but he hasn't yet made […]
http://www.dailyactor.com/2014/10/daniel-radcliffe-differences-between-american-british-theater-audiences/
Watch: Anna Gunn, Jacki Weaver and Virginia Kull on 'Gracepoint' and Strong Female Roles on TV
The actresses also speak candidly about how they feel about their characters in the series and why its important for TV to feature series with strong female leads.Check out the conversation above!
http://www.dailyactor.com/2014/10/watch-anna-gunn-jacki-weaver-virginia-kull-gracepoint-strong-female-roles-on-tv/
Watch: Cristin Milioti Talks 'A to Z', 'Once' and 'How I Met Your Mother'
Few actresses have the kind of rise as Cristin Milioti has had in the last few years. A virtual unknown in 2011, she became a bona fide Broadway star in the 2012 hit Once, appeared in a supporting role in the 2013 film The Wolf of Wall Street, and was featured as the titular mother […]
http://www.dailyactor.com/2014/10/watch-cristin-milioti-a-to-z-once-how-i-met-your-mother/
http://www.dailyactor.com/wp-content/uploads/2014/10/watch-bryan-cranstons-acting-adv.jpg
Watch: Bryan Cranston's Acting Advice
With Breaking Bad: The Complete Series Barrel being released on Blu-ray with all kinds of goodies today, it gives us yet another opportunity to reflect on the series' star Bryan Cranston and all of the incredible advice he has offered actors in the wake of his success. In a video he filmed in 2013 for […]
http://www.dailyactor.com/2014/10/bryan-cranston-acting-advice-video/