Shia LaBeouf and Producers of 'Orphans' Reach Settlement Over Firing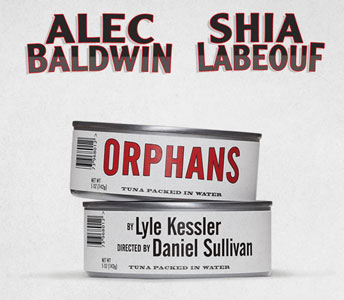 The story that never stopped giving earlier this year was Shia LaBeouf's very public exit from what was intended to be his Broadway debut, Orphans.  Though LaBeouf's removal from the show was officially blamed on "creative differences," reports of unprofessional behavior during rehearsals arose during the following days and his outspoken co-star Alec Baldwin also cited LaBeouf's lack of theater experience as an issue.  Amid the public spectacle, LaBeouf filed a grievance with Actor's Equity over the termination.
The New York Times reports that LaBeouf and producers Robert Cole and Frederick Zollo have reached a settlement regarding his exit.  They released a joint statement about the settlement, though the terms were not disclosed.  In the statement the producers diplomatically noted, "We regret the circumstances that caused Shia's departure from Orphans. Shia is a gifted actor whose full preparation to undertake the role of Treat demonstrated his respect and devotion to the play. The parties recognize that neither Mr. LaBeouf nor the producers was at fault. We have the utmost respect for Shia and his acting abilities, and would welcome the opportunity to work with him in the future."  Of course, we might want to take that last sentence with a grain of salt considering the reports of LaBeouf's backstage behavior.
Considering that Orphans closed early after generally negative reviews and disappointing ticket sales (making it a case of when "star casting" didn't work), it's not clear if there was any money that could have even been available for the settlement at all.  The fact that LaBeouf himself brought tremendous negative media attention to the situation when he made private e-mails between the members of the production public via Twitter could have also affected the settlement terms.
LaBeouf was replaced by Ben Foster and Orphans went on to be nominated for two Tony Awards before its own early exit from Broadway.
http://www.dailyactor.com/wp-content/uploads/2015/01/watch-al-pacino-talks-the-humbli.jpg
Watch: Al Pacino Talks 'The Humbling' and His Extraordinary Career
In this conversation with Al Pacino talks about his role in The Humbling -- including working with Greta Gerwig -- and his historic acting career
http://www.dailyactor.com/2015/01/watch-al-pacino-extraordinary-career/
http://www.dailyactor.com/wp-content/uploads/2015/01/watch-oscar-nominee-steve-carell.jpg
Watch: Oscar Nominee Steve Carell Talks Improv, Auditioning for 'The Office' and 'Foxcatcher'
Carell talks about his entire career as an actor, including his background in improv, how he landed the Michael Scott role on The Office, and Foxcatcher
http://www.dailyactor.com/2015/01/oscar-nominee-steve-carell-improv-auditioning-for-the-office-foxcatcher/
http://www.dailyactor.com/wp-content/uploads/2015/01/ethan-hawke-ellar-coltrane-boyhood.jpg
Ethan Hawke Calls 'Boyhood' the "most special endeavor of my life"
Ethan Hawke is riding high with his fourth Oscar nomination for the Richard Linklater-directed Boyhood. In a recent "Ask Me Anything" on Reddit, the 44-year-old actor gave some thoughtful insight into his career and the 12-year creative endeavor that became the biggest film of the Oscar season. When asked what was the most difficult thing about […]
http://www.dailyactor.com/2015/01/ethan-hawke-boyhood-reddit-amaife/
http://www.dailyactor.com/wp-content/uploads/2015/01/martha-plimpton-a-delicate-balance.jpg
Martha Plimpton Takes a Refreshing Approach to a Long-Lasting Career
Martha Plimpton is an actress who enjoys the work, she's not in it for the fame. The proof is in her continually excellent work that she is doing on-screen and on the stage. She's currently starring in A Delicate Balance on Broadway. It's the audience who gives her the ultimate thrill. "I try to get […]
http://www.dailyactor.com/2015/01/martha-plimpton-long-lasting-career/
http://www.dailyactor.com/wp-content/uploads/2015/01/watch-michael-keaton-talks-candi.jpg
Watch: Michael Keaton Talks Candidly About His Career and His Approach to Acting in 'Birdman'
In this nearly 90 minute conversation, Michael Keaton is his usual affable self but is also remarkably candid about his career and his approach to acting.
http://www.dailyactor.com/2015/01/michael-keaton-career-approach-to-acting-birdman/