Mary-Louise Parker Wants to Quit Acting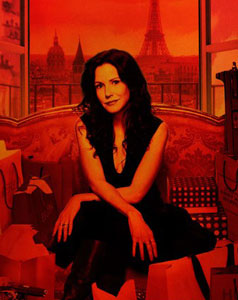 Mary-Louise Parker has announced she's going to quit acting.
"I'm almost done acting," she said in an interview with The Herald Sun.  "I'm not really that into it anymore.  I don't know how many more movies I wanna do.  I wouldn't mind doing a TV show again, I'd like to do a couple more plays, but I'm almost done acting, I think…It's only started happening to me recently that I've felt weary of it all, so I dunno.  There's another play I wanna do after [The Snow Geese] and I wouldn't mind doing a couple more years of a TV show, but after that not much more."
Parker, who is starring in two summer blockbusters (Red 2 and R.I.P.D.), admitted she wouldn't really miss acting.  "I would write, still," she said.  "I write for Esquire and writing makes me happy.  I would take care of my kids and my goats.  That's about it.  Bake.  Throw my internet in the lake."
In fact, the Internet is one of the elements that is driving Parker away from the entertainment industry.  "The world has gotten too mean for me, it's just too bitchy," she admitted.  "All the websites and the blogging and all the people giving their opinion and their hatred…it's all so mean-spirited, it's all so critical."
"It's sport for people, it's fun to get on at night and unleash their own self-loathing by attacking someone else who they think has a happier life or something, I dunno.  I don't know if you can imagine a friend sending you something they thought was funny, that was something mean someone wrote about you and there's like 50 comments from complete strangers across the world about you—and you can say 'Oh I let it roll off my back' and 'I wouldn't take it personally,' but you have no idea until it happens to you.  It doesn't feel nice."
Despite finding major success starring in the Showtime series, Weeds, Parker is still having a hard time staying away from the negativity.  "There's more of the [mean comments] than there is whatever praise people think you're getting," she continued.  "There's way more mean-spiritedness.  I stay away from it as best I can because I'm too thin-skinned, but it still finds you.
"It's a mean culture—it's reality TV and it's watching people suffer and watching people humiliate themselves.  It's little girls in pageants and housewives and plastic surgery and people in rehab.  It just feels like a very ugly…it's like someone just lifted up a rock and that's all we're looking at."
Red 2 and R.I.P.D both come out Friday, July 19. 
Latest Videos
Watch: Benedict Cumberbatch Film the Smaug Motion Capture for 'The Hobbit: The Desolation of Smaug'
Though Peter Jackson's movie adaptations of The Hobbit haven't received the same critical acclaim as his films based on the book's sequel, The Lord of the Rings (turning a 300 page book into 9+ hours of film tends to do that), fans are still eagerly anticipating the release of the final part of The Hobbit […]
http://www.dailyactor.com/2014/11/watch-benedict-cumberbatch-film-smaug-motion-capture-the-hobbit/
http://www.dailyactor.com/wp-content/uploads/2014/10/watch-daniel-radcliffe-on-the-di.jpg
Watch: Daniel Radcliffe on the Differences Between American and British Theater Audiences
Though moviegoers can see Daniel Radcliffe in the fantasy film Horns, which opens today, Broadway fans will have to wait a bit longer. Radcliffe is an unapologetic fan of Broadway — he has starred in Equus, How to Succeed in Business Without Really Trying, and The Cripple of Inishmaan — but he hasn't yet made […]
http://www.dailyactor.com/2014/10/daniel-radcliffe-differences-between-american-british-theater-audiences/
http://www.dailyactor.com/wp-content/uploads/2014/10/watch-anna-gunn-jacki-weaver-and.jpg
Watch: Anna Gunn, Jacki Weaver and Virginia Kull on 'Gracepoint' and Strong Female Roles on TV
The actresses also speak candidly about how they feel about their characters in the series and why its important for TV to feature series with strong female leads.Check out the conversation above!
http://www.dailyactor.com/2014/10/watch-anna-gunn-jacki-weaver-virginia-kull-gracepoint-strong-female-roles-on-tv/
http://www.dailyactor.com/wp-content/uploads/2014/10/watch-cristin-milioti-talks-a-to.jpg
Watch: Cristin Milioti Talks 'A to Z', 'Once' and 'How I Met Your Mother'
Few actresses have the kind of rise as Cristin Milioti has had in the last few years. A virtual unknown in 2011, she became a bona fide Broadway star in the 2012 hit Once, appeared in a supporting role in the 2013 film The Wolf of Wall Street, and was featured as the titular mother […]
http://www.dailyactor.com/2014/10/watch-cristin-milioti-a-to-z-once-how-i-met-your-mother/
http://www.dailyactor.com/wp-content/uploads/2014/10/watch-bryan-cranstons-acting-adv.jpg
Watch: Bryan Cranston's Acting Advice
With Breaking Bad: The Complete Series Barrel being released on Blu-ray with all kinds of goodies today, it gives us yet another opportunity to reflect on the series' star Bryan Cranston and all of the incredible advice he has offered actors in the wake of his success. In a video he filmed in 2013 for […]
http://www.dailyactor.com/2014/10/bryan-cranston-acting-advice-video/