Julie White on Taking Sigourney Weaver's Role for the Final Month of 'Vanya and Sonia…': "It's like jumping on a speeding train"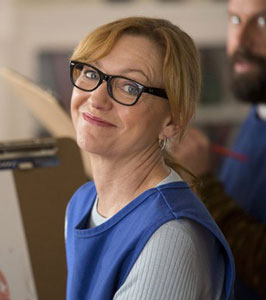 Broadway's Vanya and Sonia and Masha and Spike might have recently won this year's Best Play Tony Award and extended its engagement until August 30, but the producers had to find a replacement for one of its main cast members, Sigourney Weaver, who is departing to work on other projects.  Weaver had been a member of the cast since its October Off-Broadway premiere alongside David Hyde Pierce, Billy Magnussen, Kristine Nielsen, Genevieve Angelson and Shalita Grant, so the  actress in Weaver's role would very much be the new kid in town.  Fortunately, comedic actress Julie White agreed to take the role for the play's final four weeks, and she spoke to The New York Post about that experience.
White makes it clear that stepping into an acclaimed production isn't easy.  She says, "It's like jumping on a speeding train.  The fear, of course, is that you're going to take a bad step and be run over." 
Considering how different she is from Weaver, White made a decision not to try to replicate her as Masha, who is a movie star.  She explains, "Sigourney had the star bit in her hip pocket because, to an audience, she just is.  I had to go more on the text. [Masha] has starred in a franchise called Sexy Killer so I decided to make her a total fucking badass."
For White, who starred in the television series Go On and the Transformers movies since her last stint on Broadway in 2006′s The Little Dog Laughed, returning to theater was challenging.  In particular, she confesses that learning the play was difficult.  She says, "You get used to doing film and television, where it's, 'Oh my God, we're shooting three pages today' — like that's a lot!  I heard that Nathan Lane completely memorizes a show before the first day of rehearsal, so I was like, 'I'm going to Nathan Lane it!' I spent three weeks by myself, learning the play and thinking about all that crappy actor crap like your motivation and your backstory."
On top of that, she doesn't feel her roles in movies like Transformers helped her prepare for the stage in any way.  She points out that in those movies, "I was freaking comic relief. My secret fantasy in a movie is to be the person wielding the gun. It looks so much fun to be Angelina Jolie. I'm doing a little bit of that in the play — an old, tired, used-up Angelina Jolie."
Latest Videos
http://www.dailyactor.com/wp-content/uploads/2014/07/bill-hader.jpg
Bill Hader: "I kind of fell into acting" (video)
Bill Hader, starring in the soon to be released The Skeleton Twins, talks about the film and how he fell into acting and then got "crazy lucky" in this quick video from USA Today. Share on Tumblr
http://www.dailyactor.com/2014/07/bill-hader-fell-into-acting-video/
http://www.dailyactor.com/wp-content/uploads/2014/07/director-john-carney-narrates-a.jpg
Director John Carney Narrates a Scene from 'Begin Again' Starring Kiera Knightley and Mark Ruffalo
Director John Carney (Once) narrates a scene from his new film, Begin Again. Starring Keira Knightley and Mark Ruffalo, the scene shows the first time the two characters meet. I haven't seen it yet but I've heard it's great.
http://www.dailyactor.com/2014/07/begin-again-scene-director-john-carney-keira-knightley-mark-ruffalo/
http://www.dailyactor.com/wp-content/uploads/2014/07/holler-if-you-hear-me-gma.jpg
Watch the Cast of Broadway's 'Holler If You Hear Me' Perform 'California Love' on GMA
The cast of Broadway's newest musical, Holler If You Hear Me with music from Tupac Shakur, performed on Good Morning America this morning. Singing 'California Love', the cast (including the teriffic Christopher Jackson – read our interview here), show why they're the most energetic and inspiring group of actors on Broadway. Holler If Ya Hear [...]
http://www.dailyactor.com/2014/07/watch-cast-broadways-holler-hear-perform-california-love-gma/
http://www.dailyactor.com/wp-content/uploads/2014/07/behind-the-scenes-of-dawn-of-the.jpg
Behind the Scenes of 'Dawn of the Planet of the Apes' with Performance Capture Actor Terry Notary
Actor Terry Notary is 1 of 5 actors playing the apes in the new Dawn of the Planet of the Apes. "When you see armies of apes," he says, that's "five of us." Check out the video where you can watch his performance capture work.
http://www.dailyactor.com/2014/07/dawn-planet-apes-performance-capture-actor-terry-notary/
http://www.dailyactor.com/wp-content/uploads/2014/07/melissa-mccarthy-daily-show.jpg
Melissa McCarthy and John Stewart Talk About Terrible Commercial Auditions on 'The Daily Show'
Melissa McCarthy stopped by The Daily Show last week to plug about her new movie, Tammy. She talked about how she loved working with her husband, Ben Falcone (director of Tammy) and then segued into talking about some horrible working situations. The always hilarious McCarthy then started to tell host John Stewart about a particular [...]
http://www.dailyactor.com/2014/07/melissa-mccarthy-john-stewart-commercial-auditions-the-daily-show/