Vincent Kartheiser on the Things That "Really Scare Him About Acting"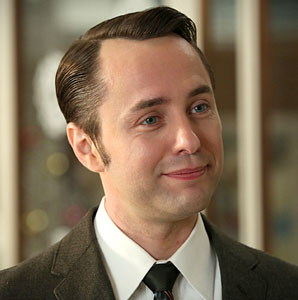 Vincent Kartheiser's character, Pete Campbell, had been put through the ringer this season of AMC's Mad Men.  The actor maintains he doesn't do anything special to get riled up.
"I have techniques that I use, but there's nothing particular I use to get worked up more than I would use to get any other emotion," he explained in an interview with Vulture.  "I don't want to get technical because not only is it boring, it's also personal.  But sometimes, if I've done many takes, and I still can't get it, I will naturally become aggravated with myself."
Kartheiser also had to face some physical challenges while playing Pete, particularly during a recent scene when he had to fall down a set of stairs.  "Fear is not something that you really engage too much in while you're acting," he said.  "The things that really scare me about acting have nothing to do with physical harm.  It's more emotional harm to one's psyche.  That five minutes before you walk onto a stage to do a performance that you haven't done before is a much more paralyzing fear, a fear to your core that is really indescribable and yet overcome-able.  And so fear of physical harm…I embrace that.  Falling down the stairs?  I mean, I make an ass of myself much more as Vincent than Pete ever could on that set, so basically, I'll do something as Pete, and then [the cast and crew] will say, 'Gosh, why can't you be more like that?'"
Despite the difficulties of playing Pete, the actor recognizes that he is "constantly getting great lines on the show.  The whole challenge is to not ruin if from page to performance, to keep somehow the hilarity and the intensity that's on the page."
Even though Kartheiser has received rave reviews for his portrayal, he doesn't always watch his performance on the show.
"I'll watch parts.  I'm always impressed with how they've managed to make my performance palatable because that really is quite a feat, and I'm very impressed by that team of people," he said.  "I would say that has much less to do with me and much more to do with the team of professionals and technical people behind the scenes, the editors and the director and the post-production producing team.  I enjoy watching the other actors that act across from me, and I learn a lot about my flaws and my mistakes by watching what I do, so I do watch sometimes, and it's always a humbling experience."
Latest Videos
http://www.dailyactor.com/wp-content/uploads/2014/07/sir-ben-kingsley-talks-about-the.jpg
Sir Ben Kingsley Talks about the Unique Way He Voiced His Character in the Animated Film, 'The Boxtrolls' (video)
I could listen to Sir Ben Kingsley talk about acting and.. well, I could listen to him talk about anything. He's starring in the new Laika stop-motion animated film, The Boxtrolls, and he and some of the cast (along with the director) joined in on a Comic-Con panel about the film. The Boxtrolls is about [...]
http://www.dailyactor.com/2014/07/sir-ben-kingsley-the-boxtrolls-comic-con/
http://www.dailyactor.com/wp-content/uploads/2014/07/bill-hader.jpg
Bill Hader: "I kind of fell into acting" (video)
Bill Hader, starring in the soon to be released The Skeleton Twins, talks about the film and how he fell into acting and then got "crazy lucky" in this quick video from USA Today.
http://www.dailyactor.com/2014/07/bill-hader-fell-into-acting-video/
http://www.dailyactor.com/wp-content/uploads/2014/07/director-john-carney-narrates-a.jpg
Director John Carney Narrates a Scene from 'Begin Again' Starring Kiera Knightley and Mark Ruffalo
Director John Carney (Once) narrates a scene from his new film, Begin Again. Starring Keira Knightley and Mark Ruffalo, the scene shows the first time the two characters meet. I haven't seen it yet but I've heard it's great.
http://www.dailyactor.com/2014/07/begin-again-scene-director-john-carney-keira-knightley-mark-ruffalo/
http://www.dailyactor.com/wp-content/uploads/2014/07/holler-if-you-hear-me-gma.jpg
Watch the Cast of Broadway's 'Holler If You Hear Me' Perform 'California Love' on GMA
The cast of Broadway's newest musical, Holler If You Hear Me with music from Tupac Shakur, performed on Good Morning America this morning. Singing 'California Love', the cast (including the teriffic Christopher Jackson – read our interview here), show why they're the most energetic and inspiring group of actors on Broadway. Holler If Ya Hear [...]
http://www.dailyactor.com/2014/07/watch-cast-broadways-holler-hear-perform-california-love-gma/
http://www.dailyactor.com/wp-content/uploads/2014/07/behind-the-scenes-of-dawn-of-the.jpg
Behind the Scenes of 'Dawn of the Planet of the Apes' with Performance Capture Actor Terry Notary
Actor Terry Notary is 1 of 5 actors playing the apes in the new Dawn of the Planet of the Apes. "When you see armies of apes," he says, that's "five of us." Check out the video where you can watch his performance capture work.
http://www.dailyactor.com/2014/07/dawn-planet-apes-performance-capture-actor-terry-notary/