Vincent Kartheiser on the Things That "Really Scare Him About Acting"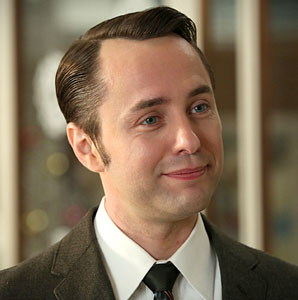 Vincent Kartheiser's character, Pete Campbell, had been put through the ringer this season of AMC's Mad Men.  The actor maintains he doesn't do anything special to get riled up.
"I have techniques that I use, but there's nothing particular I use to get worked up more than I would use to get any other emotion," he explained in an interview with Vulture.  "I don't want to get technical because not only is it boring, it's also personal.  But sometimes, if I've done many takes, and I still can't get it, I will naturally become aggravated with myself."
Kartheiser also had to face some physical challenges while playing Pete, particularly during a recent scene when he had to fall down a set of stairs.  "Fear is not something that you really engage too much in while you're acting," he said.  "The things that really scare me about acting have nothing to do with physical harm.  It's more emotional harm to one's psyche.  That five minutes before you walk onto a stage to do a performance that you haven't done before is a much more paralyzing fear, a fear to your core that is really indescribable and yet overcome-able.  And so fear of physical harm…I embrace that.  Falling down the stairs?  I mean, I make an ass of myself much more as Vincent than Pete ever could on that set, so basically, I'll do something as Pete, and then [the cast and crew] will say, 'Gosh, why can't you be more like that?'"
Despite the difficulties of playing Pete, the actor recognizes that he is "constantly getting great lines on the show.  The whole challenge is to not ruin if from page to performance, to keep somehow the hilarity and the intensity that's on the page."
Even though Kartheiser has received rave reviews for his portrayal, he doesn't always watch his performance on the show.
"I'll watch parts.  I'm always impressed with how they've managed to make my performance palatable because that really is quite a feat, and I'm very impressed by that team of people," he said.  "I would say that has much less to do with me and much more to do with the team of professionals and technical people behind the scenes, the editors and the director and the post-production producing team.  I enjoy watching the other actors that act across from me, and I learn a lot about my flaws and my mistakes by watching what I do, so I do watch sometimes, and it's always a humbling experience."
Latest Videos
http://www.dailyactor.com/wp-content/uploads/2014/08/bryan-cranston-emmy-award-speech.jpg
Watch: Bryan Cranston's Emmy Award Speech: "I love to act. It is a passion of mine and I will do it until my last breath."
The Emmy Awards weren't the most exciting awards show this year but with Bryan Cranston winning for Outstanding Actor in a Drama for Breaking Bad, we at least got to hear one heck of a fantastic acceptance speech. "I was a kid who always looked for the shortcut," he said. "I did happen to stumble […]
http://www.dailyactor.com/2014/08/watch-bryan-cranston-and-aaron-pauls-emmy-award-speeches/
http://www.dailyactor.com/wp-content/uploads/2014/08/audition-tapes-gerard-butler-aud.jpg
Audition Tapes: Gerard Butler Auditions for 'Dracula 2000′
Check out Gerard Butler auditioning for the role of Dracula in the movie, Dracula 2000. The film, about a group of thieves who break into a chamber expecting to find paintings, but instead find Dracula himself, also starred Christopher Plummer, Jonny Lee Miller and Nathan Fillion. Bulter has some sweet rock star hair, huh?
http://www.dailyactor.com/2014/08/audition-tapes-gerard-butler-dracula-2000/
http://www.dailyactor.com/wp-content/uploads/2014/08/interview-matt-dillon-and-carla.jpg
Interview: Matt Dillon and Carla Gugino Talk 'Wayward Pines'
FOX has a new limited-series that's got a terrific cast and interesting premise. It's called Wayward Pines and stars Matt Dillon, Carla Gugino, Melissa Leo, Toby Jones, Terrance Howard, Juliette Lewis, Tim Griffin and Shannyn Sossamon. The show, whose pilot was directed by M. Night Shyamalan, is about a Secret Service agent (Dillon) goes to […]
http://www.dailyactor.com/2014/08/interview-matt-dillon-carla-gugino-wayward-pines-comic-con/
http://www.dailyactor.com/wp-content/uploads/2014/08/interview-wayward-pines-stars-ti.jpg
Interview: 'Wayward Pines' Stars Tim Griffin and Shannyn Sossamon on the Show, Their Characters and More!
Griffin and Sossamonwere at Comic-Con where they sat in on some roundtable interviews to talk about the show.
http://www.dailyactor.com/2014/08/interview-wayward-pines-stars-tim-griffin-shannyn-sossamon-comic-con/
http://www.dailyactor.com/wp-content/uploads/2014/08/interview-m-night-shyamalan-talk.jpg
Interview: M. Night Shyamalan Talks 'Wayward Pines' and Why He Expanded a Young Actors Role on the Show
I talked to Shyamalan at Comic-Con in a roundtable interview where he talked about the cast, what he learned from working in TV and how young actor Charlie Tahan started out with a small part but as the story grew, so did his role.
http://www.dailyactor.com/2014/08/interview-m-night-shyamalan-wayward-pines-comic-con/