Linda Cardellini on Her Audition for 'Mad Men' and Her "Objective" When Seeking Roles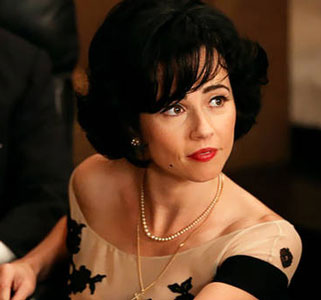 Linda Cardellini wasn't expecting to get the role of Sylvia Rosen on AMC's Mad Men.
"I had to audition, and Matt Weiner [the Mad Men creator and show runner] was in the room," she recalled in an interview with The New York Times.  "I had just had a baby and it was the first time I had really contemplated coming back to work.  I wasn't even sleeping through the night with my baby yet, and I wasn't sure if I was going to be able to retain the information or know the lines.  I was very lucky to get the part."
It's not like Cardellini had much background upon which she could build her character.  The show is notorious for being tight-lipped about plot points.  "You know nothing about what it is you're doing when you come in," she said.  "The character's name was Sylvia, but I did not know it was Don [that she was interacting with] at that point.  I've never worked in that way, and it kept me in the moment.  You can't play the end of your arc, because you don't know it yet."
The actress, who got her breakout role on the Freaks and Geeks series, admits that she doesn't necessarily seek out roles that will distance her from the show or her role in the Scooby Doo movies.
"I don't make that an objective at all," she said.  "For me, the objective isn't to try to make anybody forget anything that I've done, but I want people to know that there's a lot of different things I can do.  People who have no idea it's me when they first see me playing something, and later they realize, that's her from whatever it is, it's a great compliment that they can forget.  When I was doing Scooby Doo, nobody knew it was me.  That's the fun part of it, being able to hide inside of a character and change yourself."
Mad Men airs on AMC, Sundays at 10 p.m.
Latest Videos
http://www.dailyactor.com/wp-content/uploads/2014/07/bill-hader.jpg
Bill Hader: "I kind of fell into acting" (video)
Bill Hader, starring in the soon to be released The Skeleton Twins, talks about the film and how he fell into acting and then got "crazy lucky" in this quick video from USA Today. Share on Tumblr
http://www.dailyactor.com/2014/07/bill-hader-fell-into-acting-video/
http://www.dailyactor.com/wp-content/uploads/2014/07/director-john-carney-narrates-a.jpg
Director John Carney Narrates a Scene from 'Begin Again' Starring Kiera Knightley and Mark Ruffalo
Director John Carney (Once) narrates a scene from his new film, Begin Again. Starring Keira Knightley and Mark Ruffalo, the scene shows the first time the two characters meet. I haven't seen it yet but I've heard it's great.
http://www.dailyactor.com/2014/07/begin-again-scene-director-john-carney-keira-knightley-mark-ruffalo/
http://www.dailyactor.com/wp-content/uploads/2014/07/holler-if-you-hear-me-gma.jpg
Watch the Cast of Broadway's 'Holler If You Hear Me' Perform 'California Love' on GMA
The cast of Broadway's newest musical, Holler If You Hear Me with music from Tupac Shakur, performed on Good Morning America this morning. Singing 'California Love', the cast (including the teriffic Christopher Jackson – read our interview here), show why they're the most energetic and inspiring group of actors on Broadway. Holler If Ya Hear [...]
http://www.dailyactor.com/2014/07/watch-cast-broadways-holler-hear-perform-california-love-gma/
http://www.dailyactor.com/wp-content/uploads/2014/07/behind-the-scenes-of-dawn-of-the.jpg
Behind the Scenes of 'Dawn of the Planet of the Apes' with Performance Capture Actor Terry Notary
Actor Terry Notary is 1 of 5 actors playing the apes in the new Dawn of the Planet of the Apes. "When you see armies of apes," he says, that's "five of us." Check out the video where you can watch his performance capture work.
http://www.dailyactor.com/2014/07/dawn-planet-apes-performance-capture-actor-terry-notary/
http://www.dailyactor.com/wp-content/uploads/2014/07/melissa-mccarthy-daily-show.jpg
Melissa McCarthy and John Stewart Talk About Terrible Commercial Auditions on 'The Daily Show'
Melissa McCarthy stopped by The Daily Show last week to plug about her new movie, Tammy. She talked about how she loved working with her husband, Ben Falcone (director of Tammy) and then segued into talking about some horrible working situations. The always hilarious McCarthy then started to tell host John Stewart about a particular [...]
http://www.dailyactor.com/2014/07/melissa-mccarthy-john-stewart-commercial-auditions-the-daily-show/