Jesse Eisenberg Talks 'Now You See Me' and Tackling Stage Fright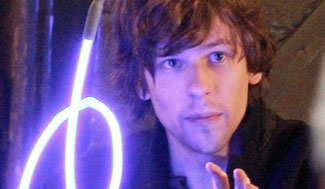 Jesse Eisenberg is one of those actors who actually admits to having stage fright.  Luckily, his role in the new film, Now You See Me, helped him get over his fear.
"I was doing a play in New York, Asuncion, and I had a lot of stage fright and anxiety about performing in it," he said in an interview with Moviefone.  "When I read the script, the character they wanted me to play was the most confident, almost arrogant, stage performer, and I thought, 'Oh, this will be a great opportunity to live out all the things I was denying myself in the play.'  I got to perform on stage and feel great about it instead of feeling nervous about it, and so I fully embraced that part of the character."
In the film, Eisenberg plays an illusionist who teams up with four other magicians to rob a bank.  The role actually ended up helping his performances onstage.  "I just finished my second play, The Revisionist, with Vanessa Redgrave, and I was a little more confident doing it," he said.  "I mean, incrementally, but more so, nonetheless.  I realized that you can choose to feel confident about it or not, but that's not necessarily related to how the show goes.  You can feel excited all day about performing at night or you can feel miserable all day about it and the show might not be that different.  Why ruin your days feeling miserable about something that can possibly go really well?
"I write these plays and it's very important for me to get them produced.  The first play I did, I had to really push along so it's a battle in me of wanting to avoid doing it because it scares me—wanting to get my plays out there and express myself.  I'm getting a little more confident as I do each play."
Eisenberg never gets anxious when costarring with Woody Harrelson (who also appeared in Zombieland with the actor.)  "We have a similar style of working," he explained.  "We like to come up with back stories for our character.  And we both really like improvisation and we both play off each other, since we have a similar sense of humor.  I have a lot of respect for him because he really takes it seriously."
Now You See Me is in theaters now.
Latest Videos
http://www.dailyactor.com/wp-content/uploads/2014/07/bill-hader.jpg
Bill Hader: "I kind of fell into acting" (video)
Bill Hader, starring in the soon to be released The Skeleton Twins, talks about the film and how he fell into acting and then got "crazy lucky" in this quick video from USA Today. Share on Tumblr
http://www.dailyactor.com/2014/07/bill-hader-fell-into-acting-video/
http://www.dailyactor.com/wp-content/uploads/2014/07/director-john-carney-narrates-a.jpg
Director John Carney Narrates a Scene from 'Begin Again' Starring Kiera Knightley and Mark Ruffalo
Director John Carney (Once) narrates a scene from his new film, Begin Again. Starring Keira Knightley and Mark Ruffalo, the scene shows the first time the two characters meet. I haven't seen it yet but I've heard it's great.
http://www.dailyactor.com/2014/07/begin-again-scene-director-john-carney-keira-knightley-mark-ruffalo/
http://www.dailyactor.com/wp-content/uploads/2014/07/holler-if-you-hear-me-gma.jpg
Watch the Cast of Broadway's 'Holler If You Hear Me' Perform 'California Love' on GMA
The cast of Broadway's newest musical, Holler If You Hear Me with music from Tupac Shakur, performed on Good Morning America this morning. Singing 'California Love', the cast (including the teriffic Christopher Jackson – read our interview here), show why they're the most energetic and inspiring group of actors on Broadway. Holler If Ya Hear [...]
http://www.dailyactor.com/2014/07/watch-cast-broadways-holler-hear-perform-california-love-gma/
http://www.dailyactor.com/wp-content/uploads/2014/07/behind-the-scenes-of-dawn-of-the.jpg
Behind the Scenes of 'Dawn of the Planet of the Apes' with Performance Capture Actor Terry Notary
Actor Terry Notary is 1 of 5 actors playing the apes in the new Dawn of the Planet of the Apes. "When you see armies of apes," he says, that's "five of us." Check out the video where you can watch his performance capture work.
http://www.dailyactor.com/2014/07/dawn-planet-apes-performance-capture-actor-terry-notary/
http://www.dailyactor.com/wp-content/uploads/2014/07/melissa-mccarthy-daily-show.jpg
Melissa McCarthy and John Stewart Talk About Terrible Commercial Auditions on 'The Daily Show'
Melissa McCarthy stopped by The Daily Show last week to plug about her new movie, Tammy. She talked about how she loved working with her husband, Ben Falcone (director of Tammy) and then segued into talking about some horrible working situations. The always hilarious McCarthy then started to tell host John Stewart about a particular [...]
http://www.dailyactor.com/2014/07/melissa-mccarthy-john-stewart-commercial-auditions-the-daily-show/