Helen Mirren Curses Out Drummers Who Disrupt Her Performance of 'The Audience'… In Full Makeup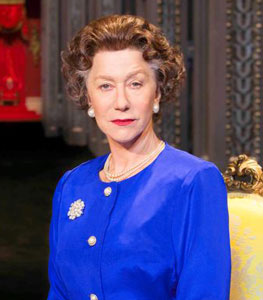 I never quite got why people use drumming to get attention during street protests and promotions.  Sure it's loud and makes bystanders turn their heads… but mostly because it's incredibly annoying.  So with that in mind, if you're absolutely set on promoting something with a company of drummers, could you at least refrain from doing it next to a theater? 
On Saturday night a group of marching drummers were playing their instruments to promote As One in the Park, a London gay music festival set to begin later this month.  Unfortunately, the marching drummers went right past the West End's Gielgud Theatre, where Dame Helen Mirren is currently starring as Queen Elizabeth II in The Audience.  Naturally, Mirren reprising her Oscar-winning role as Elizabeth is one of the hottest tickets in town, so the packed house and Mirren herself were subjected to loud drumming from outside the theater during the performance.
So, during intermission Mirren went out — in full makeup and costume — to ask the drummers to cut it out.  The New York Times notes that Mirren used "some strong language to halt the festivities."  She later copped to it, explaining, "I'm afraid there were a few 'thespian' words used. "They got a very stern royal ticking off, but I have to say they were very sweet, and they stopped immediately."
One of the organizers of the parade, Mark McKenzie, showed that he was a good sport about Mirren's "thespian" words, saying, "Not much shocks you on the gay scene, but seeing Helen Mirren dressed as the queen cussing and swearing and making you stop your parade — that's a new one."
Latest Videos
http://www.dailyactor.com/wp-content/uploads/2014/07/bill-hader.jpg
Bill Hader: "I kind of fell into acting" (video)
Bill Hader, starring in the soon to be released The Skeleton Twins, talks about the film and how he fell into acting and then got "crazy lucky" in this quick video from USA Today. Share on Tumblr
http://www.dailyactor.com/2014/07/bill-hader-fell-into-acting-video/
http://www.dailyactor.com/wp-content/uploads/2014/07/director-john-carney-narrates-a.jpg
Director John Carney Narrates a Scene from 'Begin Again' Starring Kiera Knightley and Mark Ruffalo
Director John Carney (Once) narrates a scene from his new film, Begin Again. Starring Keira Knightley and Mark Ruffalo, the scene shows the first time the two characters meet. I haven't seen it yet but I've heard it's great.
http://www.dailyactor.com/2014/07/begin-again-scene-director-john-carney-keira-knightley-mark-ruffalo/
http://www.dailyactor.com/wp-content/uploads/2014/07/holler-if-you-hear-me-gma.jpg
Watch the Cast of Broadway's 'Holler If You Hear Me' Perform 'California Love' on GMA
The cast of Broadway's newest musical, Holler If You Hear Me with music from Tupac Shakur, performed on Good Morning America this morning. Singing 'California Love', the cast (including the teriffic Christopher Jackson – read our interview here), show why they're the most energetic and inspiring group of actors on Broadway. Holler If Ya Hear [...]
http://www.dailyactor.com/2014/07/watch-cast-broadways-holler-hear-perform-california-love-gma/
http://www.dailyactor.com/wp-content/uploads/2014/07/behind-the-scenes-of-dawn-of-the.jpg
Behind the Scenes of 'Dawn of the Planet of the Apes' with Performance Capture Actor Terry Notary
Actor Terry Notary is 1 of 5 actors playing the apes in the new Dawn of the Planet of the Apes. "When you see armies of apes," he says, that's "five of us." Check out the video where you can watch his performance capture work.
http://www.dailyactor.com/2014/07/dawn-planet-apes-performance-capture-actor-terry-notary/
http://www.dailyactor.com/wp-content/uploads/2014/07/melissa-mccarthy-daily-show.jpg
Melissa McCarthy and John Stewart Talk About Terrible Commercial Auditions on 'The Daily Show'
Melissa McCarthy stopped by The Daily Show last week to plug about her new movie, Tammy. She talked about how she loved working with her husband, Ben Falcone (director of Tammy) and then segued into talking about some horrible working situations. The always hilarious McCarthy then started to tell host John Stewart about a particular [...]
http://www.dailyactor.com/2014/07/melissa-mccarthy-john-stewart-commercial-auditions-the-daily-show/