Disabled Actors Angry Over Wheelchair-Bound 'Ironside' Role Going to Non-Disabled Actor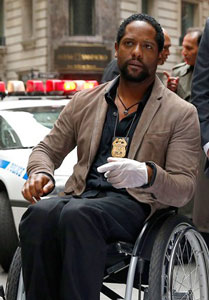 The television drama Ironside, which was about wheelchair-bound detective Robert T. Ironside, ran for eight seasons in the 1960s and 1970s and starred able bodied actor Raymond Burr.  NBC has decided to revive the series for the upcoming television series with one major change: Ironside will be played by an African American actor, Blair Underwood.  What hasn't changed?  Like Burr, Underwood is not disabled.  The decision to not cast a disabled actor in the role has made many disabled actors unhappy.
Kurt Yaeger, a one-legged actor on Sons of Anarchy is one of the loudest voices against the casting.  He points out, "This would be like being in the '50s and having a white guy do blackface, at this point.  You need to start having disabled people playing disabled characters. Period."
Though an increasing number of television shows have featured disabled characters in recent years, the prevailing trend is casting able bodied actors in those roles.  Examples include Kevin McHale's Artie Abrams on Glee, Terry O'Quinn's John Locke on Lost, and D.J. Qualls's Billy Nugent on Legit. Auti Angel, a paralyzed actress who stars in Sundance's docuseries Push Girls, does not understand the hesitation to cast actors who are physical matches for the characters.  She says, "What are they afraid of?  There are so many extremely talented individuals who are performing artists with a different ability. "NBC has declined to answer whether or not any disabled actors were auditioned for the Ironside role before Underwood was cast.  That was not the case with Glee, because paraplegic actor Tobias Forrest has come forward to point out that he auditioned for McHale's role.  Though he didn't get the role, he is happy that he was considered, explaining, "Ultimately, my gripe is I need to be able to get into the room, at least.  And if it's something that close to my life, then the opportunity to go into the room to win them over is really what we're looking for."
Film casting director Pam Dixon, who used to be the senior vice president of casting at ABC, believes that the issue isn't a matter of discrimination but of exposure.  She doesn't think enough disabled actors have representation, which hurts their ability to get their name and face out there.  In fact, Dixon is trying to launch a database of disabled actors on ActorsAccess.com that will work with the industry's Breakdown Services to locate actors who might otherwise go unnoticed.  She says, "You have to win on your talent, but if you don't have the opportunity, you can't do it." 
All the actors are in agreement — the best actor should end up with the role regardless of physical ability.  But they ought to be given a chance to audition to play characters who face the same struggles they have faced their entire lives.via Yahoo!
Latest Videos
http://www.dailyactor.com/wp-content/uploads/2014/09/audtion-tapes-robin-wright-and-h.jpg
Audition Tapes: Robin Wright and Haley Joel Osment Audition with Tom Hanks for 'Forrest Gump'
Check out Robin Wright auditioning for the role of Jenny from Forest Gump opposite Tom Hanks. Interestingly enough, Hanks doesn't quite have Gump's southern drawl down just yet while the other actors audition with him. In fact, Hanks would base Gump's voice on the voice of Michael Conner Humphreys, who played the young Forrest and […]
http://www.dailyactor.com/2014/09/audtion-tapes-robin-wright-haley-joel-osment-tom-hanks-forrest-gump/
http://www.dailyactor.com/wp-content/uploads/2014/08/bryan-cranston-emmy-award-speech.jpg
Watch: Bryan Cranston's Emmy Award Speech: "I love to act. It is a passion of mine and I will do it until my last breath."
The Emmy Awards weren't the most exciting awards show this year but with Bryan Cranston winning for Outstanding Actor in a Drama for Breaking Bad, we at least got to hear one heck of a fantastic acceptance speech. "I was a kid who always looked for the shortcut," he said. "I did happen to stumble […]
http://www.dailyactor.com/2014/08/watch-bryan-cranston-and-aaron-pauls-emmy-award-speeches/
http://www.dailyactor.com/wp-content/uploads/2014/08/audition-tapes-gerard-butler-aud.jpg
Audition Tapes: Gerard Butler Auditions for 'Dracula 2000′
Check out Gerard Butler auditioning for the role of Dracula in the movie, Dracula 2000. The film, about a group of thieves who break into a chamber expecting to find paintings, but instead find Dracula himself, also starred Christopher Plummer, Jonny Lee Miller and Nathan Fillion. Bulter has some sweet rock star hair, huh?
http://www.dailyactor.com/2014/08/audition-tapes-gerard-butler-dracula-2000/
http://www.dailyactor.com/wp-content/uploads/2014/08/interview-matt-dillon-and-carla.jpg
Interview: Matt Dillon and Carla Gugino Talk 'Wayward Pines'
FOX has a new limited-series that's got a terrific cast and interesting premise. It's called Wayward Pines and stars Matt Dillon, Carla Gugino, Melissa Leo, Toby Jones, Terrance Howard, Juliette Lewis, Tim Griffin and Shannyn Sossamon. The show, whose pilot was directed by M. Night Shyamalan, is about a Secret Service agent (Dillon) goes to […]
http://www.dailyactor.com/2014/08/interview-matt-dillon-carla-gugino-wayward-pines-comic-con/
http://www.dailyactor.com/wp-content/uploads/2014/08/interview-wayward-pines-stars-ti.jpg
Interview: 'Wayward Pines' Stars Tim Griffin and Shannyn Sossamon on the Show, Their Characters and More!
Griffin and Sossamonwere at Comic-Con where they sat in on some roundtable interviews to talk about the show.
http://www.dailyactor.com/2014/08/interview-wayward-pines-stars-tim-griffin-shannyn-sossamon-comic-con/