Broadway Continues Going to the Dogs with Porridge in 'Pippin'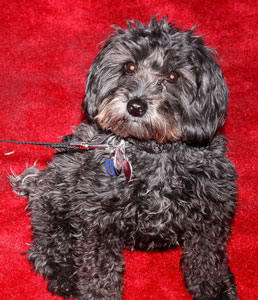 What's with animals on Broadway this season?  Not only do we have a cat in Breakfast at Tiffany's and a dog in Annie, but another pooch has taken the stage in the revival of Pippin.  However, Porridge the dog isn't some superstar stage dog.  In fact, the poodle-mix is owned and trained by Matthew James Thomas, who also stars in Pippin at the Music Box Theatre.
Thomas, a UK actor who debuted on Broadway in Spider-Man: Turn Off the Dark as the alternate Spider-Man (performing in two shows per week), bought Porridge from a rundown pet store after moving to New York City.  He explains to The New York Post, "Through the window, I saw a little black dog curled up in a cage, and he just looked at me."  Though he took a brief trip to Starbucks to convince himself to stick to his original plan of adopting a puppy from the Human Society, he couldn't help himself and returned to buy Porridge, whom he named after a family dog that had once saved the life of Thomas' mother.
While Thomas was rehearsing for Pippin after leaving Spider-Man, he brought Porridge to a rehearsal.  The dog's focused behavior intrigued director Diane Paulus, and she decided to cast Porridge in the play in a small role that has become a hit with audiences.
So how did Thomas become a dog trainer during the demanding hours of a Broadway actor?  Though Porridge is well-trained, Thomas admits the training wasn't actually difficult.  "Sometimes I just take away his favorite toy," he explains.  
http://www.dailyactor.com/wp-content/uploads/2015/05/Caitriona-Balfe-Outlander.jpg
Outlander's Caitriona Balfe On The Emotional Toll of Filming Violent Scenes
"Having to put yourself in that place is tough. To sit in that emotional space, especially when you're doing it day after day." - Caitriona Balfe
http://www.dailyactor.com/2015/05/outlander-catriona-balfe-emotional-toll-of-filming-violent-scenes/
http://www.dailyactor.com/wp-content/uploads/2015/05/Chrissie-Fit.jpg
Chrissie Fit on How She Landed Her Role in 'Pitch Perfect 2′
"I remember getting the audition and being like, "This might not happen," just because it is such a massive movie." - Chrissie Fit
http://www.dailyactor.com/2015/05/chrissie-fit-on-how-she-landed-her-role-in-pitch-perfect-2/
http://www.dailyactor.com/wp-content/uploads/2015/05/Sam-Elliott.jpg
Sam Elliot on How he "F–ked" Himself Out of a Career as a Lead Actor
The rugged Sam Elliot has most often cast in character actor roles throughout his long career in film, though the 70 year-old Elliot thinks it wasn't always meant to be that way.
http://www.dailyactor.com/2015/05/sam-elliot-on-how-he-f-ked-himself-out-of-a-career-as-a-lead-actor/
http://www.dailyactor.com/wp-content/uploads/2015/05/Anna-Kendrick-Pitch-Perfect-2.jpg
Anna Kendrick Talks Hollywood and its Gender Bias
"As an actress you're perpetually about to be unemployed." - Anna Kendrick
http://www.dailyactor.com/2015/05/anna-kendrick-talks-hollywood-and-its-gender-bias/
http://www.dailyactor.com/wp-content/uploads/2015/05/tom-hardy-mad-max-fury-road.jpg
Tom Hardy on Fame, Acting School, and His 'Mad Respect' for Michael Fassbender
"Do what you love doing, do it well—everything should fit into place." - Tom Hardy
http://www.dailyactor.com/2015/05/tom-hardy-fame-acting-school-michael-fassbender/