Training Cats for Broadway's 'Breakfast At Tiffany's' Is Not Easy, Even for an Expert (video)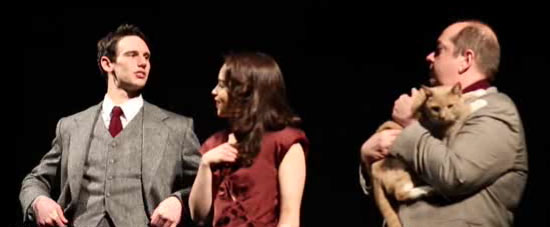 Dogs have been on Broadway before — a major character in the musical Annie, which is currently back on Broadway, is her dog Sandy — but as far as I know the most memorable cats on Broadway were, well, the cats in Cats.  The main reason why is that cats simply don't train as well as dogs do, and this is a problem since the new play adaptation of Truman Capote's 1958 novella Breakfast at Tiffany's on Broadway requires a cat to play Holly Golightly's unnamed feline companion.  However, producers have had an awful time trying to  find the right cat for the job.
The New York Times chronicled the ongoing difficulty of casting a cat for the role.  Eight cats were selected for an audition from a hundred submissions, but animal trainer Babette Corelli of Dawn Animal Agency was unsatisfied with all of them.  Corelli has a long history of training animals for the stage, including training animals for the Radio City Christmas Spectacular, and her agency is home to a 300-acre farm with all kinds of animals, including 90 about cats. She felt her only choices were to use one of her own cats, Montie, or another trained cat named Vito Vincent to compete for the role.
Still, despite both cats' theater backgrounds Corelli still had trouble.  Corelli utilized several techniques to teach the role, including using a clicker, verbal commands and hand signals.  But director Sean Mathias (who directed a different adaptation of Breakfast at Tiffany's in London in 2009, also with cats) made alterations during rehearsals on February 28th to the cat's biggest scene, in which the feline is supposed to walk offstage after Holly (Emilia Clarke) explains why the cat doesn't have a name. 
With previews beginning March 4th, Corelli had to train Vito on the spot for the scene and explained, "I'll make sure to send the cat out facing this direction, so he has his face to the audience, not his butt."  Vito was able to handle the new blocking first, but when it came to the point where Vito was supposed to exit the scene the bright stage lights confused Vito.  However, Montie (Corelli's preferred cat) did much worse and ran offstage shortly after the scene began.
The piece notes that Vito's next rehearsal wasn't perfect, but Clarke was able to improvise around Vito's behavior to something workable.  Yet with only four days to go before the first preview, who knows how well Vito or Montie would perform the scene in the weeks to come?
Latest Videos
http://www.dailyactor.com/wp-content/uploads/2014/09/audtion-tapes-robin-wright-and-h.jpg
Audition Tapes: Robin Wright and Haley Joel Osment Audition with Tom Hanks for 'Forrest Gump'
Check out Robin Wright auditioning for the role of Jenny from Forest Gump opposite Tom Hanks. Interestingly enough, Hanks doesn't quite have Gump's southern drawl down just yet while the other actors audition with him. In fact, Hanks would base Gump's voice on the voice of Michael Conner Humphreys, who played the young Forrest and […]
http://www.dailyactor.com/2014/09/audtion-tapes-robin-wright-haley-joel-osment-tom-hanks-forrest-gump/
http://www.dailyactor.com/wp-content/uploads/2014/08/bryan-cranston-emmy-award-speech.jpg
Watch: Bryan Cranston's Emmy Award Speech: "I love to act. It is a passion of mine and I will do it until my last breath."
The Emmy Awards weren't the most exciting awards show this year but with Bryan Cranston winning for Outstanding Actor in a Drama for Breaking Bad, we at least got to hear one heck of a fantastic acceptance speech. "I was a kid who always looked for the shortcut," he said. "I did happen to stumble […]
http://www.dailyactor.com/2014/08/watch-bryan-cranston-and-aaron-pauls-emmy-award-speeches/
http://www.dailyactor.com/wp-content/uploads/2014/08/audition-tapes-gerard-butler-aud.jpg
Audition Tapes: Gerard Butler Auditions for 'Dracula 2000′
Check out Gerard Butler auditioning for the role of Dracula in the movie, Dracula 2000. The film, about a group of thieves who break into a chamber expecting to find paintings, but instead find Dracula himself, also starred Christopher Plummer, Jonny Lee Miller and Nathan Fillion. Bulter has some sweet rock star hair, huh?
http://www.dailyactor.com/2014/08/audition-tapes-gerard-butler-dracula-2000/
http://www.dailyactor.com/wp-content/uploads/2014/08/interview-matt-dillon-and-carla.jpg
Interview: Matt Dillon and Carla Gugino Talk 'Wayward Pines'
FOX has a new limited-series that's got a terrific cast and interesting premise. It's called Wayward Pines and stars Matt Dillon, Carla Gugino, Melissa Leo, Toby Jones, Terrance Howard, Juliette Lewis, Tim Griffin and Shannyn Sossamon. The show, whose pilot was directed by M. Night Shyamalan, is about a Secret Service agent (Dillon) goes to […]
http://www.dailyactor.com/2014/08/interview-matt-dillon-carla-gugino-wayward-pines-comic-con/
http://www.dailyactor.com/wp-content/uploads/2014/08/interview-wayward-pines-stars-ti.jpg
Interview: 'Wayward Pines' Stars Tim Griffin and Shannyn Sossamon on the Show, Their Characters and More!
Griffin and Sossamonwere at Comic-Con where they sat in on some roundtable interviews to talk about the show.
http://www.dailyactor.com/2014/08/interview-wayward-pines-stars-tim-griffin-shannyn-sossamon-comic-con/