Training Cats for Broadway's 'Breakfast At Tiffany's' Is Not Easy, Even for an Expert (video)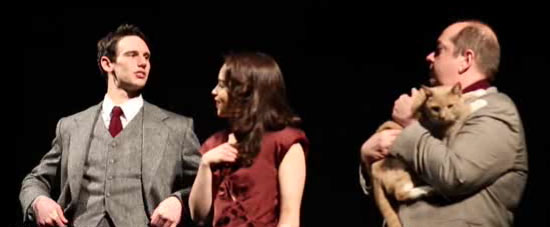 Dogs have been on Broadway before — a major character in the musical Annie, which is currently back on Broadway, is her dog Sandy — but as far as I know the most memorable cats on Broadway were, well, the cats in Cats.  The main reason why is that cats simply don't train as well as dogs do, and this is a problem since the new play adaptation of Truman Capote's 1958 novella Breakfast at Tiffany's on Broadway requires a cat to play Holly Golightly's unnamed feline companion.  However, producers have had an awful time trying to  find the right cat for the job.
The New York Times chronicled the ongoing difficulty of casting a cat for the role.  Eight cats were selected for an audition from a hundred submissions, but animal trainer Babette Corelli of Dawn Animal Agency was unsatisfied with all of them.  Corelli has a long history of training animals for the stage, including training animals for the Radio City Christmas Spectacular, and her agency is home to a 300-acre farm with all kinds of animals, including 90 about cats. She felt her only choices were to use one of her own cats, Montie, or another trained cat named Vito Vincent to compete for the role.
Still, despite both cats' theater backgrounds Corelli still had trouble.  Corelli utilized several techniques to teach the role, including using a clicker, verbal commands and hand signals.  But director Sean Mathias (who directed a different adaptation of Breakfast at Tiffany's in London in 2009, also with cats) made alterations during rehearsals on February 28th to the cat's biggest scene, in which the feline is supposed to walk offstage after Holly (Emilia Clarke) explains why the cat doesn't have a name. 
With previews beginning March 4th, Corelli had to train Vito on the spot for the scene and explained, "I'll make sure to send the cat out facing this direction, so he has his face to the audience, not his butt."  Vito was able to handle the new blocking first, but when it came to the point where Vito was supposed to exit the scene the bright stage lights confused Vito.  However, Montie (Corelli's preferred cat) did much worse and ran offstage shortly after the scene began.
The piece notes that Vito's next rehearsal wasn't perfect, but Clarke was able to improvise around Vito's behavior to something workable.  Yet with only four days to go before the first preview, who knows how well Vito or Montie would perform the scene in the weeks to come?
http://www.dailyactor.com/wp-content/uploads/2015/05/Caitriona-Balfe-Outlander.jpg
Outlander's Caitriona Balfe On The Emotional Toll of Filming Violent Scenes
"Having to put yourself in that place is tough. To sit in that emotional space, especially when you're doing it day after day." - Caitriona Balfe
http://www.dailyactor.com/2015/05/outlander-catriona-balfe-emotional-toll-of-filming-violent-scenes/
http://www.dailyactor.com/wp-content/uploads/2015/05/Chrissie-Fit.jpg
Chrissie Fit on How She Landed Her Role in 'Pitch Perfect 2′
"I remember getting the audition and being like, "This might not happen," just because it is such a massive movie." - Chrissie Fit
http://www.dailyactor.com/2015/05/chrissie-fit-on-how-she-landed-her-role-in-pitch-perfect-2/
http://www.dailyactor.com/wp-content/uploads/2015/05/Sam-Elliott.jpg
Sam Elliot on How he "F–ked" Himself Out of a Career as a Lead Actor
The rugged Sam Elliot has most often cast in character actor roles throughout his long career in film, though the 70 year-old Elliot thinks it wasn't always meant to be that way.
http://www.dailyactor.com/2015/05/sam-elliot-on-how-he-f-ked-himself-out-of-a-career-as-a-lead-actor/
http://www.dailyactor.com/wp-content/uploads/2015/05/Anna-Kendrick-Pitch-Perfect-2.jpg
Anna Kendrick Talks Hollywood and its Gender Bias
"As an actress you're perpetually about to be unemployed." - Anna Kendrick
http://www.dailyactor.com/2015/05/anna-kendrick-talks-hollywood-and-its-gender-bias/
http://www.dailyactor.com/wp-content/uploads/2015/05/tom-hardy-mad-max-fury-road.jpg
Tom Hardy on Fame, Acting School, and His 'Mad Respect' for Michael Fassbender
"Do what you love doing, do it well—everything should fit into place." - Tom Hardy
http://www.dailyactor.com/2015/05/tom-hardy-fame-acting-school-michael-fassbender/