Tony Danza Talks Working with Joseph Gordon-Levitt on 'Don Jon' and Going Back to Acting Class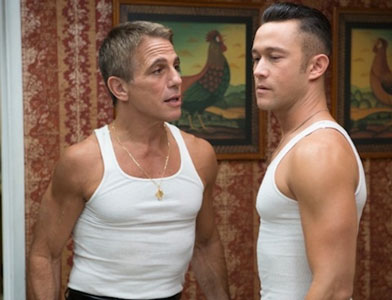 Tony Danza was always impressed with Joseph Gordon-Levitt—even back when they appeared together in Angels in the Outfield in 1994.  Now Gordon-Levitt is directing his old co-star in the new film, Don Jon.
"I've always had sort of a paternal thing for him.  It's kind of a cool symmetry, actually," Danza said in an interview with The Huffington Post.  "Here's a little anecdote: I really had a paternal thing for him.  I can't help myself; I do that with kids.  He was so terrific in that movie; such a good kid.  I'm an inline skater, he's an inline skater.  So we would skate together around Oakland-Alameda County Coliseum.  The smooth concrete there; it's fabulous.  Every once in a while, I'd say, 'Come on, Joe.  Get your skates, we'll go skating.'  He'd say, 'No, I'm following the director today.  I want to see what he does.'  So he always had this in the back of his mind.  At 12!  I was mad!  I was like, 'I'm going to be a jerk and you're going to be a director.'"
Initially, Danza could have felt reluctant taking on the part.  After all, Don Jon is Gordon-Levitt's first writing and directing project.  But with Danza's years of experience in the business, he knew he would be taking a good risk.
"I had no thoughts about not taking the role," Danza admitted.  "What I did have thoughts about—really concerns—was that here I am going into a production with people like Joseph, who just worked with Steven Spielberg and Christopher Nolan, Julianne Moore, Scarlett Johansson and Glenne Headly.  To be perfectly candid, I was afraid of looking like a minor leaguer.  Like they brought me up to the big show and I looked like it.  I didn't want to look like a AAA player or AA player in that situation.  I didn't really have legitimate concerns, though; there's a certain truism that when you play with a better tennis player, you play a little bit better.  Well, when you act with those kind of people who make it so real, it makes it that much easier."
Another element that made the process go smoothly was the amount of rehearsal time Gordon-Levitt allowed on Don Jon (which happens to co-star the actors Danza mentioned.)  "We did have a rehearsal.  Joseph believes in that," the 62-year-old said.  "I'll be honest with you: I worked really hard on the prep.  I worked on my own.  I was determined that if I was going to get this chance, I was going to be the best I could be.  Just serendipitously, right when this movie came, I had decided to take a 10-week beginners Meisner acting class in New York.  I just wanted to go sit in a classroom.  I went to 54th street, to the acting studio, and I took a 10-week course: twice a week, almost four hours per night.  It was me and a bunch of 25 year olds, and it was fabulous.
"Then, when I got the movie, I mentioned it to the teacher and he said, 'Well, let's work it.'  I got together with this troupe of actors and we made dinner and had dinner scenes.  I got to do it and do it and do it.  I'm a big believer that if you can act then you should just learn the damn thing.  Learn it so it's in your bones.  Like a dance number.  You wouldn't go out and perform a dance number until it's in your bones; it's the same kind of thing with acting."
Don Jon has been shown at the Sundance Film Festival and the South by Southwest Film Festival.
Latest Videos
Watch: Anna Gunn, Jacki Weaver and Virginia Kull on 'Gracepoint' and Strong Female Roles on TV
The actresses also speak candidly about how they feel about their characters in the series and why its important for TV to feature series with strong female leads.Check out the conversation above!
http://www.dailyactor.com/2014/10/watch-anna-gunn-jacki-weaver-virginia-kull-gracepoint-strong-female-roles-on-tv/
http://www.dailyactor.com/wp-content/uploads/2014/10/watch-cristin-milioti-talks-a-to.jpg
Watch: Cristin Milioti Talks 'A to Z', 'Once' and 'How I Met Your Mother'
Few actresses have the kind of rise as Cristin Milioti has had in the last few years. A virtual unknown in 2011, she became a bona fide Broadway star in the 2012 hit Once, appeared in a supporting role in the 2013 film The Wolf of Wall Street, and was featured as the titular mother […]
http://www.dailyactor.com/2014/10/watch-cristin-milioti-a-to-z-once-how-i-met-your-mother/
http://www.dailyactor.com/wp-content/uploads/2014/10/watch-bryan-cranstons-acting-adv.jpg
Watch: Bryan Cranston's Acting Advice
With Breaking Bad: The Complete Series Barrel being released on Blu-ray with all kinds of goodies today, it gives us yet another opportunity to reflect on the series' star Bryan Cranston and all of the incredible advice he has offered actors in the wake of his success. In a video he filmed in 2013 for […]
http://www.dailyactor.com/2014/10/bryan-cranston-acting-advice-video/
http://www.dailyactor.com/wp-content/uploads/2014/10/alex-sharp-curious-incident-of-the-dog.jpg
Alex Sharp Talks About His Broadway Debut in 'The Curious Incident of the Dog in the Night-Time' (video)
Alex Sharp went from working in a call-center and renovating houses to going to Julliard. And now, he's starring in one of the most talked about shows of the season, The Curious Incident of the Dog in the Night-Time. Check out this great, inspiring video!
http://www.dailyactor.com/2014/10/alex-sharp-broadway-debut-the-curious-incident-of-the-dog-in-the-night-time-video/
http://www.dailyactor.com/wp-content/uploads/2014/10/Its-only-a-play.jpg
Watch a Scene From Terrance McNally's, 'It's Only a Play', Featuring Nathan Lane and Micah Stock
Here's a quick scene from Terrance McNally's It's Only a Play, currently on Broadway at the Schoenfeld Theater. In this scene, Nathan Lane and Micah Stock meet for the first time. The show, about the opening night of a new play, also stars Matthew Broderick, Stockard Channing, F. Murray Abraham, Rupert Grint and Megan Mullally.
http://www.dailyactor.com/2014/10/watch-a-scene-terrance-mcnally-its-only-a-play-nathan-lane-micah-stock/