SXSW Review: 'Mud' starring Matthew McConaughey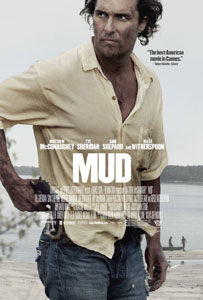 Matthew McConaughey has had such an incredible run of performances the past two years, hasn't he? It started with The Lincoln Lawyer (go watch it) and Bernie, then continued on with Killer Joe, The Paperboy and Magic Mike. Who else in recent memory can you think of that has been on fire like he's been?
Well, his hot streak continues with the absolutely wonderful, Mud.
Written and directed by Jeff Nichols (Take Shelter), the film is about two boys, Ellis (Tye Sheridan) and Neckbone (Jacob Lofland), who come across a guy named Mud (McConaughey) hiding out on an island in the Mississippi. Mud claims to be running from some bounty hunters after killing a man that harrassed his one true love, Juniper (Reese Witherspoon). Eventually, the two boys form a plan to help Mud rescue Juniper and escape the bounty hunters.
The film works for so many different reasons.
First of all, any movie that features Piggly Wiggly prominently in several scenes is alright with me. Secondly, Sheridan and Lofland are great young actors who are playing real kids, not Hollywood versions of what they think kids are. They are kids being kids. The film starts off with the two of them looking for an adventure, finding it and seeing where it takes them. Even when they are in the midst of some crazy, and sometimes potentially deadly circumstances, they are still kids and still care about the important stuff. "Did you touch her titty?," Neckbone asking Ellis at one point. These two are so convincing that you wonder how much acting was actually involved but I'm going to love watching these two evolve and grow.
It's also about loving a woman; finding out what it really is and how it can sometimes drive a man – both young and old – mad. It's about love between fathers and sons (real fathers and father-like) and the lengths the dad's will go to to protect and help their kids.
McConaughey, complete with chipped tooth and wild hair, spends 90% of the film stranded on the island fixing the boat with the kids. He just commands the screen with his presence. He's always got a story to tell and most of the time, you're wondering if it's real or some made up craziness… but whatever it is, you can't wait for another one to come out of his mouth. He could probably play this character in his sleep by now but he just went to work going so deep that what he's done, mining the depths of this guy, is just out of this world great.
And if you're a Michael Shannon fan, he's got a very small role but also some of the funniest lines in the whole film.
Latest Videos
http://www.dailyactor.com/wp-content/uploads/2014/10/alex-sharp-curious-incident-of-the-dog.jpg
Alex Sharp Talks About His Broadway Debut in 'The Curious Incident of the Dog in the Night-Time' (video)
Alex Sharp went from working in a call-center and renovating houses to going to Julliard. And now, he's starring in one of the most talked about shows of the season, The Curious Incident of the Dog in the Night-Time. Check out this great, inspiring video!
http://www.dailyactor.com/2014/10/alex-sharp-broadway-debut-the-curious-incident-of-the-dog-in-the-night-time-video/
http://www.dailyactor.com/wp-content/uploads/2014/10/Its-only-a-play.jpg
Watch a Scene From Terrance McNally's, 'It's Only a Play', Featuring Nathan Lane and Micah Stock
Here's a quick scene from Terrance McNally's It's Only a Play, currently on Broadway at the Schoenfeld Theater. In this scene, Nathan Lane and Micah Stock meet for the first time. The show, about the opening night of a new play, also stars Matthew Broderick, Stockard Channing, F. Murray Abraham, Rupert Grint and Megan Mullally.
http://www.dailyactor.com/2014/10/watch-a-scene-terrance-mcnally-its-only-a-play-nathan-lane-micah-stock/
http://www.dailyactor.com/wp-content/uploads/2014/10/birdman-director-alejandro-g-ina.jpg
'Birdman' Director Alejandro G. Iñárritu Narrates a Scene from the Film Featuring Michael Keaton and Edward Norton
Director Alejandro G. Iñárritu narrates a scene from Birdman or The Unexpected Virtue of Ignorance that features stars Michael Keaton and Edward Norton. The film is wonderful and if it's playing in your town, definitely check it out!
http://www.dailyactor.com/2014/10/birdman-director-alejandro-g-inarritu-michael-keaton-edward-norton/
http://www.dailyactor.com/wp-content/uploads/2014/10/the-cast-of-mad-men-on-the-final.jpg
The Cast of 'Mad Men' on the Final Season and More
Though the AMC television series Mad Men might not carry the same cultural weight that it did a few years ago (splitting your final season over two years might do that to you), the second half of the show's final season is expected to be full of powerful performances from its ensemble cast. With the […]
http://www.dailyactor.com/2014/10/cast-of-mad-men-final-season/
http://www.dailyactor.com/wp-content/uploads/2014/10/behind-the-scenes-of-a-sex-scene.jpg
Behind the Scenes of a Sex Scene with Patrick Wilson, Brooklyn Decker and Director Joe Carnahan
Director Joe Carnahan is giving viewers an inside look at what it is like to film a big screen Hollywood sex scene, as confirmed by Gawker. Carnahan released a brief video clip taken from the set of his latest film Stretch starring supermodel and actress Brooklyn Decker and Patrick Wilson. The video showcases the two […]
http://www.dailyactor.com/2014/10/behind-the-scenes-of-a-sex-scene-patrick-wilson-brooklyn-decker-director-joe-carnahan/