Steve Carell on Shooting, Producing and Finding the Right cast for 'The Incredible Burt Wonderstone'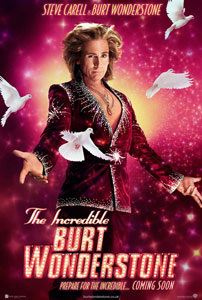 Though I like Steve Carell from his roles in Anchorman, The 40 Year Old Virgin, and, of course, The Office, I really don't think any of his recent films have really shown him at his comedic best.  However, from the looks of The Incredible Burt Wonderstone we may have another Carell winner coming soon.  The comedian spoke to Collider about the movie during filming, mainly speaking about how he varies his performances in multiple takes and the importance of casting the movie right.
Like other comedians, Carell tries to have fun when he goes through multiple takes of a scene by giving a varied performance in each.  He explains, "It's nice to be able to try different things with each take and to find things that work and don't work. You never know. You never know until you put it in front of an audience. But it's nice to have options when you're shooting it. You try to look at it, even incrementally, performance-wise and you try things that might be a little more broad or a little more grounded. Once they're editing and finding the exact tone of the movie, you have those options."
In fact, Carell admits that part of the fun of making a movie like Burt Wonderstone is improv acting with his co-stars.  He says, "There's been a lot of play and a lot of invention. It's always great because you get it as scripted and that's always of value. But you never know what else you're going to find if you have time to play a little bit and see what else is out there. Steve Buscemi is hilarious. He's really, really good with improv. It's fun to go back and work with him."  In addition, he also praises the improv skills of Jim Carrey, adding, "Talk about a fertile mind. That guy could do 50 takes and they could all be completely different. The trick with him is really an abundance of riches. You don't know which one to choose because one is just different and equally funny. Again, he supplies you with so many different variations. It's sort of an editor's dream. Whatever is called for in the movie you will find in his performance. He's completely committed, too. He was doing things — physical things — that didn't seem human to me and he was doing them in a practical manner with no special effects. It was all him. It was all just his own commitment to the part."
Even with all the fun, Carell (who is also a producer of the film) is careful ensure that it all makes it on film as best as possible.  After each take he looks at his performance on the monitors, and he points out, "I'm trying to kind of modulate. I'm trying to figure out, for one thing, a sense of where the cameras are and where they're looking and what's reading and what isn't reading. Just sort of to get my bearings."
Of course, Carell also points out that more takes don't necessarily translate to better performances.  He recalls, "On The Office there was a scene with a director who I think only did one episode who had us do a scene 50 or 60 times. Over and over and over. I think that that's the most takes I ever did. At a certain point, it's diminishing returns. You can get all hooked up on something and wanting to make it perfect or not finding something. Ultimately, when you go back and look at it, take three is probably the one they're going to use. At least I find. Doing it 40, 50 or 60 times isn't usually going to help anyone. It'll just bum people out and you're not finding anything new. If you're finding new things, that's always fun. And if you have time. That's the other thing. On a movie on a budget with a limited shooting schedule — I think we're shooting for 47 days — it's pretty tight. It's not like we have days. Today we shot a bunch of the wirework this morning and then this scene in the afternoon. On any other movie or a bigger budgeted movie, you'd be doing wirework just one day. Just that scene in and of itself. That has a lot to do with how many takes you think you can use. But I think that, after a certain point, it just doesn't help. You may think you're coming up with new and inventive stuff but, at a certain point, it just becomes — somebody said and I don't remember who — it just becomes hamburger."
As producer, Carell had a lot of control over the casting.  He explains that casting a comedy like Burt Wonderstone is so important because the comedians involved will set the movie's comedic tone.  He says, "What's interested, being on that side of it, too, is — I don't have a lot of experience with producing and working in conjunction with a studio — it's interesting the lists of names and people that are thrown to you and suggested. It's a matter of kind of gently massaging it to get closer to the people that you originally perceived. Or to get the studio to understand the tone of the movie you're looking for. There were a lot of people interested in doing the movie but we had a very specific idea as to the types of actors that we felt would be right."
Latest Videos
http://www.dailyactor.com/wp-content/uploads/2014/04/director-david-gordon-greene-nar.jpg
Director David Gordon Green Narrates a Scene From 'Joe'
Director David Gordon Green narrates a sequence from his new film, Joe, featuring Nicolas Cage and Tye Sheridan. In the video, he mentions his reasons why he likes to hire non-traditional actors. He likes people who have real skill-sets and not actors who have the skills on their resume. He also talked about this in […]
http://www.dailyactor.com/2014/04/director-david-gordon-green-narrates-a-scene-from-joe/
http://www.dailyactor.com/wp-content/uploads/2014/04/david-gordon-green-joe.jpg
Director David Gordon Green: "I find actors in unusual places"
I keep missing screenings of director David Gordon Greene's new film, Joe. I hear it's really good so I'm looking forward to catching it at some point. Joe stars Nicholas Cage as ex-con Joe Ransom, who isn't the greatest of role models until he meets a 15-year-old boy (Mud's Tye Sheridan). In this featurette, Green […]
http://www.dailyactor.com/2014/04/director-david-gordon-green-i-find-actors-in-unusual-places/
http://www.dailyactor.com/wp-content/uploads/2014/04/judy-greer-i-dont-know-why-you-know-me-from.jpg
Please Don't Say These Things To Judy Greer (video)
Judy Greer - who we love here at Daily Actor – has a new book called, I Don't Know What You Know Me From (Confessions of a Co-Star), a series of essays about her life as an actress, friend and someone who everyone thinks they might know. Here's a blurb about the book: "Want to […]
http://www.dailyactor.com/2014/04/please-dont-say-these-things-to-judy-greer-video/
http://www.dailyactor.com/wp-content/uploads/2014/04/Captain-America-SamuelNick-Fury.jpg
How Samuel L. Jackson Learns His Lines for the Marvel Movies (video)
Samuel L. Jackson stopped by Good Morning America earlier this week to talk about Captain America: The Winter Soldier – which is terrific, by the way – and he told Robin Roberts that for the first Cap film, he had trouble learning his lines. "I sat at home and I did all my studying, and […]
http://www.dailyactor.com/2014/04/how-samuel-l-jackson-learns-his-lines-for-the-marvel-movies-video/
http://www.dailyactor.com/wp-content/uploads/2014/04/andy-karl-margot-seibert-rocky.jpg
Andy Karl and Margo Seibert Talk 'Rocky: The Musical' on 'Today'
Andy Karl and Margo Seibert, the stars of Rocky: The Musical, talked to Today's Matt Lauer about the new Broadway musical. Karl talks about the final fight and taking on the iconic role. This is Seibert's Broadway debut and she's asked about her callbacks (9 in all!) and more. Check it out!
http://www.dailyactor.com/2014/04/andy-karl-and-margo-seibert-talk-rocky-the-musical-on-today/