Maura Tierney on Working with Tom Hanks and Relating to Her Character in Broadway's 'Lucky Guy'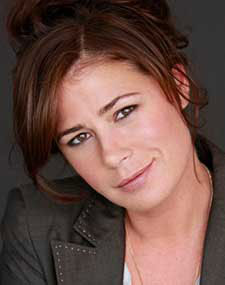 Though it wouldn't be inaccurate to say Lucky Guy is the Tom Hanks show — after all, Hanks, one of the most popular film actors of the last three decades, is making his Broadway debut in the Nora Ephron play –  the Forrest Gump star isn't doing a one-man show.  One of the other primary members of the cast is Maura Tierney, who plays Alice McAlary, the wife of Hanks' character Mike McAlary.  Tierney is also making her Broadway debut in the show, and she spoke to Broadway.com about the experience working with Hanks and playing a real-life individual on stage.
Tierney points out that because audiences are anticipating seeing Hanks on stage that they are extremely receptive to the play.  She says, "They're so excited to see Tom, so it doesn't feel like you get a bunch of skeptics with their arms folded saying, 'Prove something to me.' They're on board, and I think it's a real compliment to him—people just love him. All of us are riding those coattails because they are lovely."
Though Alice McAlary is a real-life individual, Tierney admits that both she and the director, George C. Wolfe, agreed that she should not meet her character's inspiration until she had established the character in rehearsals.  Tierney explains, "George was not wild about us meeting our real counterparts at the very beginning, and I agreed with him. We rehearsed for five weeks and created the characters based on the script, and then I met her when I didn't have a fear that it would affect any of the work we had done. I'm not playing her, I'm playing what Nora wrote."
In fact, it was important to Tierney that she worked hard to create the character because the role is so different from her own life.  She confesses, "This is hard for me because she was a stay-at-home mom who lived in Bellport, Long Island; she had four children. I'm not married, I don't have kids and I live in Manhattan. In terms of that day-to-day stuff, I don't know about that, but I do know what it's like to love somebody, and I think she had a deep love and respect and loyalty for [Mike McAlary]. So, that part I can relate to."
One part of the show that does hit close to home for Tierney is when her character speaks about the cancer that eventually took Mike McAlary's life because Tierney underwent treatment for breast cancer in 2010.  She explains, "It's difficult for me when people ask me if it's difficult. Of course I understand, but the thing is, I would like to think that I'm acting. Any kind of performance that anybody does is informed by their life experience, so of course I can't deny that something is probably going on. But what I'm trying to do to the best of my ability is tell the story. That moment for that character is the only time she gets to not be tough, so that's what I'm thinking of mostly."
Naturally she has a lot of praise for Hanks, who she has developed a strong bond with.  She says, "What I have noticed about him is he's very present as an actor and he's an actualized human being. We got to do a lot of work very quickly because he's really frank, so it cuts out a lot of the work—to have to forge a relationship—when people are open and candid. I like to think I'm the same way. Because he is so available, I think that it expedited the whole process."
Latest Videos
http://www.dailyactor.com/wp-content/uploads/2014/07/sir-ben-kingsley-talks-about-the.jpg
Sir Ben Kingsley Talks about the Unique Way He Voiced His Character in the Animated Film, 'The Boxtrolls' (video)
I could listen to Sir Ben Kingsley talk about acting and.. well, I could listen to him talk about anything. He's starring in the new Laika stop-motion animated film, The Boxtrolls, and he and some of the cast (along with the director) joined in on a Comic-Con panel about the film. The Boxtrolls is about [...]
http://www.dailyactor.com/2014/07/sir-ben-kingsley-the-boxtrolls-comic-con/
http://www.dailyactor.com/wp-content/uploads/2014/07/bill-hader.jpg
Bill Hader: "I kind of fell into acting" (video)
Bill Hader, starring in the soon to be released The Skeleton Twins, talks about the film and how he fell into acting and then got "crazy lucky" in this quick video from USA Today.
http://www.dailyactor.com/2014/07/bill-hader-fell-into-acting-video/
http://www.dailyactor.com/wp-content/uploads/2014/07/director-john-carney-narrates-a.jpg
Director John Carney Narrates a Scene from 'Begin Again' Starring Kiera Knightley and Mark Ruffalo
Director John Carney (Once) narrates a scene from his new film, Begin Again. Starring Keira Knightley and Mark Ruffalo, the scene shows the first time the two characters meet. I haven't seen it yet but I've heard it's great.
http://www.dailyactor.com/2014/07/begin-again-scene-director-john-carney-keira-knightley-mark-ruffalo/
http://www.dailyactor.com/wp-content/uploads/2014/07/holler-if-you-hear-me-gma.jpg
Watch the Cast of Broadway's 'Holler If You Hear Me' Perform 'California Love' on GMA
The cast of Broadway's newest musical, Holler If You Hear Me with music from Tupac Shakur, performed on Good Morning America this morning. Singing 'California Love', the cast (including the teriffic Christopher Jackson – read our interview here), show why they're the most energetic and inspiring group of actors on Broadway. Holler If Ya Hear [...]
http://www.dailyactor.com/2014/07/watch-cast-broadways-holler-hear-perform-california-love-gma/
http://www.dailyactor.com/wp-content/uploads/2014/07/behind-the-scenes-of-dawn-of-the.jpg
Behind the Scenes of 'Dawn of the Planet of the Apes' with Performance Capture Actor Terry Notary
Actor Terry Notary is 1 of 5 actors playing the apes in the new Dawn of the Planet of the Apes. "When you see armies of apes," he says, that's "five of us." Check out the video where you can watch his performance capture work.
http://www.dailyactor.com/2014/07/dawn-planet-apes-performance-capture-actor-terry-notary/