Q&A: John Ratzenberger Talks Coming Back to TV in 'Legit' and His 18-Year Pixar Run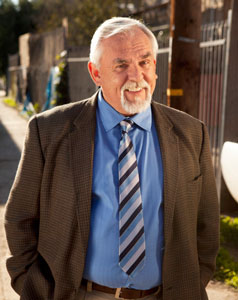 John Ratzenberger has starred on one of the most iconic TV shows ever, Cheers, and has been in every Pixar movie that's ever been made. How's that for a resume? I mean, what else do you need to know?
Not one to rest on his laurels, Ratzenberger has been working on various projects in recent years, from Dancing with the Stars to his reality show, Made in America. Now, he's starring in FX's new comedy, Legit. The show stars Jim Jefferies as an edgy, foul-mouthed, stand-up comedian from Australia. He's living in LA and struggling to make his life and career more 'legit.' Ratzenberger plays Jefferies father and as he said in a conference call, he loves "every minute of it."
In the interview below, he talks about coming back to series TV, working with the cast and his 18-year association with Pixar.
Legit airs on Thursdays at 10:30pm on FX
Can you tell us a little bit about the part you're playing and why you wanted to get involved with Legit.
John Ratzenberger: Well, they sent me the script and I read it.  I thought, "Oh, this is really politically incorrect"; and, I thought, "Oh, but it's really funny."  You know, the political correctness is; it's really choking the life out of our civilization, I think.  To have something like Legit come down the pike and say, "Hey!  It's okay.  You can laugh.  You can relax and laugh."  I was impressed with that.  So, I showed up on set, went to work and loved every minute of it.
Is there anything you've found particularly challenging about this role, or maybe something that you added to it that wasn't originally scripted for you?
John Ratzenberger: My calling card is that I always add things.  I always look for what's not on the page.  I look for the laughs between the words.  So, when they hire me, they know that's what they're getting in.  My biggest challenge is staying away from the donuts.  Because Jim Jefferies and Dan and D.J. are such quality actors to work with, it's a lot of fun.  It's like being in a sandbox.  They make it fun.  So, no, there wasn't any agitation, no.
Can you talk about your long association with Pixar and what it means to you?
John Ratzenberger: Well, it was 18 years ago that I started working with Pixar.  The first Toy Story came out about 16 years ago, so my first meeting with them was 18.  It's sort of like getting the brass ring on the merry-go-round twice.  The first one was Cheers and all of a sudden, these fellows from Northern California give me a call.  They wanted me to put my voice to a pig.  I really like these guys:  John Lasseter, Andrew Stanton, Darla Anderson.  I thought, "What fun people they are."
I think the … phrase is high standard.  They start with a high standard and they stick to it.  They never lower their standards.  That's why Pixar is Pixar.  So, my association with them has been nothing but a blessing.  It's been nothing but good because to be associated or work with or work for a company, whatever you're doing, whether you're making brake linings, pencils, or animated films, if you have a high standard, that lifts you.  That makes you work harder and better and smarter.  It's been a joyous ride.
Are you a part of creating any of those characters?  Do you come to them with ideas or how do you work together?
John Ratzenberger: No, my philosophy, whether it's in this industry or out of it, is if it's not broke, don't fix it.  I just leave it as it was right from the beginning because they do a good job.  So, I don't stick my nose into where it doesn't belong.  If I'm asked, certainly, we'll have a discussion about this or that or what the character should do or what the lines should be.  But, otherwise, no; I let the captain steer the ship.
Do you think there's a formula for good comedy on TV?
John Ratzenberger: For TV specifically, no I don't know that there's a formula.  I know there's a formula when you're filming it and when you're writing it.  But, actually making it funny is…the old expression, "If it's not on a page, it's not on a stage."  The writing is the most important part.  If you ever noticed with Cheers and Legit, they're very similar in that you never see the joke coming.  With most TV comedies, you know what the joke's going to be.  You can see it three pages away, but with Legit, you don't see it coming.  That's what I like about it.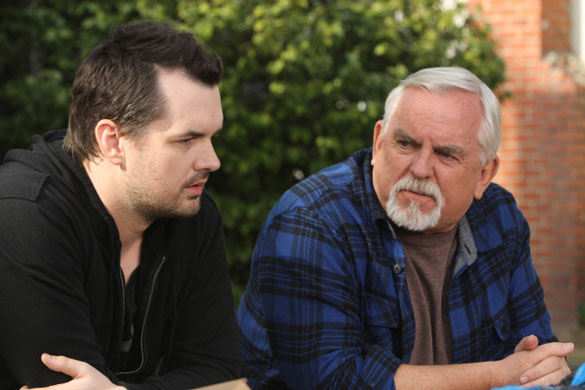 As an actor, what keeps you coming back to take on new projects like Legit?  What's your biggest motivation for doing what you do?
John Ratzenberger: The bottom line is if you can do it in life, I mean how lucky we are in the acting industry, first of all to be in it, and then, secondly to make money at it.  Really, the trifecta is if you can enjoy it and have a good time.  So, it's laugh, make money or, make money and laugh.
If my job description is someone who gets paid to go to work and laugh, I don't know if there are many people on Earth, living or dead, that is more blessed.  That's what keeps you coming back.  It's such a joy to be in and amongst people who are creative and someone's writing me a check at the end of the week, saying, "Okay, go buy some Melton shoes."  It just doesn't get better.
Do you think you're more choosy when it comes to roles at this point in your career?  Or, are you still willing to take some chances?
John Ratzenberger: Taking chances?  I don't know about taking chances.  My bottom line was when I read the Legit script, I laughed.  I thought, "Boy, this is really politically incorrect.  But, man, is it funny."  So, if I laugh, and I don't think I'm any different than anyone else as far as sensibilities, if this is done right, if everybody else does their job, and the editors and the music people and the director, this is going to be good.  It turns out that it is.
You've been acting so long doing comedies, anything else on your bucket list?  You've already done dancing and writing.  Is there anything else that you want to try that you haven't already?
John Ratzenberger: Yes, the dancing part.  I like to dance.  Maybe I was born too late.  But, that era of Hollywood where you were expected, if you were on stage, to be able to sing, dance, act, to have all those skills.  If you look at the old movies like James Cagney in Yankee Doodle Dandy, that was an actor.  He could be a tough guy; he could be a tap dancer.  I wouldn't mind doing a show where they got back to the tap dancing.
If they were to have a Cheers reunion, where would you see Cliff now?
John Ratzenberger: Well, the backstory of Cliff.  I would say, let's see, that was how many years ago?  Okay, '93.  So, the beginning of the end to that, Cliff would have started a web site called "Ask Cliff" where you could ask  him any question in the world, and which he then sold for $63 million dollars.  Then, he just spent all that money on stupid things, stupid inventions, and people, and traveled to places nobody wants to go.  So, now he's broke.  He's working part-time in the UPS store and it's driving him crazy.  That's what I think his back story is.
At this point in your career, would you consider a return to being a series regular or even anchoring a show?  Are you more comfortable with the way you've been working lately?
John Ratzenberger: I like doing series.  With the advent of reality television, the demographics that the networks always insist that they have to follow, the amount of really good shows on TV are going to be less and less; that's why doing Legit is such a treat because it's a good show.  But, the networks are really going to have to start playing catch-up with cable because you've got people running the networks that really don't understand the social media and what we're doing now today, bloggers and the power of the internet.  Once they catch-up with that maybe there'll be a change.  But, no, I would go back to a series in a heartbeat if it was funny.
Would you go back to doing Made in America?  Did you enjoy that?
John Ratzenberger: Yes.  I really enjoyed that.  That was a labor of love.  I'm a big fan of America, a big fan of Western Civilization and the standards and what we bring to the world.  As I said, you don't hear stories of people risking their lives trying to get into any other country except the United States.  People swim through shark-infested waters to get here.
There's a reason because the standards are so high.  When you turn on the hot water, the hot water comes out.  When you switch the light switch, the light goes on.  If you're anywhere in the world and you have millions of dollars, you still are going to come to the United States if you need good medical care.  Wherever you live, every day that happens.
Yes, doing Made in America was my celebration for giving back because manufacturing is to America what spinach is to Popeye.  That is, you have to make something.  You have to build something and repair it.  That's where inventions and innovations come from.  So, I've always been a big fan of that.  I would do that show again, sure.
Latest Videos
http://www.dailyactor.com/wp-content/uploads/2014/09/watch-david-mamet-in-the-1976-sh.jpg
Watch: David Mamet in the 1976 Short Documentary 'The Playwright Directs'
Though David Mamet is best known for his distinctive writing style in his scripts for the stage and screen, he has also directed theater and film. The 1976 short documentary titled The Playwright Directs depicts Mamet directing actors through several scenes at an almost frantic pace, dispensing pearls of wisdom throughout, like his thoughts on […]
http://www.dailyactor.com/2014/09/watch-david-mamet-1976-documentary-the-playwright-directs/
http://www.dailyactor.com/wp-content/uploads/2014/09/watch-marvels-agents-of-s-h-i-e.jpg
Watch: Marvel's Agents of S.H.I.E.L.D. Season 1 Bloopers
Forgetting lines? Corpsing? Delivering lines in Spanish? Unruly props? All in a day's work on the set of Marvel's Agents of S.H.I.E.L.D, apparently. Clark Gregg, Ming-Na Wen, and the rest of the cast find plenty of humor while playing super-serious secret agents in the Marvel Universe. While you're waiting for season 2 of the series […]
http://www.dailyactor.com/2014/09/watch-marvels-agents-of-s-h-i-e-l-d-season-1-bloopers/
http://www.dailyactor.com/wp-content/uploads/2014/09/audtion-tapes-robin-wright-and-h.jpg
Audition Tapes: Robin Wright and Haley Joel Osment Audition with Tom Hanks for 'Forrest Gump'
Check out Robin Wright auditioning for the role of Jenny from Forest Gump opposite Tom Hanks. Interestingly enough, Hanks doesn't quite have Gump's southern drawl down just yet while the other actors audition with him. In fact, Hanks would base Gump's voice on the voice of Michael Conner Humphreys, who played the young Forrest and […]
http://www.dailyactor.com/2014/09/audtion-tapes-robin-wright-haley-joel-osment-tom-hanks-forrest-gump/
http://www.dailyactor.com/wp-content/uploads/2014/08/bryan-cranston-emmy-award-speech.jpg
Watch: Bryan Cranston's Emmy Award Speech: "I love to act. It is a passion of mine and I will do it until my last breath."
The Emmy Awards weren't the most exciting awards show this year but with Bryan Cranston winning for Outstanding Actor in a Drama for Breaking Bad, we at least got to hear one heck of a fantastic acceptance speech. "I was a kid who always looked for the shortcut," he said. "I did happen to stumble […]
http://www.dailyactor.com/2014/08/watch-bryan-cranston-and-aaron-pauls-emmy-award-speeches/
http://www.dailyactor.com/wp-content/uploads/2014/08/audition-tapes-gerard-butler-aud.jpg
Audition Tapes: Gerard Butler Auditions for 'Dracula 2000′
Check out Gerard Butler auditioning for the role of Dracula in the movie, Dracula 2000. The film, about a group of thieves who break into a chamber expecting to find paintings, but instead find Dracula himself, also starred Christopher Plummer, Jonny Lee Miller and Nathan Fillion. Bulter has some sweet rock star hair, huh?
http://www.dailyactor.com/2014/08/audition-tapes-gerard-butler-dracula-2000/