Daniel Radcliffe on His New Play, Choosing His Projects and Pushing Boundaries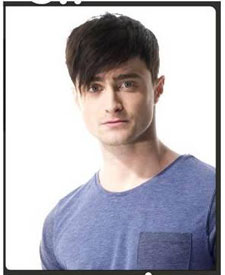 Daniel Radcliffe isn't sure how much longer people are going to talk about Harry Potter—or insist that his career is hurt by the franchise's popularity.
"I feel like everyone wanted Potter to be more of a handcuff than it actually was," he said in an interview with Yahoo! News.  "I think Harry Potter is going to be around for a while—a long while—but as long as it doesn't inhibit me getting parts in the present time, then it's fine.  It's a lovely association to have, because it's something I'm incredibly proud of.
"People always say, 'Don't you just want to forget about it?' No!  That was my entire adolescence."
Next up, Radcliffe will star in a new play, The Cripple of Inishmaan, on the West End.  "I think one of the hilarious things about this play is, by our standards today, how politically incorrect it is," he observed.
The actor knows a thing or two about pushing boundaries, as evidenced by his nude scene in 2007's production of Equus.  He saw the play as "a signal of intent as to what I wanted to do.  I didn't just want to take an easy way out of this.  I wanted to really try and take risks and make a career for myself."
Radcliffe chooses his projects, including the upcoming film Kill Your Darlings, by using one specific method.  "It's very basic," he said.  "It's just what excites me.  It's what gets me interested.  Hopefully later on this year people will start to see some very different performances from me.  And hopefully some really good movies.  It's about the movie as a whole, not just people studying my performance and seeing how I'm getting different and how I'm growing up."
Another way Radcliffe is pushing himself is by receiving inspiration from The Cripple of Inishmaan.
"I'm trying to write something at the moment, and it's just so dark, and I think it's funny, but I'm not sure if anybody else ever would," he said.  "I aspire to be a poor man's Martin McDonagh [the playwright behind The Cripple of Inishmaan.]"
The play will open in June for a 12-week run.
http://www.dailyactor.com/wp-content/uploads/2015/01/watch-al-pacino-talks-the-humbli.jpg
Watch: Al Pacino Talks 'The Humbling' and His Extraordinary Career
In this conversation with Al Pacino talks about his role in The Humbling -- including working with Greta Gerwig -- and his historic acting career
http://www.dailyactor.com/2015/01/watch-al-pacino-extraordinary-career/
http://www.dailyactor.com/wp-content/uploads/2015/01/watch-oscar-nominee-steve-carell.jpg
Watch: Oscar Nominee Steve Carell Talks Improv, Auditioning for 'The Office' and 'Foxcatcher'
Carell talks about his entire career as an actor, including his background in improv, how he landed the Michael Scott role on The Office, and Foxcatcher
http://www.dailyactor.com/2015/01/oscar-nominee-steve-carell-improv-auditioning-for-the-office-foxcatcher/
http://www.dailyactor.com/wp-content/uploads/2015/01/ethan-hawke-ellar-coltrane-boyhood.jpg
Ethan Hawke Calls 'Boyhood' the "most special endeavor of my life"
Ethan Hawke is riding high with his fourth Oscar nomination for the Richard Linklater-directed Boyhood. In a recent "Ask Me Anything" on Reddit, the 44-year-old actor gave some thoughtful insight into his career and the 12-year creative endeavor that became the biggest film of the Oscar season. When asked what was the most difficult thing about […]
http://www.dailyactor.com/2015/01/ethan-hawke-boyhood-reddit-amaife/
http://www.dailyactor.com/wp-content/uploads/2015/01/martha-plimpton-a-delicate-balance.jpg
Martha Plimpton Takes a Refreshing Approach to a Long-Lasting Career
Martha Plimpton is an actress who enjoys the work, she's not in it for the fame. The proof is in her continually excellent work that she is doing on-screen and on the stage. She's currently starring in A Delicate Balance on Broadway. It's the audience who gives her the ultimate thrill. "I try to get […]
http://www.dailyactor.com/2015/01/martha-plimpton-long-lasting-career/
http://www.dailyactor.com/wp-content/uploads/2015/01/watch-michael-keaton-talks-candi.jpg
Watch: Michael Keaton Talks Candidly About His Career and His Approach to Acting in 'Birdman'
In this nearly 90 minute conversation, Michael Keaton is his usual affable self but is also remarkably candid about his career and his approach to acting.
http://www.dailyactor.com/2015/01/michael-keaton-career-approach-to-acting-birdman/