Idina Menzel is Returning to Broadway in the New Musical, 'If/Then'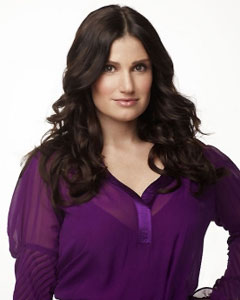 Idina Menzel is returning to Broadway for the first time since winning the Tony Award for Wicked! She's starring in If/Then, an original Broadway musical which reunites Tom Kitt (music), Brian Yorkey (book and lyrics), and Michael Greif (director), the creative team behind the Pulitzer Prize and Tony Award-winning musical, Next to Normal.  
The show will have its world premiere in a pre-Broadway out-of-town engagement at the National Theatre in Washington, D.C., beginning preview performances on Tuesday, November 5, 2013 and officially opening on Sunday, November 24, 2013. That's great news for me because it means I can see it when I'm visiting my family in Maryland for Christmas.
The production will begin previews on Broadway on Tuesday, March 4, 2014 and will officially open on Thursday, March 27, 2014 at a Nederlander Theatre to be announced. 
"I've experienced the beauty of working on original musicals and was eager to find a project where the material was exciting and new and spoke to my heart.  I'm thrilled to have finally found it – an original musical with a complex, flawed, and surprising central character that I cannot wait to bring to life onstage," said Menzel.  "I have loved collaborating with Tom Kitt and Brian Yorkey on the creation of this character.  And it is such a blessing to be reunited with Michael Greif, who launched my career with Rent, and David Stone, who took such good care of me with Wicked.  I am extremely excited about If/Then and very much look forward to returning home to Broadway."
Here's the synopsis: On the verge of turning 40, Elizabeth moves to New York City, the ultimate city of possibility, intent on a fresh start – new home, new friends, and hopes for a resurgent career.  But even in her carefully planned new life, the smallest decision or most random occurrence will impact her world in ways she never dreamt possible.  Set against the ever-shifting landscape of modern day Manhattan, If/Then is a romantic and original new musical about how choice and chance collide and how we learn to love the fallout.
On-sale dates, performance schedule, and ticket information will be announced shortly. For more information, check out www.ifthenthemusical.com.
Latest Videos
http://www.dailyactor.com/wp-content/uploads/2014/09/audtion-tapes-robin-wright-and-h.jpg
Audition Tapes: Robin Wright and Haley Joel Osment Audition with Tom Hanks for 'Forrest Gump'
Check out Robin Wright auditioning for the role of Jenny from Forest Gump opposite Tom Hanks. Interestingly enough, Hanks doesn't quite have Gump's southern drawl down just yet while the other actors audition with him. In fact, Hanks would base Gump's voice on the voice of Michael Conner Humphreys, who played the young Forrest and […]
http://www.dailyactor.com/2014/09/audtion-tapes-robin-wright-haley-joel-osment-tom-hanks-forrest-gump/
http://www.dailyactor.com/wp-content/uploads/2014/08/bryan-cranston-emmy-award-speech.jpg
Watch: Bryan Cranston's Emmy Award Speech: "I love to act. It is a passion of mine and I will do it until my last breath."
The Emmy Awards weren't the most exciting awards show this year but with Bryan Cranston winning for Outstanding Actor in a Drama for Breaking Bad, we at least got to hear one heck of a fantastic acceptance speech. "I was a kid who always looked for the shortcut," he said. "I did happen to stumble […]
http://www.dailyactor.com/2014/08/watch-bryan-cranston-and-aaron-pauls-emmy-award-speeches/
http://www.dailyactor.com/wp-content/uploads/2014/08/audition-tapes-gerard-butler-aud.jpg
Audition Tapes: Gerard Butler Auditions for 'Dracula 2000′
Check out Gerard Butler auditioning for the role of Dracula in the movie, Dracula 2000. The film, about a group of thieves who break into a chamber expecting to find paintings, but instead find Dracula himself, also starred Christopher Plummer, Jonny Lee Miller and Nathan Fillion. Bulter has some sweet rock star hair, huh?
http://www.dailyactor.com/2014/08/audition-tapes-gerard-butler-dracula-2000/
http://www.dailyactor.com/wp-content/uploads/2014/08/interview-matt-dillon-and-carla.jpg
Interview: Matt Dillon and Carla Gugino Talk 'Wayward Pines'
FOX has a new limited-series that's got a terrific cast and interesting premise. It's called Wayward Pines and stars Matt Dillon, Carla Gugino, Melissa Leo, Toby Jones, Terrance Howard, Juliette Lewis, Tim Griffin and Shannyn Sossamon. The show, whose pilot was directed by M. Night Shyamalan, is about a Secret Service agent (Dillon) goes to […]
http://www.dailyactor.com/2014/08/interview-matt-dillon-carla-gugino-wayward-pines-comic-con/
http://www.dailyactor.com/wp-content/uploads/2014/08/interview-wayward-pines-stars-ti.jpg
Interview: 'Wayward Pines' Stars Tim Griffin and Shannyn Sossamon on the Show, Their Characters and More!
Griffin and Sossamonwere at Comic-Con where they sat in on some roundtable interviews to talk about the show.
http://www.dailyactor.com/2014/08/interview-wayward-pines-stars-tim-griffin-shannyn-sossamon-comic-con/