Casting Announced for the Upcoming Broadway Revival of 'Pippin'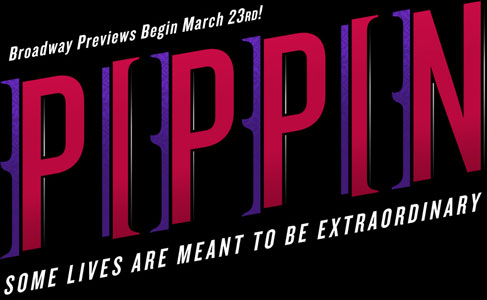 Casting has been announced casting for Roger O. Hirson and Stephen Schwartz's Pippin, directed by Diane Paulus.
The cast, all of whom appeared in the production of the musical at American Repertory Theater (A.R.T.) in Cambridge, MA, features Matthew James Thomas as Pippin, Tony and Olivier Award nominee Patina Miller as Leading Player, Tony Award nominee Terrence Mann as Charles, Tony Award nominee Charlotte d'Amboise as Fastrada, Rachel Bay Jones as Catherine and Tony Award winner Andrea Martin as Berthe. Other members of the company include Erik Altemus as Lewis, Gregory Arsenal, Andrew Cekala, Lolita Costet, Colin Cunliffe, Andrew Fitch, Orion Griffiths, Viktoria Grimmy, Olga Karmansky, Bethany Moore, Brad Musgrove, Stephanie Pope, Philip Rosenberg, Yannick Thomas, Molly Tynes, Anthony Wayne.
PIPPIN will begin preview performances on Broadway Saturday, March 23, 2013 and officially open Thursday, April 25, 2013 at the Music Box Theatre.
Here's the synopsis: Royal heir Pippin is spurred on by a mysterious group of performers to embark on a death-defying journey to find his "corner of the sky." The original production of PIPPIN, directed by Bob Fosse, premiered on Broadway in 1972. It won five Tony Awards and five Drama Desk Awards, and ran for close to 2000 performances before closing in 1977. This production of PIPPIN made its debut at American Repertory Theater (A.R.T.) in Cambridge, MA, where Diane Paulus serves as Artistic Director; December 5, 2012 to January 20, 2013. PIPPIN is noted for many Broadway standards including "Corner of the Sky," "Magic To Do," "l Guess I'll Miss The Man," "Glory," "No Time at All," "Morning Glow," and "Love Song."
Tickets are available through www.telecharge.com/pippin, by calling 212-239-6200, and in person beginning Saturday, March 2nd at the Music Box Theatre box office (239 West 45th Street).
http://www.dailyactor.com/wp-content/uploads/2015/05/Caitriona-Balfe-Outlander.jpg
Outlander's Caitriona Balfe On The Emotional Toll of Filming Violent Scenes
"Having to put yourself in that place is tough. To sit in that emotional space, especially when you're doing it day after day." - Caitriona Balfe
http://www.dailyactor.com/2015/05/outlander-catriona-balfe-emotional-toll-of-filming-violent-scenes/
http://www.dailyactor.com/wp-content/uploads/2015/05/Chrissie-Fit.jpg
Chrissie Fit on How She Landed Her Role in 'Pitch Perfect 2′
"I remember getting the audition and being like, "This might not happen," just because it is such a massive movie." - Chrissie Fit
http://www.dailyactor.com/2015/05/chrissie-fit-on-how-she-landed-her-role-in-pitch-perfect-2/
http://www.dailyactor.com/wp-content/uploads/2015/05/Sam-Elliott.jpg
Sam Elliot on How he "F–ked" Himself Out of a Career as a Lead Actor
The rugged Sam Elliot has most often cast in character actor roles throughout his long career in film, though the 70 year-old Elliot thinks it wasn't always meant to be that way.
http://www.dailyactor.com/2015/05/sam-elliot-on-how-he-f-ked-himself-out-of-a-career-as-a-lead-actor/
http://www.dailyactor.com/wp-content/uploads/2015/05/Anna-Kendrick-Pitch-Perfect-2.jpg
Anna Kendrick Talks Hollywood and its Gender Bias
"As an actress you're perpetually about to be unemployed." - Anna Kendrick
http://www.dailyactor.com/2015/05/anna-kendrick-talks-hollywood-and-its-gender-bias/
http://www.dailyactor.com/wp-content/uploads/2015/05/tom-hardy-mad-max-fury-road.jpg
Tom Hardy on Fame, Acting School, and His 'Mad Respect' for Michael Fassbender
"Do what you love doing, do it well—everything should fit into place." - Tom Hardy
http://www.dailyactor.com/2015/05/tom-hardy-fame-acting-school-michael-fassbender/