Bill Pullman: "Theater can kill"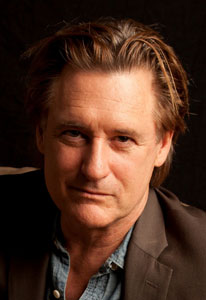 Theater directors: in case of emergency… call Bill Pullman.
Pullman is currently starring in Sharr White's The Other Place at the Samuel J. Friedman Theatre, his first role on Broadway since 2009.  However, though he has always intended to return to Broadway, he wasn't expecting it to be in this show.  That's because Pullman replaced Daniel Stern for more than a month of performances.  Though Stern was in the cast for the play's preview performances and January opening, in late January he had to leave the production for family reasons.  Mandy Greenfield, the artistic producer of the Manhattan Theatre Club, called up Pullman, who was at the time attending the Sundance Film Festival.  Pullman's first show was February 5 and he will remain with the production through its close on March 3.  Pullman had just five days to learn his lines.
In an interview with The Huffington Post, Pullman admits that despite his four-decade acting career the rush to prepare for the role is a new experience.  He says, "I've never done this before.  No process. Just product."  His preparation amounted to watching two performances featuring Stern, learning the blocking in his own apartment, and doing only a single run through the whole show with castmates Laurie Metcalf and Zoe Perry before appearing in the performance scheduled for that night.  To make the situation even more difficult, Pullman was suffering from a cold.  But after that, Pullman says (with a laugh) that we learned from the experience was "That I'm still flexible. And you can overcome all the fear."
Why would Pullman put himself through all that hard work?  After all, he's an established actor and is currently starring as the U.S. President in the NBC comedy series 1600 Penn.  However, Pullman explains that not only has he always wanted to work with Metcalf, but the female lead's struggle with a neurological disease hit close to home (his mother developed psychiatric problems in middle age).  He says, "I think that was part of the hook that really made me take the part.  There was a moment where I was like, 'Whoa. I wonder what it would be like to walk in those shoes and put myself through that. Will I come closer to what they lived as a relationship?'"
He's come a long way from his days as a college student at State University of New York at Oneonta, though he almost didn't make it out one of his first shows alive.  In the interview he reveals that during a performance of Brand that he fell fifteen feet onto his head, sending him into a coma.  What did he learn from that?  "Theater can kill.  It didn't get me that time but I recognized it's potential."  Considering his quick leap into The Other Place, it's clear that Pullman is still doing his own theater "stunts."
Latest Videos
http://www.dailyactor.com/wp-content/uploads/2014/08/bryan-cranston-emmy-award-speech.jpg
Watch: Bryan Cranston's Emmy Award Speech: "I love to act. It is a passion of mine and I will do it until my last breath."
The Emmy Awards weren't the most exciting awards show this year but with Bryan Cranston winning for Outstanding Actor in a Drama for Breaking Bad, we at least got to hear one heck of a fantastic acceptance speech. "I was a kid who always looked for the shortcut," he said. "I did happen to stumble […]
http://www.dailyactor.com/2014/08/watch-bryan-cranston-and-aaron-pauls-emmy-award-speeches/
http://www.dailyactor.com/wp-content/uploads/2014/08/audition-tapes-gerard-butler-aud.jpg
Audition Tapes: Gerard Butler Auditions for 'Dracula 2000′
Check out Gerard Butler auditioning for the role of Dracula in the movie, Dracula 2000. The film, about a group of thieves who break into a chamber expecting to find paintings, but instead find Dracula himself, also starred Christopher Plummer, Jonny Lee Miller and Nathan Fillion. Bulter has some sweet rock star hair, huh?
http://www.dailyactor.com/2014/08/audition-tapes-gerard-butler-dracula-2000/
http://www.dailyactor.com/wp-content/uploads/2014/08/interview-matt-dillon-and-carla.jpg
Interview: Matt Dillon and Carla Gugino Talk 'Wayward Pines'
FOX has a new limited-series that's got a terrific cast and interesting premise. It's called Wayward Pines and stars Matt Dillon, Carla Gugino, Melissa Leo, Toby Jones, Terrance Howard, Juliette Lewis, Tim Griffin and Shannyn Sossamon. The show, whose pilot was directed by M. Night Shyamalan, is about a Secret Service agent (Dillon) goes to […]
http://www.dailyactor.com/2014/08/interview-matt-dillon-carla-gugino-wayward-pines-comic-con/
http://www.dailyactor.com/wp-content/uploads/2014/08/interview-wayward-pines-stars-ti.jpg
Interview: 'Wayward Pines' Stars Tim Griffin and Shannyn Sossamon on the Show, Their Characters and More!
Griffin and Sossamonwere at Comic-Con where they sat in on some roundtable interviews to talk about the show.
http://www.dailyactor.com/2014/08/interview-wayward-pines-stars-tim-griffin-shannyn-sossamon-comic-con/
http://www.dailyactor.com/wp-content/uploads/2014/08/interview-m-night-shyamalan-talk.jpg
Interview: M. Night Shyamalan Talks 'Wayward Pines' and Why He Expanded a Young Actors Role on the Show
I talked to Shyamalan at Comic-Con in a roundtable interview where he talked about the cast, what he learned from working in TV and how young actor Charlie Tahan started out with a small part but as the story grew, so did his role.
http://www.dailyactor.com/2014/08/interview-m-night-shyamalan-wayward-pines-comic-con/