Amy Morton on the Challenges of Starring in 'Who's Afraid of Virginia Woolf?' on Broadway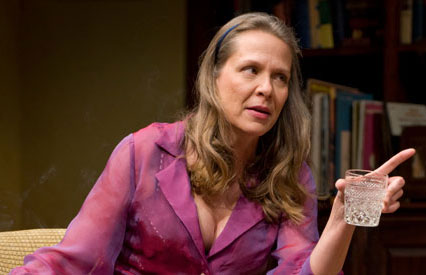 The lengthy Who's Afraid of Virginia Woolf is generally thought to be one of the more challenging plays to perform, which is something actress Amy Morton — who is currently starring as Martha in the Broadway revival — agrees with wholeheartedly.  In an interview with The Wall Street Journal, Morton talks about the challenges of starring in Edward Albee's signature play.
Morton confesses that playing Martha eight times a week is not a pleasant experience.  She explains, "It is brutal. I sleep a lot, I eat a lot, I get body work done…Your whole day is about conserving energy so you can do the thing you have to do at night… Most of my day is spent at home. I don't even get out of bed until ten or eleven so. It just takes a lot out of you."
Not surprisingly, Morton admits that playing Martha has affected her personally, making it hard for her to "snap" out of it.  She explains, "You don't completely shed everything. You learn how to leave all of it on the stage. But I think when you do it for this long, and it's such a long play, that you kind of walk around in a shroud of Martha for a little bit during the day when you first wake up. It takes you a while to say 'Oh, yeah, it's me, I'm fine.'"
There are other challenges too, of course.  Since Martha and the other characters drink heavily during the play she reveals, "There is a race to the bathroom at every intermission."  Another challenge is simply getting to the theater in New York City's extremely-crowded Times Square.  She points out that while being on Broadway is "It's the stage actor's dream. The audiences have been great," that "The only bummer is going to Times Square every day. It's that onslaught of people before you go to work that's like, 'Oh God.'" 
Morton actually gives an example of one of the most annoying days, referring to "Santa Con," an annual holiday bar crawl event involving hundreds of drunk people dressed as Santa Claus staggering the streets of Manhattan.  She recalls, "The holidays drove me crazy…that Santa day? What the hell was that? Santa Con? That was a nightmare. I'm walking to work, and it was a matinee, and people were sloshed and they're coming at you in Santa costumes . . . and a lot of the women are in Santa costumes, too, and it's like, okay, 'That's a hooker,' but it's not. It's a girl trying to be sexy in a short Santa costume."
http://www.dailyactor.com/wp-content/uploads/2015/02/Larry-David.jpg
Larry David on Who he Wanted to Star in his Broadway Play 'Fish in the Dark': "Anybody but me"
"It's one of the reasons I didn't like acting. I don't like not being able to interject" – Larry David on acting with a script Who doesn't like Larry David? Well, to be honest, Larry David probably doesn't like Larry David. In fact, David didn't even want to cast himself in the lead of […]
http://www.dailyactor.com/2015/02/larry-david-on-who-he-wanted-to-star-broadway-play-fish-in-the-dark/
http://www.dailyactor.com/wp-content/uploads/2015/02/Helen-Mirren-The-Queen.jpg
Helen Mirren on Winning an Oscar: "It's an indescribable moment"
"It's hard to say, because you don't know what would have happened if you hadn't won" - Helen Mirren When Asked If Winning an Oscar Changed Her Career
http://www.dailyactor.com/2015/02/helen-mirren-on-winning-an-oscar/
http://www.dailyactor.com/wp-content/uploads/2015/02/anna-chlumsky-james-earl-jones.jpg
Anna Chlumsky on Her Broadway Debut: "For me, it was an opportunity to go in the direction that I hadn't played in a while"
"I think my personality lends itself to ensembles" - Anna Chlumsky
http://www.dailyactor.com/2015/02/anna-chlumsky-broadway-debut-ensemble/
http://www.dailyactor.com/wp-content/uploads/2015/02/joanne-froggatt-downton-abbey.jpg
'Downton Abbey' Star Joanne Froggatt on Creating Her Own Backstory and How She's "Not a Big-Budget Hollywood Type"
"They want the model type, classically beautiful, and I'm not" - Joanne Froggatt on Working in Hollywood
http://www.dailyactor.com/2015/02/downton-abbey-star-joanne-froggatt-character-backstory-hollywood/
http://www.dailyactor.com/wp-content/uploads/2015/01/al-pacino-the-humbling.jpg
Al Pacino on Acting: "It becomes such a part of your nature you rarely ever think about quitting"
After working infrequently in film over the last decade, Al Pacino appears in several films released in 2015, including The Humbling, an indie drama directed by Barry Levinson.
http://www.dailyactor.com/2015/02/al-pacino-on-acting-it-becomes-such-a-part-of-your-nature/