John C. McGinley on His 'Glengarry Glen Ross' Role: "Unless you are going to respect what David put on the page … I just think you might as well do a different play"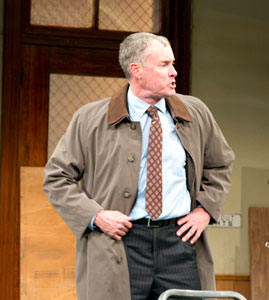 It's been almost three decades since John C. McGinley last appeared on a Broadway stage, and he certainly didn't choose to return under the radar.  McGinley is starring in David Mamet's Glengarry Glen Ross as Dave Moss alongside Al Pacino, Bobby Cannavale and our friend here at Daily Actor, Jeremy Shamos. In a conversation with The Wall Street Journal, McGinley spoke about the great lengths he went to prepare for the role and why he hasn't been on Broadway in so long.
In order to ensure that he was speaking the words as Mamet wrote them, McGinley hired a young actor solely to be his "text police" during his month of rehearsing.  He explains, "I told him what I want you to do is police the commas, the pauses, and the italics.  I don't ever want you to tell me how you think this is going, because you have no idea. All I want you to do is just be the word police. I just became this Mamet zealot."  He later adds, "[In the script] there are pauses and words italicized and capitalized and in bold font for where David wants you to do this, that, and the other thing. I took that to be like Shakespeare – unless you're going to do Iambic pentameter you might as well do a different play. And in my brain I just figured unless you are going to respect what David put on the page — I mean the play only won a Pulitzer — I just think you might as well do a different play. You might as well dance the steps that he put down for you to dance. And I did, and I still do."
McGinley returns to Broadway after a twenty-seven year absence, and he points to a disastrous production of Requiem for a Heavyweight that he appeared in that ran for only three performances and eight previews.  He reveals, "The last time I was here we opened on a Thursday and closed on Sunday. It was shattering. It was profoundly upsetting.  Enough to where I didn't want to do it anymore. I turned down a bunch of Broadway shows because it was too emotionally expensive."
Since he's once again cast in the role of someone who isn't on the level, McGinley admits that he is drawn to those types of characters — especially if they have a soft spot.  He explains, "Sometimes I get cast as kind of a tough guy with a heart of gold. That's what I try to do. Because, if the character's just a jackass all the time there's nothing redeeming."
Latest Videos
Watch: Benedict Cumberbatch Film the Smaug Motion Capture for 'The Hobbit: The Desolation of Smaug'
Though Peter Jackson's movie adaptations of The Hobbit haven't received the same critical acclaim as his films based on the book's sequel, The Lord of the Rings (turning a 300 page book into 9+ hours of film tends to do that), fans are still eagerly anticipating the release of the final part of The Hobbit […]
http://www.dailyactor.com/2014/11/watch-benedict-cumberbatch-film-smaug-motion-capture-the-hobbit/
Watch: Daniel Radcliffe on the Differences Between American and British Theater Audiences
Though moviegoers can see Daniel Radcliffe in the fantasy film Horns, which opens today, Broadway fans will have to wait a bit longer. Radcliffe is an unapologetic fan of Broadway — he has starred in Equus, How to Succeed in Business Without Really Trying, and The Cripple of Inishmaan — but he hasn't yet made […]
http://www.dailyactor.com/2014/10/daniel-radcliffe-differences-between-american-british-theater-audiences/
http://www.dailyactor.com/wp-content/uploads/2014/10/watch-anna-gunn-jacki-weaver-and.jpg
Watch: Anna Gunn, Jacki Weaver and Virginia Kull on 'Gracepoint' and Strong Female Roles on TV
The actresses also speak candidly about how they feel about their characters in the series and why its important for TV to feature series with strong female leads.Check out the conversation above!
http://www.dailyactor.com/2014/10/watch-anna-gunn-jacki-weaver-virginia-kull-gracepoint-strong-female-roles-on-tv/
http://www.dailyactor.com/wp-content/uploads/2014/10/watch-cristin-milioti-talks-a-to.jpg
Watch: Cristin Milioti Talks 'A to Z', 'Once' and 'How I Met Your Mother'
Few actresses have the kind of rise as Cristin Milioti has had in the last few years. A virtual unknown in 2011, she became a bona fide Broadway star in the 2012 hit Once, appeared in a supporting role in the 2013 film The Wolf of Wall Street, and was featured as the titular mother […]
http://www.dailyactor.com/2014/10/watch-cristin-milioti-a-to-z-once-how-i-met-your-mother/
http://www.dailyactor.com/wp-content/uploads/2014/10/watch-bryan-cranstons-acting-adv.jpg
Watch: Bryan Cranston's Acting Advice
With Breaking Bad: The Complete Series Barrel being released on Blu-ray with all kinds of goodies today, it gives us yet another opportunity to reflect on the series' star Bryan Cranston and all of the incredible advice he has offered actors in the wake of his success. In a video he filmed in 2013 for […]
http://www.dailyactor.com/2014/10/bryan-cranston-acting-advice-video/