Hugh Jackman Returns to 'Inside the Actors Studio' (Watch 2 Clips)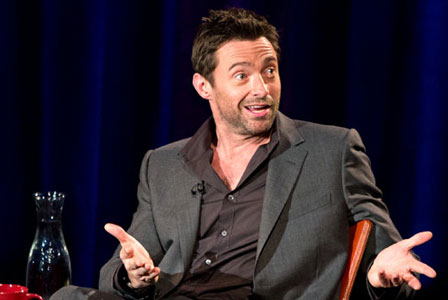 Oscar nominee Hugh Jackman returns to the Inside the Actors Studio for a second time on Wednesday, February 13th.
Host James Lipton picks up where they left off nine years ago, talking about the last decade of Jackman's career. In the episode, Jackman sings his "heart song" from "Happy Feet," performs a tap dance number, and shares some of his acting secrets.
Here are some quotes and 2 brief clips from the episode:
– Why he loves to act: "…those rare moments when something happens where you just feel you're part of something much greater than yourself…."
 – On misunderstanding of the term "Wolverine": "Wolverine's not an animal, that's just like, the character name."
-How he wanted to the audiences to react to Wolverine: "I want to feel how I felt when Robert Deniro took his shirt off in "Cape Fear," I want to go, 'holy sh*t, don't screw with this guy.'"
-On why he asked Tom Hooper to leave his four-hour "Les Misérables" audition: "Please, you know I'm passionate about this, but I have to put my kids to bed."
– Words of wisdom from Hugh's wife during a moment of weakness while filming "Les Misérables.": "'…this will demand more of you than anything you've ever done before and yes, you can do it."
Here he discusses going back to his roots as a mutant
In this clip, he shares how he becomes emotional for a scene
http://www.dailyactor.com/wp-content/uploads/2015/05/Caitriona-Balfe-Outlander.jpg
Outlander's Caitriona Balfe On The Emotional Toll of Filming Violent Scenes
"Having to put yourself in that place is tough. To sit in that emotional space, especially when you're doing it day after day." - Caitriona Balfe
http://www.dailyactor.com/2015/05/outlander-catriona-balfe-emotional-toll-of-filming-violent-scenes/
http://www.dailyactor.com/wp-content/uploads/2015/05/Chrissie-Fit.jpg
Chrissie Fit on How She Landed Her Role in 'Pitch Perfect 2′
"I remember getting the audition and being like, "This might not happen," just because it is such a massive movie." - Chrissie Fit
http://www.dailyactor.com/2015/05/chrissie-fit-on-how-she-landed-her-role-in-pitch-perfect-2/
http://www.dailyactor.com/wp-content/uploads/2015/05/Sam-Elliott.jpg
Sam Elliot on How he "F–ked" Himself Out of a Career as a Lead Actor
The rugged Sam Elliot has most often cast in character actor roles throughout his long career in film, though the 70 year-old Elliot thinks it wasn't always meant to be that way.
http://www.dailyactor.com/2015/05/sam-elliot-on-how-he-f-ked-himself-out-of-a-career-as-a-lead-actor/
http://www.dailyactor.com/wp-content/uploads/2015/05/Anna-Kendrick-Pitch-Perfect-2.jpg
Anna Kendrick Talks Hollywood and its Gender Bias
"As an actress you're perpetually about to be unemployed." - Anna Kendrick
http://www.dailyactor.com/2015/05/anna-kendrick-talks-hollywood-and-its-gender-bias/
http://www.dailyactor.com/wp-content/uploads/2015/05/tom-hardy-mad-max-fury-road.jpg
Tom Hardy on Fame, Acting School, and His 'Mad Respect' for Michael Fassbender
"Do what you love doing, do it well—everything should fit into place." - Tom Hardy
http://www.dailyactor.com/2015/05/tom-hardy-fame-acting-school-michael-fassbender/