Full Casting Announced for Roundabout's 'The Big Knife'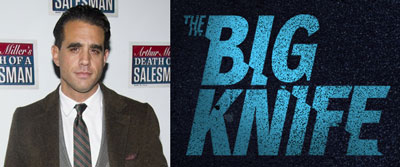 Roundabout Theatre Company has announced the actors for the new Broadway production of Clifford Odets, The Big Knife.
The production already had Bobby Cannavale as "Charlie Castle" and the rest of the company are as follows: Rachel Brosnahan as "Dixie Evans," Marin Ireland as "Marion Castle," Billy Eugene Jones as "Russell," Richard Kind as "Marcus Hoff," Adam Rapp as "Hank Teagle," Ana Reeder as "Connie Bliss," Reg Rogers as "Smiley Coy," Joey Slotnick as "Buddy Bliss," Brenda Wehle as "Patty Benedict," Chip Zien as "Nat Danziger," directed by Tony Award winner Doug Hughes.
Synopsis: In the golden age of Hollywood cinema, actors may have all the glory, but studio execs have all the power. The Hoff-Federated studio has had its most successful star, Charlie Castle, over a barrel ever since it helped cover up a mistake that could have ended his career. When a woman with insider knowledge threatens to come forward, the studio heads will stop at nothing to protect Charlie's secret… but how far is he willing to go before he quits the movie business for good?  Set in a glossy world of rumor mills and rocky friendships, Clifford Odets's The Big Knife is about living the life you always wanted but wanting something more.
The show will begin previews on March 22, 2013 and open officially on April 16, 2013 at the American Airlines Theatre on Broadway (227 West 42nd Street). This will be a limited engagement through June 2, 2013.
http://www.dailyactor.com/wp-content/uploads/2015/05/Caitriona-Balfe-Outlander.jpg
Outlander's Caitriona Balfe On The Emotional Toll of Filming Violent Scenes
"Having to put yourself in that place is tough. To sit in that emotional space, especially when you're doing it day after day." - Caitriona Balfe
http://www.dailyactor.com/2015/05/outlander-catriona-balfe-emotional-toll-of-filming-violent-scenes/
http://www.dailyactor.com/wp-content/uploads/2015/05/Chrissie-Fit.jpg
Chrissie Fit on How She Landed Her Role in 'Pitch Perfect 2′
"I remember getting the audition and being like, "This might not happen," just because it is such a massive movie." - Chrissie Fit
http://www.dailyactor.com/2015/05/chrissie-fit-on-how-she-landed-her-role-in-pitch-perfect-2/
http://www.dailyactor.com/wp-content/uploads/2015/05/Sam-Elliott.jpg
Sam Elliot on How he "F–ked" Himself Out of a Career as a Lead Actor
The rugged Sam Elliot has most often cast in character actor roles throughout his long career in film, though the 70 year-old Elliot thinks it wasn't always meant to be that way.
http://www.dailyactor.com/2015/05/sam-elliot-on-how-he-f-ked-himself-out-of-a-career-as-a-lead-actor/
http://www.dailyactor.com/wp-content/uploads/2015/05/Anna-Kendrick-Pitch-Perfect-2.jpg
Anna Kendrick Talks Hollywood and its Gender Bias
"As an actress you're perpetually about to be unemployed." - Anna Kendrick
http://www.dailyactor.com/2015/05/anna-kendrick-talks-hollywood-and-its-gender-bias/
http://www.dailyactor.com/wp-content/uploads/2015/05/tom-hardy-mad-max-fury-road.jpg
Tom Hardy on Fame, Acting School, and His 'Mad Respect' for Michael Fassbender
"Do what you love doing, do it well—everything should fit into place." - Tom Hardy
http://www.dailyactor.com/2015/05/tom-hardy-fame-acting-school-michael-fassbender/