First Set of SAG Award Presenters Announced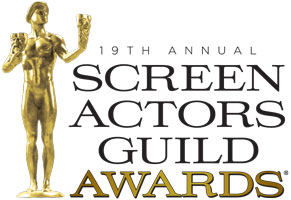 The Screen Actors Guild Awards have announced it's first couple of presenters for its 19th annual ceremony.
Bradley Cooper, Viola Davis, Anne Hathaway, Hugh Jackman, Jennifer Lawrence, Justin Timberlake and Sigourney Weaver will be presenters they announce today.
First-time SAG Awards nominee Bradley Cooper is recognized this year for his lead role in David O. Russell's "Silver Linings Playbook" and as a cast member in the film. In addition to "Playbook," Cooper had three other films in release in 2012: "The Words," "Hit and Run," and "The Place Beyond the Pines." In May, he'll be seen in "The Hangover Part III" and later this year will star opposite his "Playbook" co-star Jennifer Lawrence in the suspense drama "Serena." He'll also reunite with Russell to work on the director's film about the Abscam scandal, also starring Christian Bale.
Viola Davis is a four-time Screen Actors Guild Award® nominee and two-time recipient of the Actor® in 2012 for her lead performance as Aibileen Clark and as a cast member in "The Help." Davis' previous nominations were for her supporting and cast performances in "Doubt" opposite Meryl Streep. She was recently seen in "Won't Back Down" and will next star in the drama "Beautiful Creatures" opposite Emma Thompson.
Anne Hathaway, who just received a Golden Globe for her portrayal of Fantine in "Les Miserables," earned her first SAG Awards nomination in 2006 as a cast member of Ang Lee's "Brokeback Mountain" and her first lead female actor nod in 2009 for "Rachel Getting Married." This year, she's nominated twice: As supporting female actor in "Les Miserables" and as a member of the film's cast. In 2012, Hathaway starred opposite Christian Bale in director Christopher Nolan's third and final installment of his Batman trilogy, "The Dark Knight Rises." Next year, she will give voice once again to Jewel the macaw in the animated sequel "Rio 2."
Academy Award-nominated and Golden Globe winning actor Hugh Jackman is a two-time SAG Awards nominee this year for his portrayal of Jean Valjean in "Les Miserables" and as a member of the film's cast. In July, audiences will see him reprise the role of Wolverine in the 6th installment of the "X-Men" franchise, "The Wolverine." He is currently filming "Prisoners" with Melissa Leo, Jake Gyllenhaal and Viola Davis, directed by Denis Villeneuve.
In 2010, Jennifer Lawrence earned her first SAG Award nomination for her performance in "Winter's Bone." The Golden Globe recipient is a double nominee this year, as lead female actor in "Silver Linings Playbook" and as a member of the film's cast. Lawrence became a household name with her role as Katniss Aberdeen in the blockbuster "The Hunger Games" and will reprise the role later this year in "The Hunger Games: Catching Fire." She'll also reunite with her "Silver Linings" co-star Cooper in "Serena."
Justin Timberlake earned his first SAG Award nomination in 2011 as a cast member in "The Social Network."  Last year, he appeared in "Trouble With the Curve," alongside Clint Eastwood and Amy Adams. Up next is a co-starring role in Joel and Ethan Coen's film, "Inside Llewyn Davis," with Carrie Mulligan and Oscar Isaac, and the thriller "Runner, Runner" with Ben Affleck.
Sigourney Weaver is a three-time SAG Awards nominee, most recently for her work in the television miniseries "Political Animals." She was recently be seen in Amy Heckerling's "Vamps" with Alicia Silverstone, Mabrouk El Mechri's "The Cold Light of Day" with Bruce Willis and "Red Lights" with Robert De Niro. In the works is the romance "It Is What It is" opposite Evan Rachel Wood.
The show will be simulcast live coast-to-coast on TNT and TBS on Sunday, Jan. 27, 2013, at 8 p.m. (ET)/5 p.m. (PT) from the Shrine Exposition Center in Los Angeles.
http://www.dailyactor.com/wp-content/uploads/2015/02/Larry-David.jpg
Larry David on Who he Wanted to Star in his Broadway Play 'Fish in the Dark': "Anybody but me"
"It's one of the reasons I didn't like acting. I don't like not being able to interject" – Larry David on acting with a script Who doesn't like Larry David? Well, to be honest, Larry David probably doesn't like Larry David. In fact, David didn't even want to cast himself in the lead of […]
http://www.dailyactor.com/2015/02/larry-david-on-who-he-wanted-to-star-broadway-play-fish-in-the-dark/
http://www.dailyactor.com/wp-content/uploads/2015/02/Helen-Mirren-The-Queen.jpg
Helen Mirren on Winning an Oscar: "It's an indescribable moment"
"It's hard to say, because you don't know what would have happened if you hadn't won" - Helen Mirren When Asked If Winning an Oscar Changed Her Career
http://www.dailyactor.com/2015/02/helen-mirren-on-winning-an-oscar/
http://www.dailyactor.com/wp-content/uploads/2015/02/anna-chlumsky-james-earl-jones.jpg
Anna Chlumsky on Her Broadway Debut: "For me, it was an opportunity to go in the direction that I hadn't played in a while"
"I think my personality lends itself to ensembles" - Anna Chlumsky
http://www.dailyactor.com/2015/02/anna-chlumsky-broadway-debut-ensemble/
http://www.dailyactor.com/wp-content/uploads/2015/02/joanne-froggatt-downton-abbey.jpg
'Downton Abbey' Star Joanne Froggatt on Creating Her Own Backstory and How She's "Not a Big-Budget Hollywood Type"
"They want the model type, classically beautiful, and I'm not" - Joanne Froggatt on Working in Hollywood
http://www.dailyactor.com/2015/02/downton-abbey-star-joanne-froggatt-character-backstory-hollywood/
http://www.dailyactor.com/wp-content/uploads/2015/01/al-pacino-the-humbling.jpg
Al Pacino on Acting: "It becomes such a part of your nature you rarely ever think about quitting"
After working infrequently in film over the last decade, Al Pacino appears in several films released in 2015, including The Humbling, an indie drama directed by Barry Levinson.
http://www.dailyactor.com/2015/02/al-pacino-on-acting-it-becomes-such-a-part-of-your-nature/