Emmy Rossum talks 'Shameless' and saying, "My character wouldn't do that" to the writers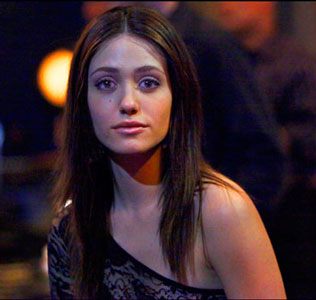 Emmy Rossum admits that she wishes her show, Showtime's Shameless, would get the same attention the network's other hit, Homeland, gets.
"They are a strong drama.  We were entered [in the Emmys] as a drama, because we're an hour long," she said in an interview with The Wall Street Journal.  "But we're not obviously hysterical enough to be a comedy.  Obviously I have no say in this, but it's been discussed that we're in a no-man's land.  But I don't think we have that envy, because we feel blessed to be making a show that people enjoy.  Recognition is always nice, but you can't play the game for that reason.  You'll always be underwhelmed."
Rossum gets some recognition that she's not always thrilled with—namely, the public viewing her as slutty because of her character Fiona's antics.  "People who watch the show think you must be like that character," she said.  "A lot of people probably think I'm a dirty ho, but I'm not.  The show has done only great things for me and my career."
The show's graphic sex scenes have garnered a lot of attention, despite Rossum's claim that the show is more about family and poverty.
"There are shows like Boardwalk Empire that shows secondary characters having sex all the time, and nobody talks about how naked that show is," Rossum complains.  "Our show is really funny and dark and weird, but thank God we found an audience.
"When I read the script at first, I wondered if anybody was going to watch this.  When they first made the show, a network that [writer/producer] John Wells pitched it to wanted to set it in the South.  He said absolutely not.  That would be stereotypical white trash.  The Gallaghers are not.  They're in any metropolitan city."
Rossum obviously has strong views about the show (which costars William H. Macy) and the development of her character.  She's quick to voice her opinion on a storyline she wasn't particularly happy about.  "I'll probably get killed for saying this, but last season I didn't like the storyline with Fiona dating the older guy," the 26-year-old confessed.  "It seemed out of character and she clearly wasn't attracted to him.  I know she was trying something different, but I just didn't buy it."
It's not that the actors aren't invited to share their ideas with the writing staff.  "Bill [Macy] has written for the show, so he's definitely more trusted in the writers room than some of us," Rossum said.  "I'm sure there's a certain amount of competition among the writers to outdo each other, so we have to be the voice of reason sometimes that says, 'My character wouldn't do that.'  Sometimes we win and sometimes we don't, but we always make it work."
Shameless airs on Showtime, Mondays at 10 p.m.
http://www.dailyactor.com/wp-content/uploads/2015/02/Larry-David.jpg
Larry David on Who he Wanted to Star in his Broadway Play 'Fish in the Dark': "Anybody but me"
"It's one of the reasons I didn't like acting. I don't like not being able to interject" – Larry David on acting with a script Who doesn't like Larry David? Well, to be honest, Larry David probably doesn't like Larry David. In fact, David didn't even want to cast himself in the lead of […]
http://www.dailyactor.com/2015/02/larry-david-on-who-he-wanted-to-star-broadway-play-fish-in-the-dark/
http://www.dailyactor.com/wp-content/uploads/2015/02/Helen-Mirren-The-Queen.jpg
Helen Mirren on Winning an Oscar: "It's an indescribable moment"
"It's hard to say, because you don't know what would have happened if you hadn't won" - Helen Mirren When Asked If Winning an Oscar Changed Her Career
http://www.dailyactor.com/2015/02/helen-mirren-on-winning-an-oscar/
http://www.dailyactor.com/wp-content/uploads/2015/02/anna-chlumsky-james-earl-jones.jpg
Anna Chlumsky on Her Broadway Debut: "For me, it was an opportunity to go in the direction that I hadn't played in a while"
"I think my personality lends itself to ensembles" - Anna Chlumsky
http://www.dailyactor.com/2015/02/anna-chlumsky-broadway-debut-ensemble/
http://www.dailyactor.com/wp-content/uploads/2015/02/joanne-froggatt-downton-abbey.jpg
'Downton Abbey' Star Joanne Froggatt on Creating Her Own Backstory and How She's "Not a Big-Budget Hollywood Type"
"They want the model type, classically beautiful, and I'm not" - Joanne Froggatt on Working in Hollywood
http://www.dailyactor.com/2015/02/downton-abbey-star-joanne-froggatt-character-backstory-hollywood/
http://www.dailyactor.com/wp-content/uploads/2015/01/al-pacino-the-humbling.jpg
Al Pacino on Acting: "It becomes such a part of your nature you rarely ever think about quitting"
After working infrequently in film over the last decade, Al Pacino appears in several films released in 2015, including The Humbling, an indie drama directed by Barry Levinson.
http://www.dailyactor.com/2015/02/al-pacino-on-acting-it-becomes-such-a-part-of-your-nature/