Emmy Rossum talks 'Shameless' and saying, "My character wouldn't do that" to the writers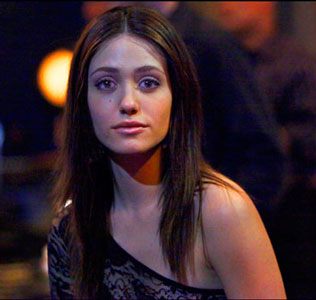 Emmy Rossum admits that she wishes her show, Showtime's Shameless, would get the same attention the network's other hit, Homeland, gets.
"They are a strong drama.  We were entered [in the Emmys] as a drama, because we're an hour long," she said in an interview with The Wall Street Journal.  "But we're not obviously hysterical enough to be a comedy.  Obviously I have no say in this, but it's been discussed that we're in a no-man's land.  But I don't think we have that envy, because we feel blessed to be making a show that people enjoy.  Recognition is always nice, but you can't play the game for that reason.  You'll always be underwhelmed."
Rossum gets some recognition that she's not always thrilled with—namely, the public viewing her as slutty because of her character Fiona's antics.  "People who watch the show think you must be like that character," she said.  "A lot of people probably think I'm a dirty ho, but I'm not.  The show has done only great things for me and my career."
The show's graphic sex scenes have garnered a lot of attention, despite Rossum's claim that the show is more about family and poverty.
"There are shows like Boardwalk Empire that shows secondary characters having sex all the time, and nobody talks about how naked that show is," Rossum complains.  "Our show is really funny and dark and weird, but thank God we found an audience.
"When I read the script at first, I wondered if anybody was going to watch this.  When they first made the show, a network that [writer/producer] John Wells pitched it to wanted to set it in the South.  He said absolutely not.  That would be stereotypical white trash.  The Gallaghers are not.  They're in any metropolitan city."
Rossum obviously has strong views about the show (which costars William H. Macy) and the development of her character.  She's quick to voice her opinion on a storyline she wasn't particularly happy about.  "I'll probably get killed for saying this, but last season I didn't like the storyline with Fiona dating the older guy," the 26-year-old confessed.  "It seemed out of character and she clearly wasn't attracted to him.  I know she was trying something different, but I just didn't buy it."
It's not that the actors aren't invited to share their ideas with the writing staff.  "Bill [Macy] has written for the show, so he's definitely more trusted in the writers room than some of us," Rossum said.  "I'm sure there's a certain amount of competition among the writers to outdo each other, so we have to be the voice of reason sometimes that says, 'My character wouldn't do that.'  Sometimes we win and sometimes we don't, but we always make it work."
Shameless airs on Showtime, Mondays at 10 p.m.
Latest Videos
http://www.dailyactor.com/wp-content/uploads/2014/09/audtion-tapes-robin-wright-and-h.jpg
Audition Tapes: Robin Wright and Haley Joel Osment Audition with Tom Hanks for 'Forrest Gump'
Check out Robin Wright auditioning for the role of Jenny from Forest Gump opposite Tom Hanks. Interestingly enough, Hanks doesn't quite have Gump's southern drawl down just yet while the other actors audition with him. In fact, Hanks would base Gump's voice on the voice of Michael Conner Humphreys, who played the young Forrest and […]
http://www.dailyactor.com/2014/09/audtion-tapes-robin-wright-haley-joel-osment-tom-hanks-forrest-gump/
http://www.dailyactor.com/wp-content/uploads/2014/08/bryan-cranston-emmy-award-speech.jpg
Watch: Bryan Cranston's Emmy Award Speech: "I love to act. It is a passion of mine and I will do it until my last breath."
The Emmy Awards weren't the most exciting awards show this year but with Bryan Cranston winning for Outstanding Actor in a Drama for Breaking Bad, we at least got to hear one heck of a fantastic acceptance speech. "I was a kid who always looked for the shortcut," he said. "I did happen to stumble […]
http://www.dailyactor.com/2014/08/watch-bryan-cranston-and-aaron-pauls-emmy-award-speeches/
http://www.dailyactor.com/wp-content/uploads/2014/08/audition-tapes-gerard-butler-aud.jpg
Audition Tapes: Gerard Butler Auditions for 'Dracula 2000′
Check out Gerard Butler auditioning for the role of Dracula in the movie, Dracula 2000. The film, about a group of thieves who break into a chamber expecting to find paintings, but instead find Dracula himself, also starred Christopher Plummer, Jonny Lee Miller and Nathan Fillion. Bulter has some sweet rock star hair, huh?
http://www.dailyactor.com/2014/08/audition-tapes-gerard-butler-dracula-2000/
http://www.dailyactor.com/wp-content/uploads/2014/08/interview-matt-dillon-and-carla.jpg
Interview: Matt Dillon and Carla Gugino Talk 'Wayward Pines'
FOX has a new limited-series that's got a terrific cast and interesting premise. It's called Wayward Pines and stars Matt Dillon, Carla Gugino, Melissa Leo, Toby Jones, Terrance Howard, Juliette Lewis, Tim Griffin and Shannyn Sossamon. The show, whose pilot was directed by M. Night Shyamalan, is about a Secret Service agent (Dillon) goes to […]
http://www.dailyactor.com/2014/08/interview-matt-dillon-carla-gugino-wayward-pines-comic-con/
http://www.dailyactor.com/wp-content/uploads/2014/08/interview-wayward-pines-stars-ti.jpg
Interview: 'Wayward Pines' Stars Tim Griffin and Shannyn Sossamon on the Show, Their Characters and More!
Griffin and Sossamonwere at Comic-Con where they sat in on some roundtable interviews to talk about the show.
http://www.dailyactor.com/2014/08/interview-wayward-pines-stars-tim-griffin-shannyn-sossamon-comic-con/