Clare Bowen on Getting Cast in 'Nashville' and Having Her Boyfriend Dump Her After She Got the Role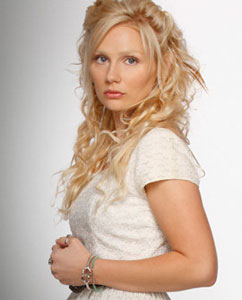 Australian actress Clare Bowen was starring in the Australian production of Spring Awakening when one of the show's producers — none other than Cate Blanchett — told her that she really needed to bring her talent to America.  So Bowen did, and now the twenty three year-old stars as Scarlett O'Connor on ABC's Nashville.  While she managed to get selected for the role without much difficulty, she tells The New York Post that her personal life wasn't so lucky.
Despite being late for her audition, Bowen's performance won the crew over.  She explains, "I was two hours late for the casting because of the rain. I called and said, 'I think I have to cancel. I don't want to keep them waiting.' And they said, 'They're waiting for you.' So I went. I looked like a drowned rat. I was soaking wet. I sang and [the casting director] said, 'I gotta get my camera.'"
The next morning she met with the show's creator Callie Khouri and co-executive producer R.J. Cutler.  She recalls, "I guess it could have been intimidating but they were really nice. So we sat there and talked for an hour and a half, making friends. And they said, 'We need to see you tonight at a recording studio.' I was actually going out on for a test on another project. I was about to sign the waiver that says you can't go out on anything else if you go out for this test. I was at the desk with the pen in my hand when the phone rang and my manager said, 'Don't you sign anything. You have to go [to] the studio right now, go.' The next morning they told me I had a job. And my whole life changed."
However, things didn't work out so smoothly in Bowen's personal life — her boyfriend dumped her.  She reveals, "I got told to fuck myself because I got Nashville. Someone that I loved. And I'm sure he's happy somewhere."  Nonetheless, Bowen says she has funneled that experience into her character, adding, "So Scarlett and I are discovering ourselves at the same time."
At the very least, Bowen prefers working in Nashville to the busy life of living in Los Angeles.  She explains, "It's nice to be hiding in Nashville.  There's nothing hard about this job except maybe putting in eye drops in the morning. You can't bat red eyes at people."
Latest Videos
http://www.dailyactor.com/wp-content/uploads/2014/07/bill-hader.jpg
Bill Hader: "I kind of fell into acting" (video)
Bill Hader, starring in the soon to be released The Skeleton Twins, talks about the film and how he fell into acting and then got "crazy lucky" in this quick video from USA Today. Share on Tumblr
http://www.dailyactor.com/2014/07/bill-hader-fell-into-acting-video/
http://www.dailyactor.com/wp-content/uploads/2014/07/director-john-carney-narrates-a.jpg
Director John Carney Narrates a Scene from 'Begin Again' Starring Kiera Knightley and Mark Ruffalo
Director John Carney (Once) narrates a scene from his new film, Begin Again. Starring Keira Knightley and Mark Ruffalo, the scene shows the first time the two characters meet. I haven't seen it yet but I've heard it's great.
http://www.dailyactor.com/2014/07/begin-again-scene-director-john-carney-keira-knightley-mark-ruffalo/
http://www.dailyactor.com/wp-content/uploads/2014/07/holler-if-you-hear-me-gma.jpg
Watch the Cast of Broadway's 'Holler If You Hear Me' Perform 'California Love' on GMA
The cast of Broadway's newest musical, Holler If You Hear Me with music from Tupac Shakur, performed on Good Morning America this morning. Singing 'California Love', the cast (including the teriffic Christopher Jackson – read our interview here), show why they're the most energetic and inspiring group of actors on Broadway. Holler If Ya Hear [...]
http://www.dailyactor.com/2014/07/watch-cast-broadways-holler-hear-perform-california-love-gma/
http://www.dailyactor.com/wp-content/uploads/2014/07/behind-the-scenes-of-dawn-of-the.jpg
Behind the Scenes of 'Dawn of the Planet of the Apes' with Performance Capture Actor Terry Notary
Actor Terry Notary is 1 of 5 actors playing the apes in the new Dawn of the Planet of the Apes. "When you see armies of apes," he says, that's "five of us." Check out the video where you can watch his performance capture work.
http://www.dailyactor.com/2014/07/dawn-planet-apes-performance-capture-actor-terry-notary/
http://www.dailyactor.com/wp-content/uploads/2014/07/melissa-mccarthy-daily-show.jpg
Melissa McCarthy and John Stewart Talk About Terrible Commercial Auditions on 'The Daily Show'
Melissa McCarthy stopped by The Daily Show last week to plug about her new movie, Tammy. She talked about how she loved working with her husband, Ben Falcone (director of Tammy) and then segued into talking about some horrible working situations. The always hilarious McCarthy then started to tell host John Stewart about a particular [...]
http://www.dailyactor.com/2014/07/melissa-mccarthy-john-stewart-commercial-auditions-the-daily-show/