Clare Bowen on Getting Cast in 'Nashville' and Having Her Boyfriend Dump Her After She Got the Role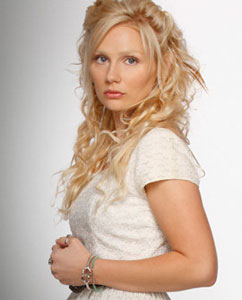 Australian actress Clare Bowen was starring in the Australian production of Spring Awakening when one of the show's producers — none other than Cate Blanchett — told her that she really needed to bring her talent to America.  So Bowen did, and now the twenty three year-old stars as Scarlett O'Connor on ABC's Nashville.  While she managed to get selected for the role without much difficulty, she tells The New York Post that her personal life wasn't so lucky.
Despite being late for her audition, Bowen's performance won the crew over.  She explains, "I was two hours late for the casting because of the rain. I called and said, 'I think I have to cancel. I don't want to keep them waiting.' And they said, 'They're waiting for you.' So I went. I looked like a drowned rat. I was soaking wet. I sang and [the casting director] said, 'I gotta get my camera.'"
The next morning she met with the show's creator Callie Khouri and co-executive producer R.J. Cutler.  She recalls, "I guess it could have been intimidating but they were really nice. So we sat there and talked for an hour and a half, making friends. And they said, 'We need to see you tonight at a recording studio.' I was actually going out on for a test on another project. I was about to sign the waiver that says you can't go out on anything else if you go out for this test. I was at the desk with the pen in my hand when the phone rang and my manager said, 'Don't you sign anything. You have to go [to] the studio right now, go.' The next morning they told me I had a job. And my whole life changed."
However, things didn't work out so smoothly in Bowen's personal life — her boyfriend dumped her.  She reveals, "I got told to fuck myself because I got Nashville. Someone that I loved. And I'm sure he's happy somewhere."  Nonetheless, Bowen says she has funneled that experience into her character, adding, "So Scarlett and I are discovering ourselves at the same time."
At the very least, Bowen prefers working in Nashville to the busy life of living in Los Angeles.  She explains, "It's nice to be hiding in Nashville.  There's nothing hard about this job except maybe putting in eye drops in the morning. You can't bat red eyes at people."
http://www.dailyactor.com/wp-content/uploads/2015/01/watch-al-pacino-talks-the-humbli.jpg
Watch: Al Pacino Talks 'The Humbling' and His Extraordinary Career
In this conversation with Al Pacino talks about his role in The Humbling -- including working with Greta Gerwig -- and his historic acting career
http://www.dailyactor.com/2015/01/watch-al-pacino-extraordinary-career/
http://www.dailyactor.com/wp-content/uploads/2015/01/watch-oscar-nominee-steve-carell.jpg
Watch: Oscar Nominee Steve Carell Talks Improv, Auditioning for 'The Office' and 'Foxcatcher'
Carell talks about his entire career as an actor, including his background in improv, how he landed the Michael Scott role on The Office, and Foxcatcher
http://www.dailyactor.com/2015/01/oscar-nominee-steve-carell-improv-auditioning-for-the-office-foxcatcher/
http://www.dailyactor.com/wp-content/uploads/2015/01/ethan-hawke-ellar-coltrane-boyhood.jpg
Ethan Hawke Calls 'Boyhood' the "most special endeavor of my life"
Ethan Hawke is riding high with his fourth Oscar nomination for the Richard Linklater-directed Boyhood. In a recent "Ask Me Anything" on Reddit, the 44-year-old actor gave some thoughtful insight into his career and the 12-year creative endeavor that became the biggest film of the Oscar season. When asked what was the most difficult thing about […]
http://www.dailyactor.com/2015/01/ethan-hawke-boyhood-reddit-amaife/
http://www.dailyactor.com/wp-content/uploads/2015/01/martha-plimpton-a-delicate-balance.jpg
Martha Plimpton Takes a Refreshing Approach to a Long-Lasting Career
Martha Plimpton is an actress who enjoys the work, she's not in it for the fame. The proof is in her continually excellent work that she is doing on-screen and on the stage. She's currently starring in A Delicate Balance on Broadway. It's the audience who gives her the ultimate thrill. "I try to get […]
http://www.dailyactor.com/2015/01/martha-plimpton-long-lasting-career/
http://www.dailyactor.com/wp-content/uploads/2015/01/watch-michael-keaton-talks-candi.jpg
Watch: Michael Keaton Talks Candidly About His Career and His Approach to Acting in 'Birdman'
In this nearly 90 minute conversation, Michael Keaton is his usual affable self but is also remarkably candid about his career and his approach to acting.
http://www.dailyactor.com/2015/01/michael-keaton-career-approach-to-acting-birdman/