Clare Bowen on Getting Cast in 'Nashville' and Having Her Boyfriend Dump Her After She Got the Role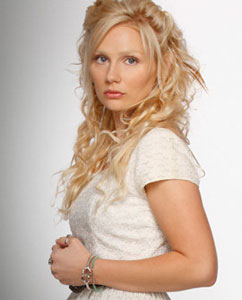 Australian actress Clare Bowen was starring in the Australian production of Spring Awakening when one of the show's producers — none other than Cate Blanchett — told her that she really needed to bring her talent to America.  So Bowen did, and now the twenty three year-old stars as Scarlett O'Connor on ABC's Nashville.  While she managed to get selected for the role without much difficulty, she tells The New York Post that her personal life wasn't so lucky.
Despite being late for her audition, Bowen's performance won the crew over.  She explains, "I was two hours late for the casting because of the rain. I called and said, 'I think I have to cancel. I don't want to keep them waiting.' And they said, 'They're waiting for you.' So I went. I looked like a drowned rat. I was soaking wet. I sang and [the casting director] said, 'I gotta get my camera.'"
The next morning she met with the show's creator Callie Khouri and co-executive producer R.J. Cutler.  She recalls, "I guess it could have been intimidating but they were really nice. So we sat there and talked for an hour and a half, making friends. And they said, 'We need to see you tonight at a recording studio.' I was actually going out on for a test on another project. I was about to sign the waiver that says you can't go out on anything else if you go out for this test. I was at the desk with the pen in my hand when the phone rang and my manager said, 'Don't you sign anything. You have to go [to] the studio right now, go.' The next morning they told me I had a job. And my whole life changed."
However, things didn't work out so smoothly in Bowen's personal life — her boyfriend dumped her.  She reveals, "I got told to fuck myself because I got Nashville. Someone that I loved. And I'm sure he's happy somewhere."  Nonetheless, Bowen says she has funneled that experience into her character, adding, "So Scarlett and I are discovering ourselves at the same time."
At the very least, Bowen prefers working in Nashville to the busy life of living in Los Angeles.  She explains, "It's nice to be hiding in Nashville.  There's nothing hard about this job except maybe putting in eye drops in the morning. You can't bat red eyes at people."
http://www.dailyactor.com/wp-content/uploads/2015/02/Larry-David.jpg
Larry David on Who he Wanted to Star in his Broadway Play 'Fish in the Dark': "Anybody but me"
"It's one of the reasons I didn't like acting. I don't like not being able to interject" – Larry David on acting with a script Who doesn't like Larry David? Well, to be honest, Larry David probably doesn't like Larry David. In fact, David didn't even want to cast himself in the lead of […]
http://www.dailyactor.com/2015/02/larry-david-on-who-he-wanted-to-star-broadway-play-fish-in-the-dark/
http://www.dailyactor.com/wp-content/uploads/2015/02/Helen-Mirren-The-Queen.jpg
Helen Mirren on Winning an Oscar: "It's an indescribable moment"
"It's hard to say, because you don't know what would have happened if you hadn't won" - Helen Mirren When Asked If Winning an Oscar Changed Her Career
http://www.dailyactor.com/2015/02/helen-mirren-on-winning-an-oscar/
http://www.dailyactor.com/wp-content/uploads/2015/02/anna-chlumsky-james-earl-jones.jpg
Anna Chlumsky on Her Broadway Debut: "For me, it was an opportunity to go in the direction that I hadn't played in a while"
"I think my personality lends itself to ensembles" - Anna Chlumsky
http://www.dailyactor.com/2015/02/anna-chlumsky-broadway-debut-ensemble/
http://www.dailyactor.com/wp-content/uploads/2015/02/joanne-froggatt-downton-abbey.jpg
'Downton Abbey' Star Joanne Froggatt on Creating Her Own Backstory and How She's "Not a Big-Budget Hollywood Type"
"They want the model type, classically beautiful, and I'm not" - Joanne Froggatt on Working in Hollywood
http://www.dailyactor.com/2015/02/downton-abbey-star-joanne-froggatt-character-backstory-hollywood/
http://www.dailyactor.com/wp-content/uploads/2015/01/al-pacino-the-humbling.jpg
Al Pacino on Acting: "It becomes such a part of your nature you rarely ever think about quitting"
After working infrequently in film over the last decade, Al Pacino appears in several films released in 2015, including The Humbling, an indie drama directed by Barry Levinson.
http://www.dailyactor.com/2015/02/al-pacino-on-acting-it-becomes-such-a-part-of-your-nature/