Casting Director Nina Gold Recalls Hugh Jackman's 'Les Miserables' Audition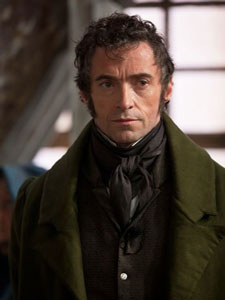 Even though Les Miserables is enjoying Oscar buzz, the road to making the film wasn't as glamorous.  All of the auditions were conducted in rundown studios.
The casting director for the film, Nina Gold, remembers, "You know, you've got Tap Dance 2 in one studio and Jujitsu 3 in the other studio, and Hugh Jackman and me and Tom [Hooper, the director] in the other one.  There's different dingy rooms all over the world, but they were all really, really repulsive."
The bright part of the process was when Jackman aced his audition.  Before hearing him sing, Gold admitted that she and Hooper were worried about finding someone to take on the celebrated role of Jean Valjean for the screen version of the musical.
"We know each other so well that we don't have any problem talking to each other very, very directly," Gold said in an interview with The New York Times.  "There was no one in the world who could do it—well, there is obviously Hugh Jackman, but he'd never sung in that register before."
After three hours of auditioning, it was clear the Aussie actor had landed the part.  "We had the pianist there, and he said, 'OK, let's just mess around with this,'" Gold said.  "And he opened his mouth and sang, and literally, you felt like you were going to be blown out the window.  It felt like my hair was on fire.  Until that moment, you just thought, 'Is it actually possible to do this?'"
Les Miserables is currently in theaters, and is up for Best Picture at the Oscars.
Latest Videos
http://www.dailyactor.com/wp-content/uploads/2014/07/bill-hader.jpg
Bill Hader: "I kind of fell into acting" (video)
Bill Hader, starring in the soon to be released The Skeleton Twins, talks about the film and how he fell into acting and then got "crazy lucky" in this quick video from USA Today. Share on Tumblr
http://www.dailyactor.com/2014/07/bill-hader-fell-into-acting-video/
http://www.dailyactor.com/wp-content/uploads/2014/07/director-john-carney-narrates-a.jpg
Director John Carney Narrates a Scene from 'Begin Again' Starring Kiera Knightley and Mark Ruffalo
Director John Carney (Once) narrates a scene from his new film, Begin Again. Starring Keira Knightley and Mark Ruffalo, the scene shows the first time the two characters meet. I haven't seen it yet but I've heard it's great.
http://www.dailyactor.com/2014/07/begin-again-scene-director-john-carney-keira-knightley-mark-ruffalo/
http://www.dailyactor.com/wp-content/uploads/2014/07/holler-if-you-hear-me-gma.jpg
Watch the Cast of Broadway's 'Holler If You Hear Me' Perform 'California Love' on GMA
The cast of Broadway's newest musical, Holler If You Hear Me with music from Tupac Shakur, performed on Good Morning America this morning. Singing 'California Love', the cast (including the teriffic Christopher Jackson – read our interview here), show why they're the most energetic and inspiring group of actors on Broadway. Holler If Ya Hear [...]
http://www.dailyactor.com/2014/07/watch-cast-broadways-holler-hear-perform-california-love-gma/
http://www.dailyactor.com/wp-content/uploads/2014/07/behind-the-scenes-of-dawn-of-the.jpg
Behind the Scenes of 'Dawn of the Planet of the Apes' with Performance Capture Actor Terry Notary
Actor Terry Notary is 1 of 5 actors playing the apes in the new Dawn of the Planet of the Apes. "When you see armies of apes," he says, that's "five of us." Check out the video where you can watch his performance capture work.
http://www.dailyactor.com/2014/07/dawn-planet-apes-performance-capture-actor-terry-notary/
http://www.dailyactor.com/wp-content/uploads/2014/07/melissa-mccarthy-daily-show.jpg
Melissa McCarthy and John Stewart Talk About Terrible Commercial Auditions on 'The Daily Show'
Melissa McCarthy stopped by The Daily Show last week to plug about her new movie, Tammy. She talked about how she loved working with her husband, Ben Falcone (director of Tammy) and then segued into talking about some horrible working situations. The always hilarious McCarthy then started to tell host John Stewart about a particular [...]
http://www.dailyactor.com/2014/07/melissa-mccarthy-john-stewart-commercial-auditions-the-daily-show/