Ashton Kutcher Studied Hours of Footage, Went on a Fruitarian Diet and Ended Up in the Hospital to Play Steve Jobs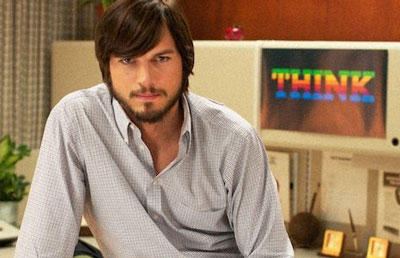 Ashton Kutcher is another actor who has made the news recently for risking his health for a film role (ie: Anne Hathaway for Les Miserables and Matthew McConaughey for The Dallas Buyers Club.)  In order to play Apple genius Steve Jobs, Kutcher adopted Jobs' fruitarian diet.
"It can lead to some serious issues," Kutcher said in an interview with The Associated Press.  "I ended up in the hospital two days before we started shooting the movie.  I was like doubled over in pain, and my pancreas levels were completely out of whack, which was completely terrifying, considering everything."
Kutcher is, of course, referring to Jobs dying of pancreatic cancer in 2011.  The actor, known for his role on That 70s Show, took preparations for his role in jOBS particularly seriously.  Kutcher watched "hundreds of hours of footage" of Jobs giving speeches and interviews to make his portrayal more accurate.  "It was kind of like throwing myself into this gauntlet of, I know, massive amounts of criticism because somebody's going to go 'well, it wasn't exactly…'" Kutcher admitted.
The 34-year-old also is involved in the world of digital entrepreneurship, so he enjoyed playing someone so involved in such monumental technological advancements as the iPod and Mac computers.  "What was nice was when I was preparing for the character, I could still work on product development for technology companies, and I would sort of stay in character, in the mode of the character," Kutcher said.  "But I didn't feel like I was compromising the work on the film by working on technology stuff because it was pretty much in the same field."
Kutcher considers Jobs a "personal hero," noting "he's a guy who failed and got back on the horse.  I think we can all sort of relate to that at some point in life."
jOBS recently premiered at the Sundance Film Festival, but won't hit theaters everywhere until April 19.
Latest Videos
http://www.dailyactor.com/wp-content/uploads/2014/07/bill-hader.jpg
Bill Hader: "I kind of fell into acting" (video)
Bill Hader, starring in the soon to be released The Skeleton Twins, talks about the film and how he fell into acting and then got "crazy lucky" in this quick video from USA Today. Share on Tumblr
http://www.dailyactor.com/2014/07/bill-hader-fell-into-acting-video/
http://www.dailyactor.com/wp-content/uploads/2014/07/director-john-carney-narrates-a.jpg
Director John Carney Narrates a Scene from 'Begin Again' Starring Kiera Knightley and Mark Ruffalo
Director John Carney (Once) narrates a scene from his new film, Begin Again. Starring Keira Knightley and Mark Ruffalo, the scene shows the first time the two characters meet. I haven't seen it yet but I've heard it's great.
http://www.dailyactor.com/2014/07/begin-again-scene-director-john-carney-keira-knightley-mark-ruffalo/
http://www.dailyactor.com/wp-content/uploads/2014/07/holler-if-you-hear-me-gma.jpg
Watch the Cast of Broadway's 'Holler If You Hear Me' Perform 'California Love' on GMA
The cast of Broadway's newest musical, Holler If You Hear Me with music from Tupac Shakur, performed on Good Morning America this morning. Singing 'California Love', the cast (including the teriffic Christopher Jackson – read our interview here), show why they're the most energetic and inspiring group of actors on Broadway. Holler If Ya Hear [...]
http://www.dailyactor.com/2014/07/watch-cast-broadways-holler-hear-perform-california-love-gma/
http://www.dailyactor.com/wp-content/uploads/2014/07/behind-the-scenes-of-dawn-of-the.jpg
Behind the Scenes of 'Dawn of the Planet of the Apes' with Performance Capture Actor Terry Notary
Actor Terry Notary is 1 of 5 actors playing the apes in the new Dawn of the Planet of the Apes. "When you see armies of apes," he says, that's "five of us." Check out the video where you can watch his performance capture work.
http://www.dailyactor.com/2014/07/dawn-planet-apes-performance-capture-actor-terry-notary/
http://www.dailyactor.com/wp-content/uploads/2014/07/melissa-mccarthy-daily-show.jpg
Melissa McCarthy and John Stewart Talk About Terrible Commercial Auditions on 'The Daily Show'
Melissa McCarthy stopped by The Daily Show last week to plug about her new movie, Tammy. She talked about how she loved working with her husband, Ben Falcone (director of Tammy) and then segued into talking about some horrible working situations. The always hilarious McCarthy then started to tell host John Stewart about a particular [...]
http://www.dailyactor.com/2014/07/melissa-mccarthy-john-stewart-commercial-auditions-the-daily-show/