And the Winners of the 19th Annual SAG Awards are…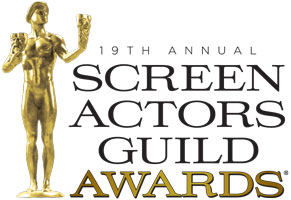 There weren't a lot of surprises at the SAG awards but of the awards presented, the only one that I thought was wrong was the Outstanding Performance by a Male in a Supporting Category given to
Tommy Lee Jones
for
Lincoln
.  I thought he was fine but was his performance better than
Philip Seymour Hoffman
's in
The Master
?
The actors honored with awards were Daniel Day-Lewis, Anne Hathaway, Jones and Jennifer Lawrence for performances in motion pictures and Alec Baldwin, Bryan Cranston, Kevin Costner, Claire Danes, Tina Fey and Julianne Moore for performances in television.
The Actor® for a motion picture cast performance went this year to Argo, while the Actors® for television drama and comedy ensemble performances went this year to Downton Abbey and Modern Family.
Check out the full list below. 
THEATRICAL MOTION PICTURES
Outstanding Performance by a Male Actor in a Leading Role
DANIEL DAY-LEWIS / Abraham Lincoln – "LINCOLN" (Touchstone Pictures)
Outstanding Performance by a Female Actor in a Leading Role
JENNIFER LAWRENCE / Tiffany – "SILVER LININGS PLAYBOOK" (The Weinstein Company)
Outstanding Performance by a Male Actor in a Supporting Role
TOMMY LEE JONES / Thaddeus Stevens – "LINCOLN" (Touchstone Pictures)
Outstanding Performance by a Female Actor in a Supporting Role
ANNE HATHAWAY / Fantine – "LES MISÉRABLES" (Universal Pictures)
Outstanding Performance by a Cast in a Motion Picture
ARGO (Warner Bros. Pictures)
BEN AFFLECK / Tony Mendez
ALAN ARKIN / Lester Siegel
KERRY BISHÉ / Kathy Stafford
KYLE CHANDLER / Hamilton Jordan
RORY COCHRANE / Lee Schatz
BRYAN CRANSTON / Jack O'Donnell
CHRISTOPHER DENHAM / Mark Lijek
TATE DONOVAN / Bob Anders
CLEA DuVALL / Cora Lijek
VICTOR GARBER / Ken Taylor
JOHN GOODMAN / John Chambers
SCOOT McNAIRY / Joe Stafford
CHRIS MESSINA / Malinov
PRIMETIME TELEVISION
Outstanding Performance by a Male Actor in a Television Movie or Miniseries
KEVIN COSTNER / "Devil Anse" Hatfield – "HATFIELDS & McCOYS" (History)
Outstanding Performance by a Female Actor in a Television Movie or Miniseries
JULIANNE MOORE / Sarah Palin – "GAME CHANGE" (HBO)
Outstanding Performance by a Male Actor in a Drama Series
BRYAN CRANSTON / Walter White – "BREAKING BAD" (AMC)
Outstanding Performance by a Female Actor in a Drama Series
CLAIRE DANES / Carrie Mathison – "HOMELAND" (Showtime)
Outstanding Performance by a Male Actor in a Comedy Series
ALEC BALDWIN / Jack Donaghy – "30 ROCK" (NBC)
Outstanding Performance by a Female Actor in a Comedy Series
TINA FEY / Liz Lemon – "30 ROCK" (NBC)
Outstanding Performance by an Ensemble in a Drama Series
DOWNTON ABBEY (PBS)
HUGH BONNEVILLE / Robert, Earl of Grantham
ZOE BOYLE / Lavinia Swire
LAURA CARMICHAEL / Lady Edith Crawley
JIM CARTER / Mr. Carson
BRENDAN COYLE / John Bates
MICHELLE DOCKERY / Lady Mary Crawley
JESSICA BROWN FINDLAY / Lady Sybil Crawley
SIOBHAN FINNERAN / O'Brien
JOANNE FROGGATT / Anna
IAIN GLEN / Sir Richard Carlisle
THOMAS HOWES / William
ROB JAMES-COLLIER / Thomas
ALLEN LEECH / Tom Branson
PHYLLIS LOGAN / Mrs. Hughes
ELIZABETH McGOVERN / Cora, Countess of Grantham
SOPHIE McSHERA / Daisy
LESLEY NICOL / Mrs. Patmore
AMY NUTTALL / Ethel
DAVID ROBB / Dr. Clarkson
MAGGIE SMITH / Violet, Dowager Countess of Grantham
DAN STEVENS / Matthew Crawley
PENELOPE WILTON / Isobel Crawley
Outstanding Performance by an Ensemble in a Comedy Series
MODERN FAMILY (ABC)
AUBREY ANDERSON-EMMONS / Lily Tucker-Pritchett
JULIE BOWEN / Claire Dunphy
TY BURRELL / Phil Dunphy
JESSE TYLER FERGUSON / Mitchell Pritchett
NOLAN GOULD / Luke Dunphy
SARAH HYLAND / Haley Dunphy
ED O'NEILL / Jay Pritchett
RICO RODRIGUEZ / Manny Delgado
ERIC STONESTREET / Cameron Tucker
SOFIA VERGARA / Gloria Delgado-Pritchett
ARIEL WINTER / Alex Dunphy
SAG AWARDS HONORS FOR STUNT ENSEMBLES
Outstanding Action Performance by a Stunt Ensemble in a Motion Picture
SKYFALL (Columbia Pictures)
Outstanding Action Performance by a Stunt Ensemble in a Television Series
GAME OF THRONES (HBO)
LIFE ACHIEVEMENT AWARD
Screen Actors Guild 49th Annual Life Achievement Award
DICK VAN DYKE
Latest Videos
http://www.dailyactor.com/wp-content/uploads/2014/11/sag-foundation-conversation-with.jpg
SAG Foundation Conversation with the Cast of NBC's 'Marry Me'
Earlier this month NBC put in an order for five additional episodes of its freshman romantic comedy series, Marry Me. While that isn't exactly the shot of confidence that a full-season renewal provides, it's enough to keep fans of the comedy — which is about an engaged couple who are determined to get married despite […]
http://www.dailyactor.com/2014/11/conversation-cast-of-nbc-marry-me-casey-wilson-ken-marino/
http://www.dailyactor.com/wp-content/uploads/2012/12/michael-caine.jpg
Michael Caine Talks About Acting With Your Eyes and Does an Amazing Cold Read of a Script
This week acting legend Michael Caine appears in his sixth film directed by Christopher Nolan, Interstellar. In an interview clip from The New York Times that was shot around the release of the last movie Caine worked on with Nolan, The Dark Knight Rises, reporter Melena Ryzik spoke to Caine about his six-decade career. In […]
http://www.dailyactor.com/2014/11/michael-caine-acting-with-your-eyes-cold-read-of-a-script/
http://www.dailyactor.com/wp-content/uploads/2014/11/director-dan-gilroy-narrates-a-s.jpg
Director Dan Gilroy Narrates a Scene from 'Nightcrawler' Featuring Jake Gyllenhaal and Rene Russo
Nightcrawler is easily one of the best movies of the year and its star, Jake Gyllenhaal, is outstanding. Definitely check this out when you have a chance. In the above clip, writer/director Dan Gilroy narrates a sequence from the film that features Gyllenhaal and Rene Russo. He talks about giving Gyllenhaal a small piece of […]
http://www.dailyactor.com/2014/11/director-dan-gilroy-narrates-a-scene-nightcrawler-jake-gyllenhaal-rene-russo/
http://www.dailyactor.com/wp-content/uploads/2014/11/matthew-mcconaughey-talks-losing.png
Matthew McConaughey Talks Losing the Lead Role in 'Bernie' to Jack Black
Though Matthew McConaughey has increased his earned plenty of respect since he started taking on more substantive movie roles in the last few years (with Dallas Buyers Club even earning him an Oscar for Best Actor), one director that always has been a fan of McConaughey is Richard Linklater. Linklater gave McConaughey his first big […]
http://www.dailyactor.com/2014/11/matthew-mcconaughey-talks-losing-the-lead-role-in-bernie-to-jack-black/
http://www.dailyactor.com/wp-content/uploads/2014/11/watch-benedict-cumberbatch-film.jpg
Watch: Benedict Cumberbatch Film the Smaug Motion Capture for 'The Hobbit: The Desolation of Smaug'
Though Peter Jackson's movie adaptations of The Hobbit haven't received the same critical acclaim as his films based on the book's sequel, The Lord of the Rings (turning a 300 page book into 9+ hours of film tends to do that), fans are still eagerly anticipating the release of the final part of The Hobbit […]
http://www.dailyactor.com/2014/11/watch-benedict-cumberbatch-film-smaug-motion-capture-the-hobbit/