'Girls' Allison Williams on the New Season, Playing Marnie and How Her Life Has Changed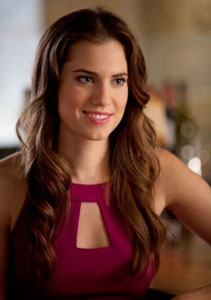 Season 2 of HBO's hit series, Girls, starts on Sunday, and the characters will be facing many changes since the audience last saw their New York City antics.  But the biggest change for the cast was something that occurred off-screen.
"The biggest surprise was that suddenly, when we were shooting in New York, photographers would be there," Allison Williams, who plays Marnie, said.  "When we shot outside for Season 1, the paparazzi would walk by and say, 'Is anyone famous in this show?' and I'd be like, 'No.  No one famous is in this show.  You can keep walking.  I think they're shooting Smash around the corner.'  And this season they take pictures of us."
Williams shouldn't be surprised by the paparazzi since the series has been getting raved about by critics and dedicated fans alike.  Part of the love comes from the show's often brutal honesty, including the sometimes raw sex scenes.
"It makes me feel like I'm part of a show that's aiming to portray a very real reckoning of what's going on," Williams told The Huffington Post.  "It wouldn't be the full picture if viewers weren't seeing the characters in these private moments, and that's something we all signed up for at the beginning.  And sometimes it means shooting a pretty challenging scene, but it's all for the good of the show.  I trust Lena [Dunham, the show's creator, writer, and star].  We look at what she does and just follow."
Williams' character, Marnie, is another realistic aspect of the show—she's a struggling girl in her 20s, trying to figure out relationships and friendships without any of the usual sitcom sugarcoating.  The role isn't too far off from Williams' own personality.
"When I play her, the only adjustment I have to make—in contrast to Daniel Day-Lewis, who spent months assuming his physicality and voice for Lincoln—is to take a deep breath and not let it out until I go home," the actress said.  "Even when Marnie's trying to look relaxed, something inside her is still tense.  I don't know if she's ever relaxed all the muscles in her face in her life.  I don't know that she's ever really let loose or had no thoughts in her head.  I've definitely been there, but have gotten a lot better over the years.  And it was simply by acknowledging how I'm wired that I was able to get better at relaxing and easing into everything.  Marnie's still very stubbornly in pursuit of perfection."
Although Williams has now become a household face with her spot on Girls, she admits that her personal life is still very much the same as it was before her breakout.  "In very specific ways my life has changed, but my daily routine is almost identical to how it was before the show happened.  Really other than doing work things like getting to talk about the show and promote it, everything's the same.  I go to the same exercise classes.  I still take the subway.  I eat at the same places.  I like to wake up as late as I always liked to wake up.
"It's all the same and I'm still trying to be in more stuff.  I'm still hearing, 'No.' No matter what stage of career you reach, you're still going to be denied roles and that's a very important thing to realize.  Everything is business as usual except this one, tiny caveat: I'm on this awesome show that changes small things in a big way."
Girls airs new episodes Sunday, January 13 at 9 p.m. on HBO.
Latest Videos
http://www.dailyactor.com/wp-content/uploads/2014/09/watch-david-mamet-in-the-1976-sh.jpg
Watch: David Mamet in the 1976 Short Documentary 'The Playwright Directs'
Though David Mamet is best known for his distinctive writing style in his scripts for the stage and screen, he has also directed theater and film. The 1976 short documentary titled The Playwright Directs depicts Mamet directing actors through several scenes at an almost frantic pace, dispensing pearls of wisdom throughout, like his thoughts on […]
http://www.dailyactor.com/2014/09/watch-david-mamet-1976-documentary-the-playwright-directs/
http://www.dailyactor.com/wp-content/uploads/2014/09/watch-marvels-agents-of-s-h-i-e.jpg
Watch: Marvel's Agents of S.H.I.E.L.D. Season 1 Bloopers
Forgetting lines? Corpsing? Delivering lines in Spanish? Unruly props? All in a day's work on the set of Marvel's Agents of S.H.I.E.L.D, apparently. Clark Gregg, Ming-Na Wen, and the rest of the cast find plenty of humor while playing super-serious secret agents in the Marvel Universe. While you're waiting for season 2 of the series […]
http://www.dailyactor.com/2014/09/watch-marvels-agents-of-s-h-i-e-l-d-season-1-bloopers/
http://www.dailyactor.com/wp-content/uploads/2014/09/audtion-tapes-robin-wright-and-h.jpg
Audition Tapes: Robin Wright and Haley Joel Osment Audition with Tom Hanks for 'Forrest Gump'
Check out Robin Wright auditioning for the role of Jenny from Forest Gump opposite Tom Hanks. Interestingly enough, Hanks doesn't quite have Gump's southern drawl down just yet while the other actors audition with him. In fact, Hanks would base Gump's voice on the voice of Michael Conner Humphreys, who played the young Forrest and […]
http://www.dailyactor.com/2014/09/audtion-tapes-robin-wright-haley-joel-osment-tom-hanks-forrest-gump/
http://www.dailyactor.com/wp-content/uploads/2014/08/bryan-cranston-emmy-award-speech.jpg
Watch: Bryan Cranston's Emmy Award Speech: "I love to act. It is a passion of mine and I will do it until my last breath."
The Emmy Awards weren't the most exciting awards show this year but with Bryan Cranston winning for Outstanding Actor in a Drama for Breaking Bad, we at least got to hear one heck of a fantastic acceptance speech. "I was a kid who always looked for the shortcut," he said. "I did happen to stumble […]
http://www.dailyactor.com/2014/08/watch-bryan-cranston-and-aaron-pauls-emmy-award-speeches/
http://www.dailyactor.com/wp-content/uploads/2014/08/audition-tapes-gerard-butler-aud.jpg
Audition Tapes: Gerard Butler Auditions for 'Dracula 2000′
Check out Gerard Butler auditioning for the role of Dracula in the movie, Dracula 2000. The film, about a group of thieves who break into a chamber expecting to find paintings, but instead find Dracula himself, also starred Christopher Plummer, Jonny Lee Miller and Nathan Fillion. Bulter has some sweet rock star hair, huh?
http://www.dailyactor.com/2014/08/audition-tapes-gerard-butler-dracula-2000/