'Girls' Allison Williams on the New Season, Playing Marnie and How Her Life Has Changed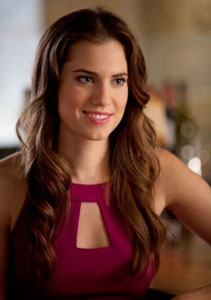 Season 2 of HBO's hit series, Girls, starts on Sunday, and the characters will be facing many changes since the audience last saw their New York City antics.  But the biggest change for the cast was something that occurred off-screen.
"The biggest surprise was that suddenly, when we were shooting in New York, photographers would be there," Allison Williams, who plays Marnie, said.  "When we shot outside for Season 1, the paparazzi would walk by and say, 'Is anyone famous in this show?' and I'd be like, 'No.  No one famous is in this show.  You can keep walking.  I think they're shooting Smash around the corner.'  And this season they take pictures of us."
Williams shouldn't be surprised by the paparazzi since the series has been getting raved about by critics and dedicated fans alike.  Part of the love comes from the show's often brutal honesty, including the sometimes raw sex scenes.
"It makes me feel like I'm part of a show that's aiming to portray a very real reckoning of what's going on," Williams told The Huffington Post.  "It wouldn't be the full picture if viewers weren't seeing the characters in these private moments, and that's something we all signed up for at the beginning.  And sometimes it means shooting a pretty challenging scene, but it's all for the good of the show.  I trust Lena [Dunham, the show's creator, writer, and star].  We look at what she does and just follow."
Williams' character, Marnie, is another realistic aspect of the show—she's a struggling girl in her 20s, trying to figure out relationships and friendships without any of the usual sitcom sugarcoating.  The role isn't too far off from Williams' own personality.
"When I play her, the only adjustment I have to make—in contrast to Daniel Day-Lewis, who spent months assuming his physicality and voice for Lincoln—is to take a deep breath and not let it out until I go home," the actress said.  "Even when Marnie's trying to look relaxed, something inside her is still tense.  I don't know if she's ever relaxed all the muscles in her face in her life.  I don't know that she's ever really let loose or had no thoughts in her head.  I've definitely been there, but have gotten a lot better over the years.  And it was simply by acknowledging how I'm wired that I was able to get better at relaxing and easing into everything.  Marnie's still very stubbornly in pursuit of perfection."
Although Williams has now become a household face with her spot on Girls, she admits that her personal life is still very much the same as it was before her breakout.  "In very specific ways my life has changed, but my daily routine is almost identical to how it was before the show happened.  Really other than doing work things like getting to talk about the show and promote it, everything's the same.  I go to the same exercise classes.  I still take the subway.  I eat at the same places.  I like to wake up as late as I always liked to wake up.
"It's all the same and I'm still trying to be in more stuff.  I'm still hearing, 'No.' No matter what stage of career you reach, you're still going to be denied roles and that's a very important thing to realize.  Everything is business as usual except this one, tiny caveat: I'm on this awesome show that changes small things in a big way."
Girls airs new episodes Sunday, January 13 at 9 p.m. on HBO.
Latest Videos
http://www.dailyactor.com/wp-content/uploads/2014/04/director-david-gordon-greene-nar.jpg
Director David Gordon Green Narrates a Scene From 'Joe'
Director David Gordon Green narrates a sequence from his new film, Joe, featuring Nicolas Cage and Tye Sheridan. In the video, he mentions his reasons why he likes to hire non-traditional actors. He likes people who have real skill-sets and not actors who have the skills on their resume. He also talked about this in […]
http://www.dailyactor.com/2014/04/director-david-gordon-green-narrates-a-scene-from-joe/
http://www.dailyactor.com/wp-content/uploads/2014/04/david-gordon-green-joe.jpg
Director David Gordon Green: "I find actors in unusual places"
I keep missing screenings of director David Gordon Greene's new film, Joe. I hear it's really good so I'm looking forward to catching it at some point. Joe stars Nicholas Cage as ex-con Joe Ransom, who isn't the greatest of role models until he meets a 15-year-old boy (Mud's Tye Sheridan). In this featurette, Green […]
http://www.dailyactor.com/2014/04/director-david-gordon-green-i-find-actors-in-unusual-places/
http://www.dailyactor.com/wp-content/uploads/2014/04/judy-greer-i-dont-know-why-you-know-me-from.jpg
Please Don't Say These Things To Judy Greer (video)
Judy Greer - who we love here at Daily Actor – has a new book called, I Don't Know What You Know Me From (Confessions of a Co-Star), a series of essays about her life as an actress, friend and someone who everyone thinks they might know. Here's a blurb about the book: "Want to […]
http://www.dailyactor.com/2014/04/please-dont-say-these-things-to-judy-greer-video/
http://www.dailyactor.com/wp-content/uploads/2014/04/Captain-America-SamuelNick-Fury.jpg
How Samuel L. Jackson Learns His Lines for the Marvel Movies (video)
Samuel L. Jackson stopped by Good Morning America earlier this week to talk about Captain America: The Winter Soldier – which is terrific, by the way – and he told Robin Roberts that for the first Cap film, he had trouble learning his lines. "I sat at home and I did all my studying, and […]
http://www.dailyactor.com/2014/04/how-samuel-l-jackson-learns-his-lines-for-the-marvel-movies-video/
http://www.dailyactor.com/wp-content/uploads/2014/04/andy-karl-margot-seibert-rocky.jpg
Andy Karl and Margo Seibert Talk 'Rocky: The Musical' on 'Today'
Andy Karl and Margo Seibert, the stars of Rocky: The Musical, talked to Today's Matt Lauer about the new Broadway musical. Karl talks about the final fight and taking on the iconic role. This is Seibert's Broadway debut and she's asked about her callbacks (9 in all!) and more. Check it out!
http://www.dailyactor.com/2014/04/andy-karl-and-margo-seibert-talk-rocky-the-musical-on-today/