Michael Chiklis on 'Vegas', Playing Bad Guys and Why Directing is in His Future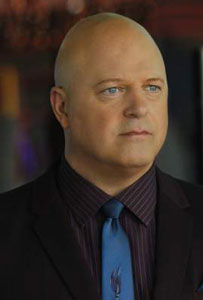 Despite playing a few good guys (in The Fantastic Four and No Ordinary Family), Michael Chiklis is best known for playing really, really bad guys.  He won an Emmy and a Golden Globe for his portrayal of the ultimate baddie, Vic Mackey, on The Shield, and his new role has him playing a mob boss on CBS' Vegas.  But don't let his amazing acting skills fool you—he's still a nice guy.
"I'm going to quote Jessica Rabbit: I'm not bad, I was just drawn that way," Chiklis joked in an interview with The Los Angeles Times.  "I think part of it has to do with my look.  If you looked at the first half of my career, I was being cast as white-hatted, affable, roly-poly nice guys.  I was frustrated by that because I felt like I could do a lot more than that.  Then I got the role of Vic Mackey, and it really was a life-changing opportunity."
Chiklis does share one quality with the villains he portrays: intense focus. This ambitiousness has helped him since the beginning of his career, when he guest-starred on Miami Vice in 1989.  "I'm a trained actor, I grew up in it," he noted.  "I believe I'm a behaviorist—someone who studies human behavior—and an empath.  Just getting into the way I work…OK, I'm playing Vincent Savino [his character on Vegas.]  I try to envision the way they see the world through their prism, and I walk a mile in that man's shoes.  Then I embrace their point of view while I'm working.  That's it."
"And I'm able to compartmentalize that because I'm never not aware of the fact that I'm Michael Chiklis.  There's never any doubt of that.  Anybody who tells you they sink into a character to the extent that they lose themselves is full of baloney.  And if they do, they need to be institutionalized.  Otherwise, I'd be playing murderers and I'd be killing people on set."
Overall, Chiklis is just happy to be working, regardless of the types of parts he plays.  "There are probably about seven actors out there who truly just choose 100% of where they're going next and whom they're working with," he said.  "There are maybe 10 guys.  The rest of us are trying to identify the best material with the best people that we can get.  If you're lucky like I am, particularly on the television side but even on the feature side, you have some choices, some not so great, some interesting, some really, really cool."
But despite any challenges of being in the business (and pretending to do some pretty gruesome things), Chiklis admitted, "I will always be an actor.  That will always be my first love and the driving force of my career.  But I think I'm at a place now where directing and producing are definitely going to be more and more prevalent in my life.  I also want to have more control over storytelling.  It's time for me to take the wheel."
Wherever Chiklis decides to go, it's sure to be an interesting ride.
Latest Videos
http://www.dailyactor.com/wp-content/uploads/2014/10/watch-anna-gunn-jacki-weaver-and.jpg
Watch: Anna Gunn, Jacki Weaver and Virginia Kull on 'Gracepoint' and Strong Female Roles on TV
The actresses also speak candidly about how they feel about their characters in the series and why its important for TV to feature series with strong female leads.Check out the conversation above!
http://www.dailyactor.com/2014/10/watch-anna-gunn-jacki-weaver-virginia-kull-gracepoint-strong-female-roles-on-tv/
http://www.dailyactor.com/wp-content/uploads/2014/10/watch-cristin-milioti-talks-a-to.jpg
Watch: Cristin Milioti Talks 'A to Z', 'Once' and 'How I Met Your Mother'
Few actresses have the kind of rise as Cristin Milioti has had in the last few years. A virtual unknown in 2011, she became a bona fide Broadway star in the 2012 hit Once, appeared in a supporting role in the 2013 film The Wolf of Wall Street, and was featured as the titular mother […]
http://www.dailyactor.com/2014/10/watch-cristin-milioti-a-to-z-once-how-i-met-your-mother/
http://www.dailyactor.com/wp-content/uploads/2014/10/watch-bryan-cranstons-acting-adv.jpg
Watch: Bryan Cranston's Acting Advice
With Breaking Bad: The Complete Series Barrel being released on Blu-ray with all kinds of goodies today, it gives us yet another opportunity to reflect on the series' star Bryan Cranston and all of the incredible advice he has offered actors in the wake of his success. In a video he filmed in 2013 for […]
http://www.dailyactor.com/2014/10/bryan-cranston-acting-advice-video/
http://www.dailyactor.com/wp-content/uploads/2014/10/alex-sharp-curious-incident-of-the-dog.jpg
Alex Sharp Talks About His Broadway Debut in 'The Curious Incident of the Dog in the Night-Time' (video)
Alex Sharp went from working in a call-center and renovating houses to going to Julliard. And now, he's starring in one of the most talked about shows of the season, The Curious Incident of the Dog in the Night-Time. Check out this great, inspiring video!
http://www.dailyactor.com/2014/10/alex-sharp-broadway-debut-the-curious-incident-of-the-dog-in-the-night-time-video/
http://www.dailyactor.com/wp-content/uploads/2014/10/Its-only-a-play.jpg
Watch a Scene From Terrance McNally's, 'It's Only a Play', Featuring Nathan Lane and Micah Stock
Here's a quick scene from Terrance McNally's It's Only a Play, currently on Broadway at the Schoenfeld Theater. In this scene, Nathan Lane and Micah Stock meet for the first time. The show, about the opening night of a new play, also stars Matthew Broderick, Stockard Channing, F. Murray Abraham, Rupert Grint and Megan Mullally.
http://www.dailyactor.com/2014/10/watch-a-scene-terrance-mcnally-its-only-a-play-nathan-lane-micah-stock/