Jessica Chastain on Not Acting Vulnerable in 'Zero Dark Thirty'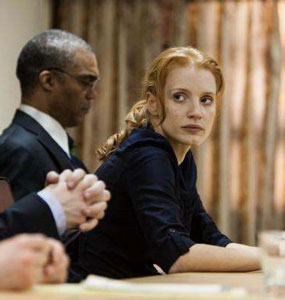 I don't think any actress has had the rapid career trajectory of Jessica Chastain — in 2010 she was a virtual unknown, and in a few weeks she will likely be nominated for an Oscar for the second consecutive year. She's already been nominated for many other awards for Zero Dark Thirty, in which she stars as a CIA operative named Maya who was instrumental in locating Osama bin Laden's hiding place. vulnerable
In a conversation with The Hollywood Reporter, Chastain spoke about the difficulties of playing an individual with such a stoic nature and whose real-life identity remains unknown.
The film opens with a scene in which a member of al-Qaida is waterboarded and abused in order to reveal information. Chastain's character is in the scene observing the interrogation.
She reveals, "It was really difficult to film even though, of course, we're acting. But we filmed it in an active Jordanian prison. The energy wasn't the best in that place. I'm playing a woman who's trained to be unemotional and analytically precise. I've been trained my whole life to be emotional and to let all my walls down and be very vulnerable. So to put myself in a situation like that, it's like I have to not follow my instincts — and my instincts, it seemed like that would be to cry. So I had to then show her discomfort, but to go back to her training of being unemotional."
Though Chastain plays a real-life operative, because she works for the CIA and her identity must remain secret Chastain never got to meet the person her character is based on. She was therefore able to create a lot of her character's personality. She explains, "Anything I couldn't find in the research about Maya, I then used my imagination to create. Like silly things, like what her favorite candy in America would be. You know the scene where I'm wearing the robe and I'm eating candy? Stuff like that, so I could answer questions. I also had to create a backstory. You see in the movie, you see there's a drawing by a child. You see postcards. All these things that I had created from this history of this woman that would make sense and go along with the research I had made of her."
Latest Videos
http://www.dailyactor.com/wp-content/uploads/2014/07/bill-hader.jpg
Bill Hader: "I kind of fell into acting" (video)
Bill Hader, starring in the soon to be released The Skeleton Twins, talks about the film and how he fell into acting and then got "crazy lucky" in this quick video from USA Today. Share on Tumblr
http://www.dailyactor.com/2014/07/bill-hader-fell-into-acting-video/
http://www.dailyactor.com/wp-content/uploads/2014/07/director-john-carney-narrates-a.jpg
Director John Carney Narrates a Scene from 'Begin Again' Starring Kiera Knightley and Mark Ruffalo
Director John Carney (Once) narrates a scene from his new film, Begin Again. Starring Keira Knightley and Mark Ruffalo, the scene shows the first time the two characters meet. I haven't seen it yet but I've heard it's great.
http://www.dailyactor.com/2014/07/begin-again-scene-director-john-carney-keira-knightley-mark-ruffalo/
http://www.dailyactor.com/wp-content/uploads/2014/07/holler-if-you-hear-me-gma.jpg
Watch the Cast of Broadway's 'Holler If You Hear Me' Perform 'California Love' on GMA
The cast of Broadway's newest musical, Holler If You Hear Me with music from Tupac Shakur, performed on Good Morning America this morning. Singing 'California Love', the cast (including the teriffic Christopher Jackson – read our interview here), show why they're the most energetic and inspiring group of actors on Broadway. Holler If Ya Hear [...]
http://www.dailyactor.com/2014/07/watch-cast-broadways-holler-hear-perform-california-love-gma/
http://www.dailyactor.com/wp-content/uploads/2014/07/behind-the-scenes-of-dawn-of-the.jpg
Behind the Scenes of 'Dawn of the Planet of the Apes' with Performance Capture Actor Terry Notary
Actor Terry Notary is 1 of 5 actors playing the apes in the new Dawn of the Planet of the Apes. "When you see armies of apes," he says, that's "five of us." Check out the video where you can watch his performance capture work.
http://www.dailyactor.com/2014/07/dawn-planet-apes-performance-capture-actor-terry-notary/
http://www.dailyactor.com/wp-content/uploads/2014/07/melissa-mccarthy-daily-show.jpg
Melissa McCarthy and John Stewart Talk About Terrible Commercial Auditions on 'The Daily Show'
Melissa McCarthy stopped by The Daily Show last week to plug about her new movie, Tammy. She talked about how she loved working with her husband, Ben Falcone (director of Tammy) and then segued into talking about some horrible working situations. The always hilarious McCarthy then started to tell host John Stewart about a particular [...]
http://www.dailyactor.com/2014/07/melissa-mccarthy-john-stewart-commercial-auditions-the-daily-show/