Hugh Jackman Explains Why Shooting 'Les Mis' Was More Physically Demanding Than 'Wolverine'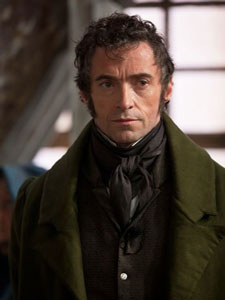 Despite being well-known for his absolute love of musicals, Hugh Jackman has never appeared in a film version of a musical until this month's Les Misérables, one of the most successful stage musicals of all time.  Jackman explains to Movieline why doing a musical is harder than an X-Men movie… and it's not because Jean Valjean, who he plays in Les Misérables, lacks retractable claws.
Jackman admits he has been waiting for the right role to make his big screen musical debut, but he never expected it would be in Les Misérables.  He confesses, "I've dreamt of being in a movie musical for a long time. For some reason I never even thought Les Mis would be possible. It was so iconic, the role wasn't even on my radar."
One of the challenges of playing Jean Valjean was that Jackman would have to lose much of his "Wolverine" bulk to play the character.  He explains that director Tom Hooper told him, "I want you unrecognizable. If you're recognizable, I want your friends to think you're sick."  In fact, despite starring in numerous big screen action roles Jackman claims that starring in a musical is actually more physically demanding.  He says, "It's weird coming from me, who's played Wolverine, or has been in other action movies, you'd probably think, 'at least a musical is going to be easy.' But anyone who's done a musical knows; whether you're dancing or not, physically it's the most difficult thing you can do."
He continues, "Singing is incredibly physical. All of those things combined, as well as emotionally and vocally, it's the most challenging thing, and usually all at once. It's the kind of thing you want as an actor. You want to feel challenged. It's good to feel uncomfortable. I'm really grateful, that's the overwhelming feeling."
Latest Videos
http://www.dailyactor.com/wp-content/uploads/2014/07/bill-hader.jpg
Bill Hader: "I kind of fell into acting" (video)
Bill Hader, starring in the soon to be released The Skeleton Twins, talks about the film and how he fell into acting and then got "crazy lucky" in this quick video from USA Today. Share on Tumblr
http://www.dailyactor.com/2014/07/bill-hader-fell-into-acting-video/
http://www.dailyactor.com/wp-content/uploads/2014/07/director-john-carney-narrates-a.jpg
Director John Carney Narrates a Scene from 'Begin Again' Starring Kiera Knightley and Mark Ruffalo
Director John Carney (Once) narrates a scene from his new film, Begin Again. Starring Keira Knightley and Mark Ruffalo, the scene shows the first time the two characters meet. I haven't seen it yet but I've heard it's great.
http://www.dailyactor.com/2014/07/begin-again-scene-director-john-carney-keira-knightley-mark-ruffalo/
http://www.dailyactor.com/wp-content/uploads/2014/07/holler-if-you-hear-me-gma.jpg
Watch the Cast of Broadway's 'Holler If You Hear Me' Perform 'California Love' on GMA
The cast of Broadway's newest musical, Holler If You Hear Me with music from Tupac Shakur, performed on Good Morning America this morning. Singing 'California Love', the cast (including the teriffic Christopher Jackson – read our interview here), show why they're the most energetic and inspiring group of actors on Broadway. Holler If Ya Hear [...]
http://www.dailyactor.com/2014/07/watch-cast-broadways-holler-hear-perform-california-love-gma/
http://www.dailyactor.com/wp-content/uploads/2014/07/behind-the-scenes-of-dawn-of-the.jpg
Behind the Scenes of 'Dawn of the Planet of the Apes' with Performance Capture Actor Terry Notary
Actor Terry Notary is 1 of 5 actors playing the apes in the new Dawn of the Planet of the Apes. "When you see armies of apes," he says, that's "five of us." Check out the video where you can watch his performance capture work.
http://www.dailyactor.com/2014/07/dawn-planet-apes-performance-capture-actor-terry-notary/
http://www.dailyactor.com/wp-content/uploads/2014/07/melissa-mccarthy-daily-show.jpg
Melissa McCarthy and John Stewart Talk About Terrible Commercial Auditions on 'The Daily Show'
Melissa McCarthy stopped by The Daily Show last week to plug about her new movie, Tammy. She talked about how she loved working with her husband, Ben Falcone (director of Tammy) and then segued into talking about some horrible working situations. The always hilarious McCarthy then started to tell host John Stewart about a particular [...]
http://www.dailyactor.com/2014/07/melissa-mccarthy-john-stewart-commercial-auditions-the-daily-show/