Christoph Waltz on His 'Overnight' Success: "I had been trying for years. I was already giving up"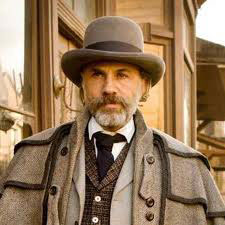 The incredible Christoph Waltz is a great example of how there are incredibly talented international actors that just need a single high-profile performance to break through to English-speaking audiences. 
Waltz has been acting, mostly in German television roles, since the late 1970s, but he didn't become a familiar face to Americans until his Oscar-winning performance in Quentin Tarantino's Inglourious Basterds.  Waltz has since reteamed with Tarantino for Django Unchained as the bounty hunter Dr. King Shultz, and he's a main reason why the western is one of the best films of the year.  Waltz spoke to Moviefone about becoming an "overnight sensation" after thirty years of hard work.
Of course, a German in a western might seem like a strange fit at first.  On the reason why the German Dr. Shultz would be in the antebellum South, Waltz says, "Quentin has a detailed biography before he sets out to write the story. But he doesn't burden me with it because he wants me to come up with my own ideas."  He also points out that there was a significant German presence in the United States during the eighteenth century, with German being one of the most widely-spoken languages after English.
Naturally Django Unchained presented an opportunity for Waltz to work with Tarantino again, whose Inglourious Basterds made Waltz a huge name in acting.  Waltz credits that Oscar-winning performance for his current career, saying, "It's changed completely. It's a pretty good story about the unknown TV actor. Really, most of the work that I have done over the past 20 years in Europe was television. I also did years and years and years of theater, which helps when you work with Tarantino. It's interesting for him to say that Sam Jackson and I can say his dialogue better than anyone else — we are two guys that grew up in the theater. Anyway, I've done so many years of theater, and I am not a real theater animal who needs it. I have always been so interested in film as a medium. And there was not much happening [in Germany]. They make movies but they are geared towards TV. I sort of made a living [doing it] and I was grateful for that, but it was never the challenge that promised satisfaction."
Actually, Waltz admits that before Inglourious Basterds he tried for a long time to break into English-speaking roles.  He reveals, "I had been trying for years. I was already giving up. I lived here in New York when I was very young. I went to Lee Strasberg's theater hoping that I could break in. Well, that turned out to be impossible, and Inglourious Basterds kind of brought me back. Now, I am not entirely uncritically throwing myself into anything that comes my way. But the fantastic thing is I don't have to because so much comes my way that, on top of getting to do it, I get to choose what it is I do. The moment I start to think about it, I want to fall on my knees and thank my creator that he has opened this opportunity for me."
More than anything else, Waltz believes that his current career is a result of his persistence.  He explains that it shows him, "That it was worthwhile sticking it through. That it was worthwhile to develop it, even under circumstances that I hardly ever agreed with. In a way, I don't dare to think about it, because I would end up with a question Why me? What did I do to deserve it?"
Latest Videos
http://www.dailyactor.com/wp-content/uploads/2014/09/watch-david-mamet-in-the-1976-sh.jpg
Watch: David Mamet in the 1976 Short Documentary 'The Playwright Directs'
Though David Mamet is best known for his distinctive writing style in his scripts for the stage and screen, he has also directed theater and film. The 1976 short documentary titled The Playwright Directs depicts Mamet directing actors through several scenes at an almost frantic pace, dispensing pearls of wisdom throughout, like his thoughts on […]
http://www.dailyactor.com/2014/09/watch-david-mamet-1976-documentary-the-playwright-directs/
http://www.dailyactor.com/wp-content/uploads/2014/09/watch-marvels-agents-of-s-h-i-e.jpg
Watch: Marvel's Agents of S.H.I.E.L.D. Season 1 Bloopers
Forgetting lines? Corpsing? Delivering lines in Spanish? Unruly props? All in a day's work on the set of Marvel's Agents of S.H.I.E.L.D, apparently. Clark Gregg, Ming-Na Wen, and the rest of the cast find plenty of humor while playing super-serious secret agents in the Marvel Universe. While you're waiting for season 2 of the series […]
http://www.dailyactor.com/2014/09/watch-marvels-agents-of-s-h-i-e-l-d-season-1-bloopers/
http://www.dailyactor.com/wp-content/uploads/2014/09/audtion-tapes-robin-wright-and-h.jpg
Audition Tapes: Robin Wright and Haley Joel Osment Audition with Tom Hanks for 'Forrest Gump'
Check out Robin Wright auditioning for the role of Jenny from Forest Gump opposite Tom Hanks. Interestingly enough, Hanks doesn't quite have Gump's southern drawl down just yet while the other actors audition with him. In fact, Hanks would base Gump's voice on the voice of Michael Conner Humphreys, who played the young Forrest and […]
http://www.dailyactor.com/2014/09/audtion-tapes-robin-wright-haley-joel-osment-tom-hanks-forrest-gump/
http://www.dailyactor.com/wp-content/uploads/2014/08/bryan-cranston-emmy-award-speech.jpg
Watch: Bryan Cranston's Emmy Award Speech: "I love to act. It is a passion of mine and I will do it until my last breath."
The Emmy Awards weren't the most exciting awards show this year but with Bryan Cranston winning for Outstanding Actor in a Drama for Breaking Bad, we at least got to hear one heck of a fantastic acceptance speech. "I was a kid who always looked for the shortcut," he said. "I did happen to stumble […]
http://www.dailyactor.com/2014/08/watch-bryan-cranston-and-aaron-pauls-emmy-award-speeches/
http://www.dailyactor.com/wp-content/uploads/2014/08/audition-tapes-gerard-butler-aud.jpg
Audition Tapes: Gerard Butler Auditions for 'Dracula 2000′
Check out Gerard Butler auditioning for the role of Dracula in the movie, Dracula 2000. The film, about a group of thieves who break into a chamber expecting to find paintings, but instead find Dracula himself, also starred Christopher Plummer, Jonny Lee Miller and Nathan Fillion. Bulter has some sweet rock star hair, huh?
http://www.dailyactor.com/2014/08/audition-tapes-gerard-butler-dracula-2000/