Christoph Waltz on His 'Overnight' Success: "I had been trying for years. I was already giving up"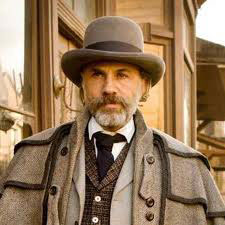 The incredible Christoph Waltz is a great example of how there are incredibly talented international actors that just need a single high-profile performance to break through to English-speaking audiences. 
Waltz has been acting, mostly in German television roles, since the late 1970s, but he didn't become a familiar face to Americans until his Oscar-winning performance in Quentin Tarantino's Inglourious Basterds.  Waltz has since reteamed with Tarantino for Django Unchained as the bounty hunter Dr. King Shultz, and he's a main reason why the western is one of the best films of the year.  Waltz spoke to Moviefone about becoming an "overnight sensation" after thirty years of hard work.
Of course, a German in a western might seem like a strange fit at first.  On the reason why the German Dr. Shultz would be in the antebellum South, Waltz says, "Quentin has a detailed biography before he sets out to write the story. But he doesn't burden me with it because he wants me to come up with my own ideas."  He also points out that there was a significant German presence in the United States during the eighteenth century, with German being one of the most widely-spoken languages after English.
Naturally Django Unchained presented an opportunity for Waltz to work with Tarantino again, whose Inglourious Basterds made Waltz a huge name in acting.  Waltz credits that Oscar-winning performance for his current career, saying, "It's changed completely. It's a pretty good story about the unknown TV actor. Really, most of the work that I have done over the past 20 years in Europe was television. I also did years and years and years of theater, which helps when you work with Tarantino. It's interesting for him to say that Sam Jackson and I can say his dialogue better than anyone else — we are two guys that grew up in the theater. Anyway, I've done so many years of theater, and I am not a real theater animal who needs it. I have always been so interested in film as a medium. And there was not much happening [in Germany]. They make movies but they are geared towards TV. I sort of made a living [doing it] and I was grateful for that, but it was never the challenge that promised satisfaction."
Actually, Waltz admits that before Inglourious Basterds he tried for a long time to break into English-speaking roles.  He reveals, "I had been trying for years. I was already giving up. I lived here in New York when I was very young. I went to Lee Strasberg's theater hoping that I could break in. Well, that turned out to be impossible, and Inglourious Basterds kind of brought me back. Now, I am not entirely uncritically throwing myself into anything that comes my way. But the fantastic thing is I don't have to because so much comes my way that, on top of getting to do it, I get to choose what it is I do. The moment I start to think about it, I want to fall on my knees and thank my creator that he has opened this opportunity for me."
More than anything else, Waltz believes that his current career is a result of his persistence.  He explains that it shows him, "That it was worthwhile sticking it through. That it was worthwhile to develop it, even under circumstances that I hardly ever agreed with. In a way, I don't dare to think about it, because I would end up with a question Why me? What did I do to deserve it?"
http://www.dailyactor.com/wp-content/uploads/2015/01/watch-al-pacino-talks-the-humbli.jpg
Watch: Al Pacino Talks 'The Humbling' and His Extraordinary Career
In this conversation with Al Pacino talks about his role in The Humbling -- including working with Greta Gerwig -- and his historic acting career
http://www.dailyactor.com/2015/01/watch-al-pacino-extraordinary-career/
http://www.dailyactor.com/wp-content/uploads/2015/01/watch-oscar-nominee-steve-carell.jpg
Watch: Oscar Nominee Steve Carell Talks Improv, Auditioning for 'The Office' and 'Foxcatcher'
Carell talks about his entire career as an actor, including his background in improv, how he landed the Michael Scott role on The Office, and Foxcatcher
http://www.dailyactor.com/2015/01/oscar-nominee-steve-carell-improv-auditioning-for-the-office-foxcatcher/
http://www.dailyactor.com/wp-content/uploads/2015/01/ethan-hawke-ellar-coltrane-boyhood.jpg
Ethan Hawke Calls 'Boyhood' the "most special endeavor of my life"
Ethan Hawke is riding high with his fourth Oscar nomination for the Richard Linklater-directed Boyhood. In a recent "Ask Me Anything" on Reddit, the 44-year-old actor gave some thoughtful insight into his career and the 12-year creative endeavor that became the biggest film of the Oscar season. When asked what was the most difficult thing about […]
http://www.dailyactor.com/2015/01/ethan-hawke-boyhood-reddit-amaife/
http://www.dailyactor.com/wp-content/uploads/2015/01/martha-plimpton-a-delicate-balance.jpg
Martha Plimpton Takes a Refreshing Approach to a Long-Lasting Career
Martha Plimpton is an actress who enjoys the work, she's not in it for the fame. The proof is in her continually excellent work that she is doing on-screen and on the stage. She's currently starring in A Delicate Balance on Broadway. It's the audience who gives her the ultimate thrill. "I try to get […]
http://www.dailyactor.com/2015/01/martha-plimpton-long-lasting-career/
http://www.dailyactor.com/wp-content/uploads/2015/01/watch-michael-keaton-talks-candi.jpg
Watch: Michael Keaton Talks Candidly About His Career and His Approach to Acting in 'Birdman'
In this nearly 90 minute conversation, Michael Keaton is his usual affable self but is also remarkably candid about his career and his approach to acting.
http://www.dailyactor.com/2015/01/michael-keaton-career-approach-to-acting-birdman/