Christoph Waltz on His 'Overnight' Success: "I had been trying for years. I was already giving up"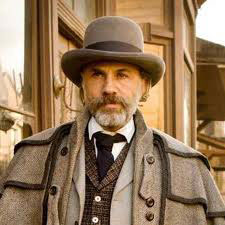 The incredible Christoph Waltz is a great example of how there are incredibly talented international actors that just need a single high-profile performance to break through to English-speaking audiences. 
Waltz has been acting, mostly in German television roles, since the late 1970s, but he didn't become a familiar face to Americans until his Oscar-winning performance in Quentin Tarantino's Inglourious Basterds.  Waltz has since reteamed with Tarantino for Django Unchained as the bounty hunter Dr. King Shultz, and he's a main reason why the western is one of the best films of the year.  Waltz spoke to Moviefone about becoming an "overnight sensation" after thirty years of hard work.
Of course, a German in a western might seem like a strange fit at first.  On the reason why the German Dr. Shultz would be in the antebellum South, Waltz says, "Quentin has a detailed biography before he sets out to write the story. But he doesn't burden me with it because he wants me to come up with my own ideas."  He also points out that there was a significant German presence in the United States during the eighteenth century, with German being one of the most widely-spoken languages after English.
Naturally Django Unchained presented an opportunity for Waltz to work with Tarantino again, whose Inglourious Basterds made Waltz a huge name in acting.  Waltz credits that Oscar-winning performance for his current career, saying, "It's changed completely. It's a pretty good story about the unknown TV actor. Really, most of the work that I have done over the past 20 years in Europe was television. I also did years and years and years of theater, which helps when you work with Tarantino. It's interesting for him to say that Sam Jackson and I can say his dialogue better than anyone else — we are two guys that grew up in the theater. Anyway, I've done so many years of theater, and I am not a real theater animal who needs it. I have always been so interested in film as a medium. And there was not much happening [in Germany]. They make movies but they are geared towards TV. I sort of made a living [doing it] and I was grateful for that, but it was never the challenge that promised satisfaction."
Actually, Waltz admits that before Inglourious Basterds he tried for a long time to break into English-speaking roles.  He reveals, "I had been trying for years. I was already giving up. I lived here in New York when I was very young. I went to Lee Strasberg's theater hoping that I could break in. Well, that turned out to be impossible, and Inglourious Basterds kind of brought me back. Now, I am not entirely uncritically throwing myself into anything that comes my way. But the fantastic thing is I don't have to because so much comes my way that, on top of getting to do it, I get to choose what it is I do. The moment I start to think about it, I want to fall on my knees and thank my creator that he has opened this opportunity for me."
More than anything else, Waltz believes that his current career is a result of his persistence.  He explains that it shows him, "That it was worthwhile sticking it through. That it was worthwhile to develop it, even under circumstances that I hardly ever agreed with. In a way, I don't dare to think about it, because I would end up with a question Why me? What did I do to deserve it?"
Latest Videos
http://www.dailyactor.com/wp-content/uploads/2014/07/bill-hader.jpg
Bill Hader: "I kind of fell into acting" (video)
Bill Hader, starring in the soon to be released The Skeleton Twins, talks about the film and how he fell into acting and then got "crazy lucky" in this quick video from USA Today. Share on Tumblr
http://www.dailyactor.com/2014/07/bill-hader-fell-into-acting-video/
http://www.dailyactor.com/wp-content/uploads/2014/07/director-john-carney-narrates-a.jpg
Director John Carney Narrates a Scene from 'Begin Again' Starring Kiera Knightley and Mark Ruffalo
Director John Carney (Once) narrates a scene from his new film, Begin Again. Starring Keira Knightley and Mark Ruffalo, the scene shows the first time the two characters meet. I haven't seen it yet but I've heard it's great.
http://www.dailyactor.com/2014/07/begin-again-scene-director-john-carney-keira-knightley-mark-ruffalo/
http://www.dailyactor.com/wp-content/uploads/2014/07/holler-if-you-hear-me-gma.jpg
Watch the Cast of Broadway's 'Holler If You Hear Me' Perform 'California Love' on GMA
The cast of Broadway's newest musical, Holler If You Hear Me with music from Tupac Shakur, performed on Good Morning America this morning. Singing 'California Love', the cast (including the teriffic Christopher Jackson – read our interview here), show why they're the most energetic and inspiring group of actors on Broadway. Holler If Ya Hear [...]
http://www.dailyactor.com/2014/07/watch-cast-broadways-holler-hear-perform-california-love-gma/
http://www.dailyactor.com/wp-content/uploads/2014/07/behind-the-scenes-of-dawn-of-the.jpg
Behind the Scenes of 'Dawn of the Planet of the Apes' with Performance Capture Actor Terry Notary
Actor Terry Notary is 1 of 5 actors playing the apes in the new Dawn of the Planet of the Apes. "When you see armies of apes," he says, that's "five of us." Check out the video where you can watch his performance capture work.
http://www.dailyactor.com/2014/07/dawn-planet-apes-performance-capture-actor-terry-notary/
http://www.dailyactor.com/wp-content/uploads/2014/07/melissa-mccarthy-daily-show.jpg
Melissa McCarthy and John Stewart Talk About Terrible Commercial Auditions on 'The Daily Show'
Melissa McCarthy stopped by The Daily Show last week to plug about her new movie, Tammy. She talked about how she loved working with her husband, Ben Falcone (director of Tammy) and then segued into talking about some horrible working situations. The always hilarious McCarthy then started to tell host John Stewart about a particular [...]
http://www.dailyactor.com/2014/07/melissa-mccarthy-john-stewart-commercial-auditions-the-daily-show/