Chaplin To Play Its Final Performance January 6th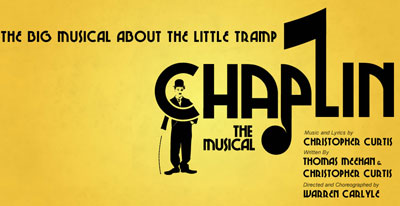 The Little Tramp is saying goodbye to Broadway.
Chaplin, the new musical based on the life of Charlie Chaplin, will play its final performance at the Barrymore Theatre on Sunday, January 6, 2013, after 24 previews and 136 regular performances.
"We are so disappointed to close this show," said Mindy Rich on behalf of the producers. "We've been moved by the countless theatergoers who have loved CHAPLIN as much as we do. We are so proud of our extraordinary cast and creative team, and CHAPLIN will live on through productions on our National Tour in 2014 and around the world."
Chaplin stars Rob McClure in the title role, and also features Jim Borstelmann (Alf Reeves), Jenn Colella (Hedda Hopper), Ethan Khusidman (Usher), Erin Mackey (Oona O'Neill), Michael McCormick (Sennett, McGranery, Emcee), Christiane Noll (Hannah Chaplin), Zachary Unger (Young Charlie, Jackie) and Wayne Alan Wilcox (Sydney Chaplin).
The cast also includes Justin Bowen, Emilee Dupré, Sara Edwards, Leslie Donna Flesner, Lisa Gajda, Timothy Hughes, Ian Liberto, Renée Marino, Michael Mendez, Sarah O'Gleby, Hayley Podschun, Adam Rogers, William Ryall, Eric Santagata and Emily Tyra.
The show, depicting the life of film icon Charlie Chaplin, opened on Broadway on Monday, September 10, 2012.  Previews began Tuesday, August 21, 2012.
As previously announced, a US national tour will launch in the fall of 2014, with plans for an international world tour to follow.
I saw the show when it was called Limelight at the La Jolla Playhouse. I enjoyed it and thought its star, McClure was excellent. Sorry to see them go.
The show featured music and lyrics by Christopher Curtis and book by three-time Tony Award-winner Thomas Meehan (Annie, The Producers, Hairspray) and Christopher Curtis, directed and choreographed by Warren Carlyle (Finian's Rainbow; Hugh Jackman, Back on Broadway).
Latest Videos
http://www.dailyactor.com/wp-content/uploads/2014/08/audition-tapes-gerard-butler-aud.jpg
Audition Tapes: Gerard Butler Auditions for 'Dracula 2000′
Check out Gerard Butler auditioning for the role of Dracula in the movie, Dracula 2000. The film, about a group of thieves who break into a chamber expecting to find paintings, but instead find Dracula himself, also starred Christopher Plummer, Jonny Lee Miller and Nathan Fillion. Bulter has some sweet rock star hair, huh? [...]
http://www.dailyactor.com/2014/08/audition-tapes-gerard-butler-dracula-2000/
http://www.dailyactor.com/wp-content/uploads/2014/08/interview-matt-dillon-and-carla.jpg
Interview: Matt Dillon and Carla Gugino Talk 'Wayward Pines'
FOX has a new limited-series that's got a terrific cast and interesting premise. It's called Wayward Pines and stars Matt Dillon, Carla Gugino, Melissa Leo, Toby Jones, Terrance Howard, Juliette Lewis, Tim Griffin and Shannyn Sossamon. The show, whose pilot was directed by M. Night Shyamalan, is about a Secret Service agent (Dillon) goes to [...]
http://www.dailyactor.com/2014/08/interview-matt-dillon-carla-gugino-wayward-pines-comic-con/
http://www.dailyactor.com/wp-content/uploads/2014/08/interview-wayward-pines-stars-ti.jpg
Interview: 'Wayward Pines' Stars Tim Griffin and Shannyn Sossamon on the Show, Their Characters and More!
Griffin and Sossamonwere at Comic-Con where they sat in on some roundtable interviews to talk about the show.
http://www.dailyactor.com/2014/08/interview-wayward-pines-stars-tim-griffin-shannyn-sossamon-comic-con/
http://www.dailyactor.com/wp-content/uploads/2014/08/interview-m-night-shyamalan-talk.jpg
Interview: M. Night Shyamalan Talks 'Wayward Pines' and Why He Expanded a Young Actors Role on the Show
I talked to Shyamalan at Comic-Con in a roundtable interview where he talked about the cast, what he learned from working in TV and how young actor Charlie Tahan started out with a small part but as the story grew, so did his role.
http://www.dailyactor.com/2014/08/interview-m-night-shyamalan-wayward-pines-comic-con/
http://www.dailyactor.com/wp-content/uploads/2014/08/interview-wayward-pines-producer.jpg
Interview: 'Wayward Pines' Producers and Writer Talk Casting and the 10-Episode Format
FOX's upcoming limited series Wayward Pines looks very cool. The show is supposed to be very Twin Peaks-ish in tone which, just hearing that, definitely sparks my interest. The pilot was directed by M. Night Shyamalan and stars Matt Dillon, Carla Gugino, Melissa Leo, Toby Jones, Terrance Howard and Juliette Lewis and is about a [...]
http://www.dailyactor.com/2014/08/interview-wayward-pines-creators-comic-con/