Chaplin To Play Its Final Performance January 6th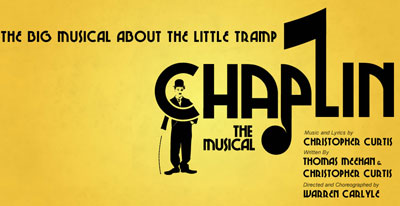 The Little Tramp is saying goodbye to Broadway.
Chaplin, the new musical based on the life of Charlie Chaplin, will play its final performance at the Barrymore Theatre on Sunday, January 6, 2013, after 24 previews and 136 regular performances.
"We are so disappointed to close this show," said Mindy Rich on behalf of the producers. "We've been moved by the countless theatergoers who have loved CHAPLIN as much as we do. We are so proud of our extraordinary cast and creative team, and CHAPLIN will live on through productions on our National Tour in 2014 and around the world."
Chaplin stars Rob McClure in the title role, and also features Jim Borstelmann (Alf Reeves), Jenn Colella (Hedda Hopper), Ethan Khusidman (Usher), Erin Mackey (Oona O'Neill), Michael McCormick (Sennett, McGranery, Emcee), Christiane Noll (Hannah Chaplin), Zachary Unger (Young Charlie, Jackie) and Wayne Alan Wilcox (Sydney Chaplin).
The cast also includes Justin Bowen, Emilee Dupré, Sara Edwards, Leslie Donna Flesner, Lisa Gajda, Timothy Hughes, Ian Liberto, Renée Marino, Michael Mendez, Sarah O'Gleby, Hayley Podschun, Adam Rogers, William Ryall, Eric Santagata and Emily Tyra.
The show, depicting the life of film icon Charlie Chaplin, opened on Broadway on Monday, September 10, 2012.  Previews began Tuesday, August 21, 2012.
As previously announced, a US national tour will launch in the fall of 2014, with plans for an international world tour to follow.
I saw the show when it was called Limelight at the La Jolla Playhouse. I enjoyed it and thought its star, McClure was excellent. Sorry to see them go.
The show featured music and lyrics by Christopher Curtis and book by three-time Tony Award-winner Thomas Meehan (Annie, The Producers, Hairspray) and Christopher Curtis, directed and choreographed by Warren Carlyle (Finian's Rainbow; Hugh Jackman, Back on Broadway).
http://www.dailyactor.com/wp-content/uploads/2015/02/Larry-David.jpg
Larry David on Who he Wanted to Star in his Broadway Play 'Fish in the Dark': "Anybody but me"
"It's one of the reasons I didn't like acting. I don't like not being able to interject" – Larry David on acting with a script Who doesn't like Larry David? Well, to be honest, Larry David probably doesn't like Larry David. In fact, David didn't even want to cast himself in the lead of […]
http://www.dailyactor.com/2015/02/larry-david-on-who-he-wanted-to-star-broadway-play-fish-in-the-dark/
http://www.dailyactor.com/wp-content/uploads/2015/02/Helen-Mirren-The-Queen.jpg
Helen Mirren on Winning an Oscar: "It's an indescribable moment"
"It's hard to say, because you don't know what would have happened if you hadn't won" - Helen Mirren When Asked If Winning an Oscar Changed Her Career
http://www.dailyactor.com/2015/02/helen-mirren-on-winning-an-oscar/
http://www.dailyactor.com/wp-content/uploads/2015/02/anna-chlumsky-james-earl-jones.jpg
Anna Chlumsky on Her Broadway Debut: "For me, it was an opportunity to go in the direction that I hadn't played in a while"
"I think my personality lends itself to ensembles" - Anna Chlumsky
http://www.dailyactor.com/2015/02/anna-chlumsky-broadway-debut-ensemble/
http://www.dailyactor.com/wp-content/uploads/2015/02/joanne-froggatt-downton-abbey.jpg
'Downton Abbey' Star Joanne Froggatt on Creating Her Own Backstory and How She's "Not a Big-Budget Hollywood Type"
"They want the model type, classically beautiful, and I'm not" - Joanne Froggatt on Working in Hollywood
http://www.dailyactor.com/2015/02/downton-abbey-star-joanne-froggatt-character-backstory-hollywood/
http://www.dailyactor.com/wp-content/uploads/2015/01/al-pacino-the-humbling.jpg
Al Pacino on Acting: "It becomes such a part of your nature you rarely ever think about quitting"
After working infrequently in film over the last decade, Al Pacino appears in several films released in 2015, including The Humbling, an indie drama directed by Barry Levinson.
http://www.dailyactor.com/2015/02/al-pacino-on-acting-it-becomes-such-a-part-of-your-nature/