Bradley Cooper on 'Silver Linings' and What He's Learned After 10 Years as an Actor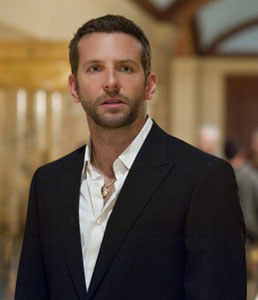 It's one thing to be named People's Sexiest Man Alive, but quite another to be nominated for an Oscar and this year, Bradley Cooper might be adding the latter. 
His new film, Silver Linings Playbook, is gaining attention as a standout in part because of Cooper's humorous portrayal of a man dealing with being bipolar but Cooper isn't getting on his high horse yet.
"If I've learned anything from the 10 years I've been in this business, it's don't ever listen to hype," he said in an interview with Yahoo! News.  "I remember doing Kitchen Confidential, this TV series.  After shooting the pilot and that got picked up, someone said, 'Sit back, your life's about to change.  You're going to get an Emmy.'  I said, 'Really?'  Three episodes aired.  They canceled it after three."
So, with a heavy dose of skepticism, Cooper is handling the attention well.  But he was initially nervous about taking on a role that required such a carefully blended mixture of both comedy and drama.
"I was very nervous starting out because nobody had ever given me the opportunity to do something like this before," he noted.  "I thought, 'I don't know if I can do it, and I certainly know that if it's David O. Russell directing, I can't fake it."
Russell is well known for writing and directing I Heart Huckabees and 2010's Oscar favorite, The Fighter.  But the director required very little rehearsal.  "It was very much, Show up having done your work," Cooper said.  "Without the rehearsal process, the exploration occurs on film.  There is no, 'Let's nail the scene.'  With David it's all about, 'Let's explore the scene.'  There are these emotional buoys to get to, but there are many ways to get there."
Indeed the emotion was the most significant element needed to capture the soul of the adaptation of the novel by Matthew Quick.  In order to portray the character realistically, Cooper needed to understand living with being bipolar.
"What I've learned about bipolarity is that it's like snowflakes: No two are the same," Cooper said.  "It's about how do I find that in my life, by using my experience and what I've observed.  That meant exploring things in my life and people I know, and that also meant looking at documentaries, footage, tons of stuff.
"You don't want to overpower the audience with the condition, because they're not going to come on board.  We found that in the first week of shooting.  I tried some things that felt real, and David thought it's just too much, we needed to dial it down a bit."
Well, Cooper eventually figured out the steps he needed to take, resulting in the role that the Academy will soon recognize as one of the finest of the year.
Latest Videos
http://www.dailyactor.com/wp-content/uploads/2014/08/bryan-cranston-emmy-award-speech.jpg
Watch: Bryan Cranston's Emmy Award Speech: "I love to act. It is a passion of mine and I will do it until my last breath."
The Emmy Awards weren't the most exciting awards show this year but with Bryan Cranston winning for Outstanding Actor in a Drama for Breaking Bad, we at least got to hear one heck of a fantastic acceptance speech. "I was a kid who always looked for the shortcut," he said. "I did happen to stumble […]
http://www.dailyactor.com/2014/08/watch-bryan-cranston-and-aaron-pauls-emmy-award-speeches/
http://www.dailyactor.com/wp-content/uploads/2014/08/audition-tapes-gerard-butler-aud.jpg
Audition Tapes: Gerard Butler Auditions for 'Dracula 2000′
Check out Gerard Butler auditioning for the role of Dracula in the movie, Dracula 2000. The film, about a group of thieves who break into a chamber expecting to find paintings, but instead find Dracula himself, also starred Christopher Plummer, Jonny Lee Miller and Nathan Fillion. Bulter has some sweet rock star hair, huh?
http://www.dailyactor.com/2014/08/audition-tapes-gerard-butler-dracula-2000/
http://www.dailyactor.com/wp-content/uploads/2014/08/interview-matt-dillon-and-carla.jpg
Interview: Matt Dillon and Carla Gugino Talk 'Wayward Pines'
FOX has a new limited-series that's got a terrific cast and interesting premise. It's called Wayward Pines and stars Matt Dillon, Carla Gugino, Melissa Leo, Toby Jones, Terrance Howard, Juliette Lewis, Tim Griffin and Shannyn Sossamon. The show, whose pilot was directed by M. Night Shyamalan, is about a Secret Service agent (Dillon) goes to […]
http://www.dailyactor.com/2014/08/interview-matt-dillon-carla-gugino-wayward-pines-comic-con/
http://www.dailyactor.com/wp-content/uploads/2014/08/interview-wayward-pines-stars-ti.jpg
Interview: 'Wayward Pines' Stars Tim Griffin and Shannyn Sossamon on the Show, Their Characters and More!
Griffin and Sossamonwere at Comic-Con where they sat in on some roundtable interviews to talk about the show.
http://www.dailyactor.com/2014/08/interview-wayward-pines-stars-tim-griffin-shannyn-sossamon-comic-con/
http://www.dailyactor.com/wp-content/uploads/2014/08/interview-m-night-shyamalan-talk.jpg
Interview: M. Night Shyamalan Talks 'Wayward Pines' and Why He Expanded a Young Actors Role on the Show
I talked to Shyamalan at Comic-Con in a roundtable interview where he talked about the cast, what he learned from working in TV and how young actor Charlie Tahan started out with a small part but as the story grew, so did his role.
http://www.dailyactor.com/2014/08/interview-m-night-shyamalan-wayward-pines-comic-con/