'The Playbill Broadway Yearbook: June 2011 to May 2012′ Book Review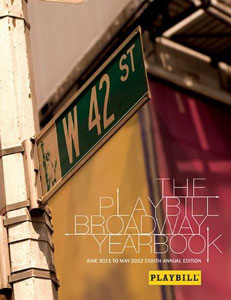 The annual Playbill Broadway Yearbook is out and like every year, I'm glued to it.
Covering all 72 shows that have appeared on Broadway from June 1st, 2011 through May 31st of this year, this edition is chock full of features, pictures and memorabilia that any Broadway lover will eat up.
You get every single Playbill for each show that opened (and some that quickly closed) throughout the year, complete with cast bio's & headshots and show synopses.
This years shows include Clybourne Park, Hugh Jackman Back on Broadway, Newsies, Once, One Man, Two Guvnors and old favorites like The Book of Mormon, Wicked and Mamma Mia! When I get to New York, I try and see as many shows as I can, so I particularly like to check out the shows I missed that I really wanted to see, which this year were The Columnist, Death of a Salesman and Follies.
Also included in each show's section are full color backstage photos that feature most your favorite theater actors hanging out and having fun, either before the shows or after.  There are some great shots of Steve Kazee and Cristin Milioti from Once, and James Corden from One Man, Two Guvnors and tons of others. I've only barley seen all of the them because, honestly the book is so huge.
There's a Broadway timeline for every single opening, closing and events that happened throughout the year with snippets of info for each. It's also got a really nice section on awards each show has won.
I tend to treat all of my Playbill's like I did when I collected comic books; I look at them once or twice (during the show or later that night) and then put them away for safe keeping. That's been my M.O. for ages and while I occasionally go back and pull them out to take a look, I'm becoming more like an old lady who covers their couches with plastic – I want to leave them in their protecting covering and not disturb them, so this is perfect for me and my O.C.D.
This is the best thing you can get a theater lover for the holidays. It's a true must have!
http://www.dailyactor.com/wp-content/uploads/2015/01/watch-al-pacino-talks-the-humbli.jpg
Watch: Al Pacino Talks 'The Humbling' and His Extraordinary Career
In this conversation with Al Pacino talks about his role in The Humbling -- including working with Greta Gerwig -- and his historic acting career
http://www.dailyactor.com/2015/01/watch-al-pacino-extraordinary-career/
http://www.dailyactor.com/wp-content/uploads/2015/01/watch-oscar-nominee-steve-carell.jpg
Watch: Oscar Nominee Steve Carell Talks Improv, Auditioning for 'The Office' and 'Foxcatcher'
Carell talks about his entire career as an actor, including his background in improv, how he landed the Michael Scott role on The Office, and Foxcatcher
http://www.dailyactor.com/2015/01/oscar-nominee-steve-carell-improv-auditioning-for-the-office-foxcatcher/
http://www.dailyactor.com/wp-content/uploads/2015/01/ethan-hawke-ellar-coltrane-boyhood.jpg
Ethan Hawke Calls 'Boyhood' the "most special endeavor of my life"
Ethan Hawke is riding high with his fourth Oscar nomination for the Richard Linklater-directed Boyhood. In a recent "Ask Me Anything" on Reddit, the 44-year-old actor gave some thoughtful insight into his career and the 12-year creative endeavor that became the biggest film of the Oscar season. When asked what was the most difficult thing about […]
http://www.dailyactor.com/2015/01/ethan-hawke-boyhood-reddit-amaife/
http://www.dailyactor.com/wp-content/uploads/2015/01/martha-plimpton-a-delicate-balance.jpg
Martha Plimpton Takes a Refreshing Approach to a Long-Lasting Career
Martha Plimpton is an actress who enjoys the work, she's not in it for the fame. The proof is in her continually excellent work that she is doing on-screen and on the stage. She's currently starring in A Delicate Balance on Broadway. It's the audience who gives her the ultimate thrill. "I try to get […]
http://www.dailyactor.com/2015/01/martha-plimpton-long-lasting-career/
http://www.dailyactor.com/wp-content/uploads/2015/01/watch-michael-keaton-talks-candi.jpg
Watch: Michael Keaton Talks Candidly About His Career and His Approach to Acting in 'Birdman'
In this nearly 90 minute conversation, Michael Keaton is his usual affable self but is also remarkably candid about his career and his approach to acting.
http://www.dailyactor.com/2015/01/michael-keaton-career-approach-to-acting-birdman/