Life of Pi's Suraj Sharma on Acting with a Fake Tiger and Beating Out 3,000 Actors for His Part: "It's very difficult to believe"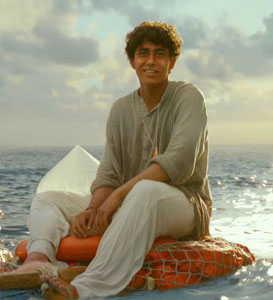 Some considered it a risky move for director Ang Lee to cast an unknown in his adaptation of the celebrated novel, Life of Pi but Suraj Sharma is already winning rave reviews as an Indian boy who is stranded on a lifeboat with a tiger for more than 200 days.
Sharma was picked for the role of Pi after more than 3,000 actors auditioned.  "I have been born and brought up in Delhi and my brother has acted in a couple of films," he said.  "The auditions happened and the casting director was my brother's friend and he's been close to my family for a while.  I went for the auditions with my brother for moral support…I didn't really want to act, but I don't know, it happened.  They kept calling me back."
"Two weeks later, they said, 'Hey, Suraj you have to come to Taiwan.'  Funnily enough even then I didn't believe I had got the role.  It's very difficult to believe.  You don't think things like that can happen to you."
"I had never acted before, but I knew I would like it," the 19-year-old said in an interview with Reuters.  "My brother and I would act to ourselves.  We would walk down streets being different people and that is the only acting I have ever done.  I got exposed to real movie-making and how things are done.  It's a lot of people who come together, a lot of dreams that come together.  For me, I just want to be on set.  I don't care what I would be.  If it's acting, directing, if it is props I don't care…Things might get better or worse, but this will always be there.  A part of me will always be stuck in Taiwan [where the film was shot], on that boat."
Sharma had to film many scenes with a 'fake' tiger that would later be inserted with CGI.  "For the most part, we were shooting in a big blue tank with big blue walls around it and the blue sky above you," he said.  "Everything was blue except for me and the raft.  We had four tigers being trained as reference.  I would watch them everyday—how they would react to the water, the atmosphere, how they moved.  I watched videos of tigers, I talked to the tiger trainer, etc. and so you assemble this huge picture in your head.  Initially it was a very conscious attempt to imagine the tiger on the boat.  But later, it became real to me.  By the end of it I didn't need to imagine him.  For me it was real."
Life of Pi hits theaters November 21.
Latest Videos
http://www.dailyactor.com/wp-content/uploads/2014/07/bill-hader.jpg
Bill Hader: "I kind of fell into acting" (video)
Bill Hader, starring in the soon to be released The Skeleton Twins, talks about the film and how he fell into acting and then got "crazy lucky" in this quick video from USA Today. Share on Tumblr
http://www.dailyactor.com/2014/07/bill-hader-fell-into-acting-video/
http://www.dailyactor.com/wp-content/uploads/2014/07/director-john-carney-narrates-a.jpg
Director John Carney Narrates a Scene from 'Begin Again' Starring Kiera Knightley and Mark Ruffalo
Director John Carney (Once) narrates a scene from his new film, Begin Again. Starring Keira Knightley and Mark Ruffalo, the scene shows the first time the two characters meet. I haven't seen it yet but I've heard it's great.
http://www.dailyactor.com/2014/07/begin-again-scene-director-john-carney-keira-knightley-mark-ruffalo/
http://www.dailyactor.com/wp-content/uploads/2014/07/holler-if-you-hear-me-gma.jpg
Watch the Cast of Broadway's 'Holler If You Hear Me' Perform 'California Love' on GMA
The cast of Broadway's newest musical, Holler If You Hear Me with music from Tupac Shakur, performed on Good Morning America this morning. Singing 'California Love', the cast (including the teriffic Christopher Jackson – read our interview here), show why they're the most energetic and inspiring group of actors on Broadway. Holler If Ya Hear [...]
http://www.dailyactor.com/2014/07/watch-cast-broadways-holler-hear-perform-california-love-gma/
http://www.dailyactor.com/wp-content/uploads/2014/07/behind-the-scenes-of-dawn-of-the.jpg
Behind the Scenes of 'Dawn of the Planet of the Apes' with Performance Capture Actor Terry Notary
Actor Terry Notary is 1 of 5 actors playing the apes in the new Dawn of the Planet of the Apes. "When you see armies of apes," he says, that's "five of us." Check out the video where you can watch his performance capture work.
http://www.dailyactor.com/2014/07/dawn-planet-apes-performance-capture-actor-terry-notary/
http://www.dailyactor.com/wp-content/uploads/2014/07/melissa-mccarthy-daily-show.jpg
Melissa McCarthy and John Stewart Talk About Terrible Commercial Auditions on 'The Daily Show'
Melissa McCarthy stopped by The Daily Show last week to plug about her new movie, Tammy. She talked about how she loved working with her husband, Ben Falcone (director of Tammy) and then segued into talking about some horrible working situations. The always hilarious McCarthy then started to tell host John Stewart about a particular [...]
http://www.dailyactor.com/2014/07/melissa-mccarthy-john-stewart-commercial-auditions-the-daily-show/