Review: 'Cotton Club Parade' at the City Center (NYC)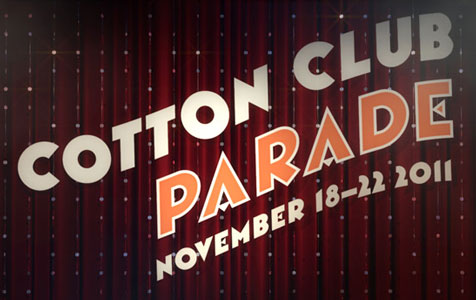 The Encores! series at the New York City Center began twenty years ago and presents forgotten musical gems and a handful of new works for limited engagements, some of which have later gone on to great acclaim when selected for longer runs elsewhere.  Cotton Club Parade holds the distinction of the only Encore! production to be performed in two consecutive years, mostly because of its rave reviews in 2011. 
As a collaboration between Jazz at Lincoln Center and the City Center, Cotton Club Parade is a unique production in the sense that it is a revival of the revue format — a series of musical and dance performances tied together by a common theme, which were very popular in past decades but have been rare in more recent years.  Here, the theme is the blazing jazz music of Duke Ellington's years at the world-famous Cotton Club in Harlem in the 1920s.  Cotton Club Parade jettisons the short-form vaudeville sketches that would traditionally be part of such a revue, but the spirit of those sketches is alive and well in the tap dancing and humorous dispositions of the multi-talented cast.
The source material of Cotton Club Parade was selected by Jack Viertel (who also serves as the Encores! Artistic Director) and jazz great Wynton Marsalis, who serves as Music Director.  The selection highlights some of the most brilliant music ever created, the rollicking type of swing jazz that makes early rock and roll seem downright tame in comparison.  The songs are accompanied by a dance ensemble well versed in the toe-tapping, finger-waving jiving that might recall for some audience members the type of dancing you'd see in old Tex Avery cartoons (you know the ones with the zoot suit-wearing wolf who's always whistling at a hot dame?)  While many young people have heard of the Harlem Renaissance and how important its cultural contributions — including its music and dancing, in which Ellington's house band at Harlem's Cotton Club was the epicenter — few have actually heard the brilliance of that music and seen the dancing it inspired, and certainly not with a band as talented as the Jazz at Lincoln Center All Stars (who, unlike in the Cotton Club's heyday, are predominately white — another sign that this music has transcended race in its brilliance).  After all, how many times are you going to see a trombone solo and actually love it?
The cast demonstrates how influential this music has been by showing that there is little difference between the tap dancing seen in modern musicals or the breakdancing of streetcorner buskers and the dancing of that earlier era.  The songs are cleverly selected to provide a cross-section of the different tempos of Ellington's music.  Ultimately, modern singers and dancers performing to songs that are 70+ years old make a wonderful mix that reveals the timeless quality of the show's music. 
The "star draw" of this short run of the show is Amber Riley, a cast member of the TV hit Glee.  Riley is an extremely talented singer and each of her performances end in wild applause, but she only features in three of the twenty-five songs performed in the show, and generally they're the slower songs.  Each one she performs with little interaction with the rest of the cast, and while she certainly is talented enough to deserve the spotlight it's curious that she's so distant from the other performers, who always seem to be having a ball together with the livelier numbers.  I'm not sure if that's a result of adding a "star" to the show, but it's certainly something the production could look at moving forward. Nonetheless, by the time she belts out her third and final song, "On the Sunny Side of the Street," the high quality of her cumulative performances make up for this inconsistency.
But perhaps its for the best — after all, with Riley most separate from the rest of the cast that allows them to shine without having to share the stage with a television star.  Though all the dancing numbers are wonderful, my favorite singing moments Adriane Lenox who sings 'Women Be Wise' (probably best known today to blues fans for the version by Bonnie Raitt) and 'Go Back Where You Stayed Last Night' in the persona of a boozy, sassy gal.  They harken back to the character of a drunk but still quick on the feet vaudeville performer that were such a staple of this era.  Another standout is Joshua Henry, who serves as the master of ceremonies, and in particular he leads the entire company in the showstopping "Freeze and Melt," a lively number that makes it impossible to take your eyes off the stage for even a moment.  While Riley might be the star draw, these two alone prove that the talent of this cast runs very deeply.
The future of Cotton Club Parade is uncertain, but based on the performance I saw this could be a hit on any stage in any city that can't help tapping its toes to jazz.  Though the lack of a story differs from most Broadway tourist favorites, the show proves that the concert-like atmosphere of the revue format still has life left in it, perhaps as a touring attraction.  At the very least, Cotton Club Parade definitely deserves to have some kind of future in stages beyond the City Center.  It's way too much fun to be confined for a limited run, as I'm not even sure the gorgeous City Center building itself could contain the energy overflow for a third run.  Like Ellington broadcasting his music by radio in the Harlem Renaissance, Cotton Club Parade is a musical celebration that should be shared with audiences all over the country.
For more info, visit the website here.
Latest Videos
http://www.dailyactor.com/wp-content/uploads/2014/09/watch-david-mamet-in-the-1976-sh.jpg
Watch: David Mamet in the 1976 Short Documentary 'The Playwright Directs'
Though David Mamet is best known for his distinctive writing style in his scripts for the stage and screen, he has also directed theater and film. The 1976 short documentary titled The Playwright Directs depicts Mamet directing actors through several scenes at an almost frantic pace, dispensing pearls of wisdom throughout, like his thoughts on […]
http://www.dailyactor.com/2014/09/watch-david-mamet-1976-documentary-the-playwright-directs/
http://www.dailyactor.com/wp-content/uploads/2014/09/watch-marvels-agents-of-s-h-i-e.jpg
Watch: Marvel's Agents of S.H.I.E.L.D. Season 1 Bloopers
Forgetting lines? Corpsing? Delivering lines in Spanish? Unruly props? All in a day's work on the set of Marvel's Agents of S.H.I.E.L.D, apparently. Clark Gregg, Ming-Na Wen, and the rest of the cast find plenty of humor while playing super-serious secret agents in the Marvel Universe. While you're waiting for season 2 of the series […]
http://www.dailyactor.com/2014/09/watch-marvels-agents-of-s-h-i-e-l-d-season-1-bloopers/
http://www.dailyactor.com/wp-content/uploads/2014/09/audtion-tapes-robin-wright-and-h.jpg
Audition Tapes: Robin Wright and Haley Joel Osment Audition with Tom Hanks for 'Forrest Gump'
Check out Robin Wright auditioning for the role of Jenny from Forest Gump opposite Tom Hanks. Interestingly enough, Hanks doesn't quite have Gump's southern drawl down just yet while the other actors audition with him. In fact, Hanks would base Gump's voice on the voice of Michael Conner Humphreys, who played the young Forrest and […]
http://www.dailyactor.com/2014/09/audtion-tapes-robin-wright-haley-joel-osment-tom-hanks-forrest-gump/
http://www.dailyactor.com/wp-content/uploads/2014/08/bryan-cranston-emmy-award-speech.jpg
Watch: Bryan Cranston's Emmy Award Speech: "I love to act. It is a passion of mine and I will do it until my last breath."
The Emmy Awards weren't the most exciting awards show this year but with Bryan Cranston winning for Outstanding Actor in a Drama for Breaking Bad, we at least got to hear one heck of a fantastic acceptance speech. "I was a kid who always looked for the shortcut," he said. "I did happen to stumble […]
http://www.dailyactor.com/2014/08/watch-bryan-cranston-and-aaron-pauls-emmy-award-speeches/
http://www.dailyactor.com/wp-content/uploads/2014/08/audition-tapes-gerard-butler-aud.jpg
Audition Tapes: Gerard Butler Auditions for 'Dracula 2000′
Check out Gerard Butler auditioning for the role of Dracula in the movie, Dracula 2000. The film, about a group of thieves who break into a chamber expecting to find paintings, but instead find Dracula himself, also starred Christopher Plummer, Jonny Lee Miller and Nathan Fillion. Bulter has some sweet rock star hair, huh?
http://www.dailyactor.com/2014/08/audition-tapes-gerard-butler-dracula-2000/