If You Want To Find Your Market You Have To Focus On One Thing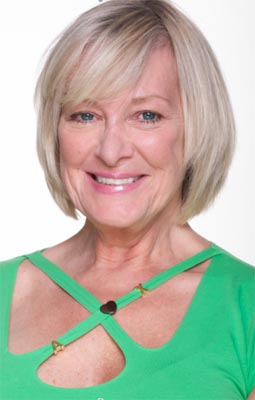 The whole point behind finding your market is to make your career more successful and your life easier. Why struggle? If you focus on the one thing you do best and perfect that, you will develop a niche, a market entirely your own, for which you are known. And that, is the key to creating a successful career.
Examples? – Robin Williams and Jerry Seinfeld both did stand-up comedy for a number of years before being offered sitcoms which led to being offered films. Their strength  was comedy but it opened doors to amazing careers because they just focused on one thing until they were really excellent at it. Bebe Neuwirth and Kristen Chenoweth are both singers/dancers as well as good comediennes. They booked Broadway shows which led to getting work on sitcoms which led to where they are now- film and TV work AND back to Broadway. Some of the highest paid actors in NY and Hollywood began as models or doing commercials until they were really good at it and making a living working on camera.That skill led to getting work on Soap Operas,
Prime time TV and major feature films.
So, the trick here is to focus – Choose one of your many talents and develop it – intensely! Follow the 10,000 hour rule. What is that? If you spend 10,000 hours working at ANYTHING you become a master, a genius. Mozart had reached that level at around age 7. Not to be discouraged, how many hours have you worked on stage? on TV? on film? Start logging those hours and you'll become amazingly good, brilliant as an actor especially in one media.
If you spend your time and energy going in many directions, grabbing every audition for everything in every media trying to just be a "working actor", you'll probably succeed at just that, working but not succeeding at your highest potential. Instead narrow down your choices in the order of your priorities. What will make you extremely happy if you could be doing it every day?
Answer these 3 Questions and you'll be clear about that one thing.

1. What do you do best? What do you love ?
2. In what media do you work the most right now? Theater, musical theater, commercials, daytime, prime time TV, film, voice -overs, sketch comedy or
improvisation?
3. Where are you most comfortable auditioning and performing? On stage, in front of a camera, in a recording studio, with a band, in a comedy club?
OK, here's the follow through for that one thing:
Make a list of the top 3 medias in which you would love to be working all the time. Then, follow through with #1 on your list. Spend most of your time learning that craft, studying with the top masters in that media, taking every course and workshop with those masters, hanging around that theater or studio, learning, absorbing, meeting, networking, developing – with an obsession, 24/7. Breathe it, live it, taste it, become a clone of the masters, see how they got there, ask questions, ask them to be your mentor, assimilate.
No other profession requires this much commitment. Doctors, lawyers, businessmen/women-they all need education, training and have to work hard but they don't have the same level of  competition as you. They can get full time jobs in the first years of their careers. But you have to fight with the only tools you have- your talent and training! You have to be the absolute best in every audition if you want to get just one little booking, not to mention a full time job! There's no such thing as a full time job for an actor. Even TV series are lucky to last 4 seasons or 5. Most acting jobs end after one hour, one day, one week. And then you have to start over, audition and get the next offer to create a career. It's a long haul to survive and make a living. It's a lot tougher for you.
But, if you follow through as above, guess what will happen? You've just set yourself up for that golden opportunity- the "door-opener" that will jumpstart your career. Being around "greats", being in the right place at the right time with the right skill set is creating your own lucky break. Believe me, it happens! And of course, promoting your accomplishments.
Successful Marketing!

Gwyn Gilliss is the Founder and Executive Director of TAM, The Actor's Market, a marketing firm for actors. They provide monthly FREE seminars/teleseminars, FREE weekly marketing tips as well as access to top photographers, graphic artists and videographers who provide every marketing tool an actor needs. Gwyn's acting career spans several decades during which time she appeared on and off-Broadway, in classical roles in American Repertory companies in over 18 contract and recurring roles in Daytime/Prime time TV, Films and dozens of network commercials/V.O.'s. As the foremost Marketing/Career Coach she is available to work One-on-One with ready-to-succeed actors.
Latest Videos
Watch: Anna Gunn, Jacki Weaver and Virginia Kull on 'Gracepoint' and Strong Female Roles on TV
The actresses also speak candidly about how they feel about their characters in the series and why its important for TV to feature series with strong female leads.Check out the conversation above!
http://www.dailyactor.com/2014/10/watch-anna-gunn-jacki-weaver-virginia-kull-gracepoint-strong-female-roles-on-tv/
http://www.dailyactor.com/wp-content/uploads/2014/10/watch-cristin-milioti-talks-a-to.jpg
Watch: Cristin Milioti Talks 'A to Z', 'Once' and 'How I Met Your Mother'
Few actresses have the kind of rise as Cristin Milioti has had in the last few years. A virtual unknown in 2011, she became a bona fide Broadway star in the 2012 hit Once, appeared in a supporting role in the 2013 film The Wolf of Wall Street, and was featured as the titular mother […]
http://www.dailyactor.com/2014/10/watch-cristin-milioti-a-to-z-once-how-i-met-your-mother/
http://www.dailyactor.com/wp-content/uploads/2014/10/watch-bryan-cranstons-acting-adv.jpg
Watch: Bryan Cranston's Acting Advice
With Breaking Bad: The Complete Series Barrel being released on Blu-ray with all kinds of goodies today, it gives us yet another opportunity to reflect on the series' star Bryan Cranston and all of the incredible advice he has offered actors in the wake of his success. In a video he filmed in 2013 for […]
http://www.dailyactor.com/2014/10/bryan-cranston-acting-advice-video/
http://www.dailyactor.com/wp-content/uploads/2014/10/alex-sharp-curious-incident-of-the-dog.jpg
Alex Sharp Talks About His Broadway Debut in 'The Curious Incident of the Dog in the Night-Time' (video)
Alex Sharp went from working in a call-center and renovating houses to going to Julliard. And now, he's starring in one of the most talked about shows of the season, The Curious Incident of the Dog in the Night-Time. Check out this great, inspiring video!
http://www.dailyactor.com/2014/10/alex-sharp-broadway-debut-the-curious-incident-of-the-dog-in-the-night-time-video/
http://www.dailyactor.com/wp-content/uploads/2014/10/Its-only-a-play.jpg
Watch a Scene From Terrance McNally's, 'It's Only a Play', Featuring Nathan Lane and Micah Stock
Here's a quick scene from Terrance McNally's It's Only a Play, currently on Broadway at the Schoenfeld Theater. In this scene, Nathan Lane and Micah Stock meet for the first time. The show, about the opening night of a new play, also stars Matthew Broderick, Stockard Channing, F. Murray Abraham, Rupert Grint and Megan Mullally.
http://www.dailyactor.com/2014/10/watch-a-scene-terrance-mcnally-its-only-a-play-nathan-lane-micah-stock/