In Theaters: 'Skyfall', 'A Late Quartet' and 'The Details'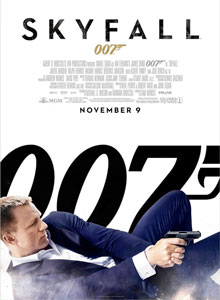 Skyfall is the film to see this weekend and why not? It's not only the one of the best Bond movies in years but it's also one of the most entertaining films of the year.
The film is almost a throw back to early Bond films; a back-to-basics as it were. It feels like Casino Royal and Quantum of Solace were precursors to Skyfall. Characters are introduced, canon is updated, Bond's history is explored and Daniel Craig is spectacular in his third go round as Bond. Adding to the fun is Javier Bardem as Silva, one of the best Bond villains ever. Yeah, ever.
The opening action sequence is tense and for once we finally get a chance to see Bond as a guy; drinking, having fun and hanging out. It's just so much fun that I can't wait to see it again.
Also opening is A Late Quartet, starring Philip Seymour Hoffman, Catherine Keener, Christopher Walken, Imogen Poots and Mark Ivanir. Walken, Hoffman, Keener and Ivanir are members of a famous quartet who and when one of their members has a life changing medical diagnosis, each one struggles to come to terms with their own lives.
The story is fairly easy to figure out. You're not going to be surprised by 95% of the film but what saves it is the acting. The cast is perfect, especially Walken. His performance is wonderful and heartbreaking and inspiring. And I had never heard of Ivanir before but he fit into the cast like a glove and I hope this film puts him over the top in getting some choice roles.
And finally, we get to The Details. The film follows a married man and how his life spirals out of control from trying to kill a family of raccoons. It deals with infiedlity, murder and kindness and is fine for a night of zoning out in front of the TV. Stars Tobey Maguire and Elizabeth Banks are wasted which is a shame. If you want to find out more, here's is a link to my review.
http://www.dailyactor.com/wp-content/uploads/2015/01/watch-al-pacino-talks-the-humbli.jpg
Watch: Al Pacino Talks 'The Humbling' and His Extraordinary Career
In this conversation with Al Pacino talks about his role in The Humbling -- including working with Greta Gerwig -- and his historic acting career
http://www.dailyactor.com/2015/01/watch-al-pacino-extraordinary-career/
http://www.dailyactor.com/wp-content/uploads/2015/01/watch-oscar-nominee-steve-carell.jpg
Watch: Oscar Nominee Steve Carell Talks Improv, Auditioning for 'The Office' and 'Foxcatcher'
Carell talks about his entire career as an actor, including his background in improv, how he landed the Michael Scott role on The Office, and Foxcatcher
http://www.dailyactor.com/2015/01/oscar-nominee-steve-carell-improv-auditioning-for-the-office-foxcatcher/
http://www.dailyactor.com/wp-content/uploads/2015/01/ethan-hawke-ellar-coltrane-boyhood.jpg
Ethan Hawke Calls 'Boyhood' the "most special endeavor of my life"
Ethan Hawke is riding high with his fourth Oscar nomination for the Richard Linklater-directed Boyhood. In a recent "Ask Me Anything" on Reddit, the 44-year-old actor gave some thoughtful insight into his career and the 12-year creative endeavor that became the biggest film of the Oscar season. When asked what was the most difficult thing about […]
http://www.dailyactor.com/2015/01/ethan-hawke-boyhood-reddit-amaife/
http://www.dailyactor.com/wp-content/uploads/2015/01/martha-plimpton-a-delicate-balance.jpg
Martha Plimpton Takes a Refreshing Approach to a Long-Lasting Career
Martha Plimpton is an actress who enjoys the work, she's not in it for the fame. The proof is in her continually excellent work that she is doing on-screen and on the stage. She's currently starring in A Delicate Balance on Broadway. It's the audience who gives her the ultimate thrill. "I try to get […]
http://www.dailyactor.com/2015/01/martha-plimpton-long-lasting-career/
http://www.dailyactor.com/wp-content/uploads/2015/01/watch-michael-keaton-talks-candi.jpg
Watch: Michael Keaton Talks Candidly About His Career and His Approach to Acting in 'Birdman'
In this nearly 90 minute conversation, Michael Keaton is his usual affable self but is also remarkably candid about his career and his approach to acting.
http://www.dailyactor.com/2015/01/michael-keaton-career-approach-to-acting-birdman/