In Theaters: 'Skyfall', 'A Late Quartet' and 'The Details'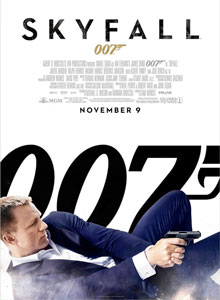 Skyfall is the film to see this weekend and why not? It's not only the one of the best Bond movies in years but it's also one of the most entertaining films of the year.
The film is almost a throw back to early Bond films; a back-to-basics as it were. It feels like Casino Royal and Quantum of Solace were precursors to Skyfall. Characters are introduced, canon is updated, Bond's history is explored and Daniel Craig is spectacular in his third go round as Bond. Adding to the fun is Javier Bardem as Silva, one of the best Bond villains ever. Yeah, ever.
The opening action sequence is tense and for once we finally get a chance to see Bond as a guy; drinking, having fun and hanging out. It's just so much fun that I can't wait to see it again.
Also opening is A Late Quartet, starring Philip Seymour Hoffman, Catherine Keener, Christopher Walken, Imogen Poots and Mark Ivanir. Walken, Hoffman, Keener and Ivanir are members of a famous quartet who and when one of their members has a life changing medical diagnosis, each one struggles to come to terms with their own lives.
The story is fairly easy to figure out. You're not going to be surprised by 95% of the film but what saves it is the acting. The cast is perfect, especially Walken. His performance is wonderful and heartbreaking and inspiring. And I had never heard of Ivanir before but he fit into the cast like a glove and I hope this film puts him over the top in getting some choice roles.
And finally, we get to The Details. The film follows a married man and how his life spirals out of control from trying to kill a family of raccoons. It deals with infiedlity, murder and kindness and is fine for a night of zoning out in front of the TV. Stars Tobey Maguire and Elizabeth Banks are wasted which is a shame. If you want to find out more, here's is a link to my review.
Latest Videos
http://www.dailyactor.com/wp-content/uploads/2014/07/bill-hader.jpg
Bill Hader: "I kind of fell into acting" (video)
Bill Hader, starring in the soon to be released The Skeleton Twins, talks about the film and how he fell into acting and then got "crazy lucky" in this quick video from USA Today. Share on Tumblr
http://www.dailyactor.com/2014/07/bill-hader-fell-into-acting-video/
http://www.dailyactor.com/wp-content/uploads/2014/07/director-john-carney-narrates-a.jpg
Director John Carney Narrates a Scene from 'Begin Again' Starring Kiera Knightley and Mark Ruffalo
Director John Carney (Once) narrates a scene from his new film, Begin Again. Starring Keira Knightley and Mark Ruffalo, the scene shows the first time the two characters meet. I haven't seen it yet but I've heard it's great.
http://www.dailyactor.com/2014/07/begin-again-scene-director-john-carney-keira-knightley-mark-ruffalo/
http://www.dailyactor.com/wp-content/uploads/2014/07/holler-if-you-hear-me-gma.jpg
Watch the Cast of Broadway's 'Holler If You Hear Me' Perform 'California Love' on GMA
The cast of Broadway's newest musical, Holler If You Hear Me with music from Tupac Shakur, performed on Good Morning America this morning. Singing 'California Love', the cast (including the teriffic Christopher Jackson – read our interview here), show why they're the most energetic and inspiring group of actors on Broadway. Holler If Ya Hear [...]
http://www.dailyactor.com/2014/07/watch-cast-broadways-holler-hear-perform-california-love-gma/
http://www.dailyactor.com/wp-content/uploads/2014/07/behind-the-scenes-of-dawn-of-the.jpg
Behind the Scenes of 'Dawn of the Planet of the Apes' with Performance Capture Actor Terry Notary
Actor Terry Notary is 1 of 5 actors playing the apes in the new Dawn of the Planet of the Apes. "When you see armies of apes," he says, that's "five of us." Check out the video where you can watch his performance capture work.
http://www.dailyactor.com/2014/07/dawn-planet-apes-performance-capture-actor-terry-notary/
http://www.dailyactor.com/wp-content/uploads/2014/07/melissa-mccarthy-daily-show.jpg
Melissa McCarthy and John Stewart Talk About Terrible Commercial Auditions on 'The Daily Show'
Melissa McCarthy stopped by The Daily Show last week to plug about her new movie, Tammy. She talked about how she loved working with her husband, Ben Falcone (director of Tammy) and then segued into talking about some horrible working situations. The always hilarious McCarthy then started to tell host John Stewart about a particular [...]
http://www.dailyactor.com/2014/07/melissa-mccarthy-john-stewart-commercial-auditions-the-daily-show/