'Grace' Cast Keeps the Show Going Despite Audience Member in the Balcony Throwing Up on Audience Members in the Orchestra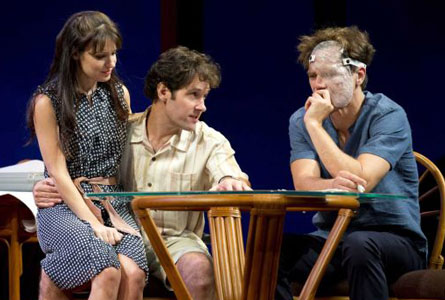 Perhaps Gallagher was on to something with that whole "hand ponchos out to the audience" thing for his comedy shows.
During the November 14 performance of Grace, the Broadway play starring Paul Rudd, Michael Shannon, Kate Arrington, and Ed Asner (which I reviewed here!), a person in the first row of the balcony who was "reportedly drunk and appeared to be elderly" threw up over the edge of the balcony onto audience members in the orchestra below.  The male audience member responsible then collapsed, though Gothamist says the man eventually returned to his seat (and also suggests that he wasn't drunk.  Hmm…)
According to Broadway.com, the cast was visibly distracted by the commotion in the balcony but continued with the show.  At the end of the performance, the cast came out and joked about the incident, with Rudd pointing out the incredulity of moving an audience member to vomit.  While Rudd is known for his raucous comedies, Grace certainly isn't that type of production — though it is very funny.  It's definitely not the type of play one would want to see drunk (are there any?), so I'm curious why the audience member was so drunk.
Anyone else — actor or audience member — experience something like this?  I was once seeing a Broadway show when an audience member about ten seats down my row threw up all over the floor.  It was disgusting, especially since it was pretty apparent that she was drunk (at an early matinee performance!), as this audience member reportedly was.  It's called class, people.  Doesn't anyone remember Wayne's World?  "If you're gonna spew, spew into this."
http://www.dailyactor.com/wp-content/uploads/2015/02/Larry-David.jpg
Larry David on Who he Wanted to Star in his Broadway Play 'Fish in the Dark': "Anybody but me"
"It's one of the reasons I didn't like acting. I don't like not being able to interject" – Larry David on acting with a script Who doesn't like Larry David? Well, to be honest, Larry David probably doesn't like Larry David. In fact, David didn't even want to cast himself in the lead of […]
http://www.dailyactor.com/2015/02/larry-david-on-who-he-wanted-to-star-broadway-play-fish-in-the-dark/
http://www.dailyactor.com/wp-content/uploads/2015/02/Helen-Mirren-The-Queen.jpg
Helen Mirren on Winning an Oscar: "It's an indescribable moment"
"It's hard to say, because you don't know what would have happened if you hadn't won" - Helen Mirren When Asked If Winning an Oscar Changed Her Career
http://www.dailyactor.com/2015/02/helen-mirren-on-winning-an-oscar/
http://www.dailyactor.com/wp-content/uploads/2015/02/anna-chlumsky-james-earl-jones.jpg
Anna Chlumsky on Her Broadway Debut: "For me, it was an opportunity to go in the direction that I hadn't played in a while"
"I think my personality lends itself to ensembles" - Anna Chlumsky
http://www.dailyactor.com/2015/02/anna-chlumsky-broadway-debut-ensemble/
http://www.dailyactor.com/wp-content/uploads/2015/02/joanne-froggatt-downton-abbey.jpg
'Downton Abbey' Star Joanne Froggatt on Creating Her Own Backstory and How She's "Not a Big-Budget Hollywood Type"
"They want the model type, classically beautiful, and I'm not" - Joanne Froggatt on Working in Hollywood
http://www.dailyactor.com/2015/02/downton-abbey-star-joanne-froggatt-character-backstory-hollywood/
http://www.dailyactor.com/wp-content/uploads/2015/01/al-pacino-the-humbling.jpg
Al Pacino on Acting: "It becomes such a part of your nature you rarely ever think about quitting"
After working infrequently in film over the last decade, Al Pacino appears in several films released in 2015, including The Humbling, an indie drama directed by Barry Levinson.
http://www.dailyactor.com/2015/02/al-pacino-on-acting-it-becomes-such-a-part-of-your-nature/