'Grace' Cast Keeps the Show Going Despite Audience Member in the Balcony Throwing Up on Audience Members in the Orchestra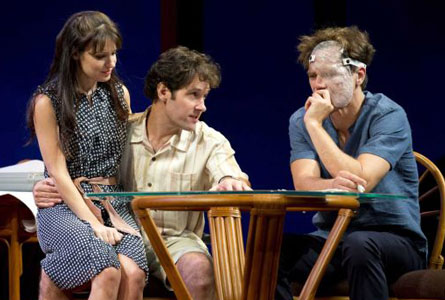 Perhaps Gallagher was on to something with that whole "hand ponchos out to the audience" thing for his comedy shows.
During the November 14 performance of Grace, the Broadway play starring Paul Rudd, Michael Shannon, Kate Arrington, and Ed Asner (which I reviewed here!), a person in the first row of the balcony who was "reportedly drunk and appeared to be elderly" threw up over the edge of the balcony onto audience members in the orchestra below.  The male audience member responsible then collapsed, though Gothamist says the man eventually returned to his seat (and also suggests that he wasn't drunk.  Hmm…)
According to Broadway.com, the cast was visibly distracted by the commotion in the balcony but continued with the show.  At the end of the performance, the cast came out and joked about the incident, with Rudd pointing out the incredulity of moving an audience member to vomit.  While Rudd is known for his raucous comedies, Grace certainly isn't that type of production — though it is very funny.  It's definitely not the type of play one would want to see drunk (are there any?), so I'm curious why the audience member was so drunk.
Anyone else — actor or audience member — experience something like this?  I was once seeing a Broadway show when an audience member about ten seats down my row threw up all over the floor.  It was disgusting, especially since it was pretty apparent that she was drunk (at an early matinee performance!), as this audience member reportedly was.  It's called class, people.  Doesn't anyone remember Wayne's World?  "If you're gonna spew, spew into this."
Latest Videos
http://www.dailyactor.com/wp-content/uploads/2014/07/bill-hader.jpg
Bill Hader: "I kind of fell into acting" (video)
Bill Hader, starring in the soon to be released The Skeleton Twins, talks about the film and how he fell into acting and then got "crazy lucky" in this quick video from USA Today. Share on Tumblr
http://www.dailyactor.com/2014/07/bill-hader-fell-into-acting-video/
http://www.dailyactor.com/wp-content/uploads/2014/07/director-john-carney-narrates-a.jpg
Director John Carney Narrates a Scene from 'Begin Again' Starring Kiera Knightley and Mark Ruffalo
Director John Carney (Once) narrates a scene from his new film, Begin Again. Starring Keira Knightley and Mark Ruffalo, the scene shows the first time the two characters meet. I haven't seen it yet but I've heard it's great.
http://www.dailyactor.com/2014/07/begin-again-scene-director-john-carney-keira-knightley-mark-ruffalo/
http://www.dailyactor.com/wp-content/uploads/2014/07/holler-if-you-hear-me-gma.jpg
Watch the Cast of Broadway's 'Holler If You Hear Me' Perform 'California Love' on GMA
The cast of Broadway's newest musical, Holler If You Hear Me with music from Tupac Shakur, performed on Good Morning America this morning. Singing 'California Love', the cast (including the teriffic Christopher Jackson – read our interview here), show why they're the most energetic and inspiring group of actors on Broadway. Holler If Ya Hear [...]
http://www.dailyactor.com/2014/07/watch-cast-broadways-holler-hear-perform-california-love-gma/
http://www.dailyactor.com/wp-content/uploads/2014/07/behind-the-scenes-of-dawn-of-the.jpg
Behind the Scenes of 'Dawn of the Planet of the Apes' with Performance Capture Actor Terry Notary
Actor Terry Notary is 1 of 5 actors playing the apes in the new Dawn of the Planet of the Apes. "When you see armies of apes," he says, that's "five of us." Check out the video where you can watch his performance capture work.
http://www.dailyactor.com/2014/07/dawn-planet-apes-performance-capture-actor-terry-notary/
http://www.dailyactor.com/wp-content/uploads/2014/07/melissa-mccarthy-daily-show.jpg
Melissa McCarthy and John Stewart Talk About Terrible Commercial Auditions on 'The Daily Show'
Melissa McCarthy stopped by The Daily Show last week to plug about her new movie, Tammy. She talked about how she loved working with her husband, Ben Falcone (director of Tammy) and then segued into talking about some horrible working situations. The always hilarious McCarthy then started to tell host John Stewart about a particular [...]
http://www.dailyactor.com/2014/07/melissa-mccarthy-john-stewart-commercial-auditions-the-daily-show/